The Brutal History Of Rocky Fights Leading Into Creed II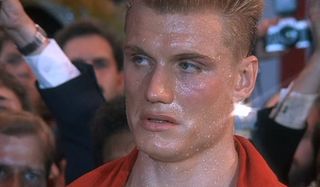 With Creed II on the way, a decades-old feud between two families will be resurrected through their successors. For those who need a quick history lesson detailing all the major grudges between fighters in the Rocky franchise that led to this latest showdown, we've given a quick breakdown that puts it all out there.
Rocky vs. Apollo Creed
The feud that started it all. Ironically, this wouldn't have happened had Apollo Creed's first opponent for the Philadelphia Bicentennial title defense dropped out due to injury. The injury and timing encouraged Creed to give a local fighter a shot at the title, and Rocky Balboa was given the opportunity. Rocky ended up losing to Apollo in a split decision, but won the respect of the boxing community as well as Adrian, the love of his life, in the process.
Rocky's star profile had risen tremendously following the bout, while Creed was furious and ashamed by his own performance. Despite his camp's insistence he let the feud go, Creed demanded a rematch to prove the fight was a fluke. Creed dominated a bulk of their second fight, but his hubris and paranoia led to both fighters being out for the count in the final round. Rocky eventually found his way to his feet and became the new World champion.
Rocky vs. Clubber Lang
Rocky Balboa was on fire. He had ten successful title defenses in three years, and had gotten comfortable as the champion. This led to him underestimating a young fighter who challenged him, Clubber Lang. Longtime trainer Mickey actually warned Rocky that this was a fight he shouldn't take, but Rocky ignored him. Mickey suffered a heart attack just prior to the bout, which caused a distracted and unconditioned Rocky to be knocked out by Lang in the second round.
Mickey died, and a distraught Rocky is left without his trainer for in fight preparation. He knew he needed the "Eye of the Tiger" Mick talked about but couldn't find until Apollo Creed offered to train him in exchange for a personal favor. Rocky accepted, and together the two devised a strategy that involved physically exhausting Lang in the ring. Rocky regained his title and agreed to face Creed in a private third match that broke their feud's tie.
Rocky vs. Ivan Drago
In Rocky IV, Soviet Russia gained a new prize fighter named Ivan Drago, and the nation was far from humble in its promotion and showcasing of his immense strength as a sign of the nation's superiority. Fueled by his love of America (and his own personal ego), Apollo Creed challenged the fighter and had Rocky train him for the exhibition bout. The match ended in disaster, however, as Creed died in the ring while an unapologetic Drago looked on, unconcerned by his actions. If he dies... he dies.
Rocky was enraged and challenged Drago in an attempt to avenge his friend. Drago's camp agreed, but only on the condition the unsanctioned fight took place in the Soviet Union in order to ensure Drago's safety. Rocky agreed, and engaged in extreme outdoor training methods while his opponent uses the latest in Soviet technology to enhance his strength. The old school method prevailed, and Rocky successfully knocked out Drago and won the respect of the Soviet Union in the process. this happens to Rocky all of the time, apparently.
Rocky vs. Tommy Gunn
Rocky may have ended communism in Russia, but capitalism turned on him in Rocky V. The fighter found out he was broke, and his recent diagnosis of brain damage had seemingly brought an end to his boxing career. Never one to give up, Rocky re-opened Mick's gym and trained a promising fighter from Oklahoma named Tommy Gunn. Rocky's investment in the fighter, however, is unacknowledged when Gunn forgot Rocky soon after winning the world championship.
Luckily, the media and people of Philadelphia know this, and they called Gunn a "paper champion" because he only beat the guy Rocky relinquished the title to. This prompted Gunn to seek out Rocky in a bar, and challenge him to a title fight. After a brief exchange that left his brother-in-law Paulie's injured, Rocky agreed to fight Gunn outside. While he's wasn't the superior boxer, Rocky utilized his streetfighting techniques to take Gunn down, and get him arrested.
Rocky vs. Mason Dixon
It has been 20 years since Rocky V, and Balboa's battles as of late have been more personal than physical. He's managed to create a decent living for himself with his restaurant Adrian's, which is named after his now departed wife. His quiet life is upended when a virtual simulation showed he'd defeat current boxing champion Mason "The Line" Dixon if he were in his prime, which inspired Rocky to get his boxing license back.
Rocky had originally planned to do small events, but promoters smelled money and soon arranged for an exhibition between him and Dixon. Despite his old age, Rocky managed to go the distance against Dixon, and prove to himself that he still had some fire left in the tank. Much like the fight in the first Rocky, he lost, but Balboa exited the ring triumphant in knowing he managed to hold his own against a modern day champion.
Adonis Creed vs. Ricky Conlan
The traditional Rocky story then shifted to that of Adonis "Donnie" Johnson, who is the result of an affair between Apollo Creed and another woman during his marriage. Adonis was adopted by Creed's widow Mary Ann, and raised as her own. Despite his father's lack of presence in his life, Adonis felt a need to pursue professional boxing and eventually headed to Philadelphia to seek out one of his father's old friends.
Rocky agreed to train Adonis, and word got out that Apollo Creed's son was into boxing. The news caught the attention of world light heavyweight champion "Pretty" Ricky Conlan, who offered to fight Adonis if he'll change his last name to Creed to promote the fight. He agreed, and after training and helping Rocky battle non-Hodgkin's lymphoma, the duo arrived in Liverpool to fight. Adonis lost to Conlan in a split decision, but his future in professional boxing looks bright.
It's all led to Creed II, where Adonis will fight for a chance to defeat the son of the man who killed his father in the ring decades prior. Adonis and Viktor will square off in theaters Wednesday, November 21. For more on the film, be sure to check out why Michael B. Jordan got even more ripped for his character's upcoming bout.
Mick likes good television, but also reality television. He grew up on Star Wars, DC, Marvel, and pro wrestling and loves to discuss and dissect most of it. He's been writing online for over a decade and never dreamed he'd be in the position he is today.
Your Daily Blend of Entertainment News
Thank you for signing up to CinemaBlend. You will receive a verification email shortly.
There was a problem. Please refresh the page and try again.