How Creed II's Director Felt Meeting Sylvester Stallone For The First Time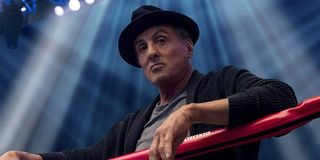 Ryan Coogler got the Creed film series off to a successful start, but because he was so busy with Black Panther afterwards, he passed on directing duties to Steven Caple Jr. for Creed II. Caple was initially hesitant about working on Creed II because it was a sequel, but he agreed to at least meet with Rocky Balboa himself, Sylvester Stallone. As Caple recently recalled, that experience, which took place at Stallone's mansion, was larger than life. Caple stated:
Rocky Balboa has been one of cinema's most popular characters for the last four decades, so it's understandable why Steven Caple Jr. felt intimidated upon meeting Sylvester Stallone. Along with playing the Italian Stallion across seven movies at that point, Stallone created the character, wrote all six of the original Rocky movies and directed four of those movies. Without him, Rocky simply wouldn't exist, let alone be a pop culture icon. Any director, particularly one whose biggest credit at the time was an indie drama (The Land), would be excused for having nerves upon meeting Stallone. Plus, the lion statues at the mansion's gates and the giant front door add to the imposing ambiance.
That said, Steven Caple Jr. then noted that it didn't take long for there to be a "relaxing vibe" between him and Sylvester Stallone. Caple continued:
After it was clear that Ryan Coogler wouldn't direct Creed II (he still contributed as an executive producer), it had actually been announced that Sylvester Stallone would direct the sequel, making this the fifth Rocky franchise movie he helmed. However, two months later, it was revealed that Steven Caple Jr. would direct Creed II instead, and judging by how the movie's been performing, that was the right call.
As for how Sylvester Stallone collaborated with Steven Caple Jr. on Creed II beyond just following performance instructions, Caple mentioned later in his interview with The Daily Freeman that Stallone wrote all of Rocky Balboa's dialogue, which is why he's credited as writer alongside the main script writer, Juel Taylor. Caple recounted when Stallone came up the idea about Rocky complaining about a street lamp outside his home in Philadelphia, and sure enough, that made the final cut.
Between Steven Caple's direction, Sylvester Stallone's contributions on and off camera, and everything else poured into the movie, Creed II has become a success just like its predecessor. It's earned mostly positive reviews and has made over $95 million worldwide. There's no word yet on if Creed III will be given the green light, although even if that does move forward, there's no guarantee that Stallone will be part of it. He recently indicated that Creed II was his last outing as the fictional boxer, though maybe he'll change his mind at some point.
Warning: SPOILERS for Creed II are ahead!
When we left off with Rocky Balboa at the end of Creed, he was still early into his cancer recovery journey, but at the start of Creed II, he was in remission. However, when Ivan Drago popped back in his life and had his son, Viktor Drago, challenge Adonis Creed for the Worldwide Heavyweight title, that drove a wedge between Rocky and Adonis, as the former wouldn't support the latter fighting Viktor out of fear and guilt due to what happened when Apollo Creed fought Ivan three decades earlier.
After Adonis was beaten to a pulp by Viktor in their first match (although Adonis retained his title due to Viktor hitting him while he was down, a disqualifying move), Rocky went to visit Adonis in the hospital, but Adonis lashed out at his mentor/father figure for abandoning him. That resulted in a temporary divide between the two men, but with the help of Adonis' mother, Mary Anne, they were eventually able to resolve their differences, thus paving the way for Adonis to finally get out of his mental funk even after physically recovering.
With Rocky back in his corner, Adonis was taken to New Mexico to go through a different kind of training regimen, and it paid off. It wasn't easy, but Adonis came out of his second fight with Viktor victorious, although when he invited Rocky into the ring to celebrate afterwards, Rocky politely declined, telling him, "It's your time."
With Adonis once against the undisputed boxing champion, and now raising a daughter with Bianca, Rocky decided it was time for a change in his life. He was last seen arriving in Vancouver to reunite with his estranged son Robert and to meet his grandson Logan for the first time. As mentioned earlier, it's unclear if this is the last we'll see of Rocky or if he'll somehow be brought back for Creed III. Still, I'd like to think that even if Rocky doesn't have any presence in that next movie, Sylvester Stallone will at least get a sneak peek at the script and see it being filmed, if not be outright asked to contribute to the story.
Creed II is now playing in theaters. Be sure to read CinemaBlend's review of the movie and stay tuned for any news regarding another Creed movie. Consult our holiday premiere guide to learn when the year's remaining movies are coming out, or get a head start on next year with our 2019 release schedule.
Your Daily Blend of Entertainment News
Connoisseur of Marvel, DC, Star Wars, John Wick, MonsterVerse and Doctor Who lore. He's aware he looks like Harry Potter and Clark Kent.
Your Daily Blend of Entertainment News
Thank you for signing up to CinemaBlend. You will receive a verification email shortly.
There was a problem. Please refresh the page and try again.