Spider-Man Box Office: Into The Spider-Verse Swings To The Top Spot With Record-Breaking Numbers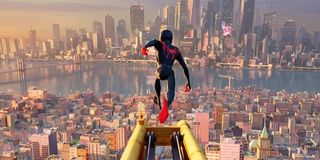 The December madness has begun. While the last two weeks have been incredibly slow thanks to studios failing to put out any major wide releases, this week saw the dam break when it comes to late 2018 blockbusters. Three new releases all butted heads in the last three days, however, as expected, Spider-Man: Into The Spider-Verse nabbed the top spot with a record-breaking haul. Check out the full Top 10 below, and join me after for analysis!
The specific record that Spider-Man: Into The Spider-Verse has broken is that it is now the biggest animated December opening of all time. Admittedly it's not a benchmark that has been around for a long time, as it was Sing in 2016 that set the latest top figure, but it's still impressive nonetheless. This is definitely a great start for the blockbuster, and it has a lot of promise thanks to the impressive wave of buzz on which it's currently riding.
And in the discussion about buzz we're talking about from both critics and audiences. For starters, this is a film that spent its first few active days on Rotten Tomatoes with a 100% score, and to date only seven out of the 247 reviews posted have given it a negative appraisal. In short, this makes it unquestionably one of the best reviewed movies of the year.
This isn't a case where critics and audiences are divided, though (something we've seen multiple times in 2018). In fact, it is very much the opposite. Spider-Man: Into The Spider-Verse joined a very elite club this past weekend, in that it is only one of less than 50 titles to earn an "A+" rating from CinemaScore since 2000. Even though it's the third Spidey-related film to come out in 2018, fans are clearly not getting sick of the webhead, and are instead deeply appreciating the wonderful treatment of the character that is currently exhibiting on big screens everywhere.
In the grand scheme of things a take of $35.4 million might not seem like much for an opening weekend (this is the year where Avengers: Infinity War made $257.6 million in the same amount of time), but there is a very positive road ahead for it - even beyond foreign numbers adding to the grand total. Thanks to the general weakness of January as a new movie release month, big, buzzworthy titles tend to grow shockingly long legs. Released last year, Jumanji: Welcome To The Jungle is a perfect example, as it also came out in mid-December and ended up winning box office crowns into early February. It's a very safe bet that Spider-Man: Into The Spider-Verse will remain a title on the Top 10 for many weeks to come.
Clearly Spider-Man: Into The Spider-Verse was the big winner this weekend, but sadly the news doesn't stay as positive when discussing the other aforementioned wide releases that hit theaters on Friday. For starters there is Clint Eastwood's The Mule, which put on a modest performance after getting some modest reviews. The film had one of Eastwood's strongest openings in recent years, making a little less than $5 million more than The 15:17 To Paris made when it debuted back in February. At this point it's not really a film that is in the Oscar conversation at all, but it at the very least did receive an "A-" from CinemaScore. The director does have some big box office earners on his resume from the past few years, including American Sniper and Sully, but it's hard to say if this one will do similar business.
The really sad story from this weekend is the turnout for Mortal Engines, as the movie failed to crack eight-figures and had to settle for fifth place on the Top 10. Ultimately it's a film that seems like a perfect candidate to be embraced by foreign markets, where it's already managed to make $34.8 million, but this one will certainly be considered a flop in retrospect given its reported $100 million budget. It's disappointing when you consider the box office weight that Peter Jackson used to have this time of year (albeit he only produced this one, and didn't direct).
Beyond the new releases, there are some other notable milestones to appreciate as well. For starters, Creed II, despite coming out smack-dab in the middle between Fantastic Beasts: The Crimes Of Grindelwald and Ralph Breaks The Internet has managed to cross the $100 million mark domestically, and has to date made $131.8 million globally. It still has a long way to go if it wants to catch up with its immediate predecessor, as the first Creed pulled in $173.6 million internationall back in 2015, but there is no questioning that the title is doing good business.
I'll also shine a light on Once Upon A Deadpool, which missed the Top 10 by about $200,000. The re-edit of Deadpool 2 - which made $738 million globally this summer - was released this past week as part of a limited engagement, and it managed to make a nice chunk of change for the effort. It's for a good cause, as a percentage of the proceeds will be going to Fuck Cancer, so it's easy to celebrate any success it has between now and December 24th.
Of course, next week we should see some major changes to the rankings you see above, as there are some major titles coming to play. On December 21st audiences will be able to see five new wide releases at their local theater, and each is looking to steal some attention. The hyped sequel Mary Poppins Returns has a bit of a head start, given that it will be available to see starting on Wednesday, the 19th, but over the weekend it will be facing off with the DCEU action in Aquaman, the Transformers prequel Bumblebee, the Jennifer Lopez romantic comedy Second Act, and the Steve Carell-led drama Welcome To Marwen. Five of the titles mentioned in the chart above won't be around by the end of the weekend, and it will be interesting to see how everything comes together. Be sure to come back next Sunday to see how it all shakes out.
NJ native who calls LA home; lives in a Dreamatorium. A decade-plus CinemaBlend veteran; endlessly enthusiastic about the career he's dreamt of since seventh grade.
Your Daily Blend of Entertainment News
Thank you for signing up to CinemaBlend. You will receive a verification email shortly.
There was a problem. Please refresh the page and try again.