The Time Star Wars Security Had To Bribe Tourists To Delete Spoiler Photos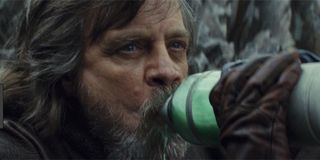 Creating creatures for Star Wars films is no easy feat. In the case of the sea creatures made famous in Star Wars: The Last Jedi thanks to their green milk, a puppeteer spent hours inside with only Coca Cola and diapers to appease him or her. However, stuffing a live human inside a puppet for hours wasn't the only bizarre thing the crew on Episode VIII had to deal with. The crew also had to deal with American tourists attempting to take spoiler photos of the creatures.
Special effects creative supervisor Neal Scanlan told a zany story at Star Wars Celebration, noting that when the crew was shooting sea cow scenes in Ireland, an American couple starting snapping images of the brand new Star Wars creature from a distance. He said:
As you could imagine, security was obviously displeased and rushing around to rectify the situation. We know from past history that the sea cows were carefully created in Pinewood studios from foam latex and then flown by helicopter to Ireland, where the main sea cow and two smaller background sea cows were constructed. It was an ordeal and hassle to get them to the filming location and then to have to deal with factors outside their control I'd guess had to feel a little bit ridiculous.
From what Neal Scanlan revealed, the American tourists may not have really understood what they were filming, but had the images gotten out, they would have been spoilers nonetheless.
This isn't the first time a major movie or TV show has been spoiled by a seemingly random turn of events. We just heard a story like a week ago about how Game of Thrones did a bazillion things to make sure security was tight in Belfast and then a festival came to town that included a giant ferris wheel basically setting up "a viewing platform" for the set. Rough.
So, while it seems zany that American tourists could get close enough to film the sea cows on the set of Star Wars: The Last Jedi, weird stuff like this happens every single day.
Ultimately, all was well that ends well. I can remember seeing the creatures for the first time and being both wowed and disturbed by the sequence, particularly when Mark Hamill's Luke Skywalker milked the darn creature and then drank its green bounty. The perfectly shocked look that Daisy Ridley quickly makes and then tries to disguise on her face is still etched in my mind. It's been over a year since the movie came out and it's still memorable.
(Reportedly, in real life, the green milk was not as disgusting as it looked.)
So, the shock value was certainly there with this particular creature, which Neal Scanlan also mentioned at Star Wars Celebration was a creation that came from Rian Johnson's mind.
We'll have to wait and see what's in store for the upcoming Star Wars: The Rise of Skywalker, but if the first look at the new creatures is any indication, we should be in for treat. The Rise of Skywalker will hit theaters on December 20, 2019. The first trailer for the new movie is out now.
Reality TV fan with a pinch of Disney fairy dust thrown in. Theme park junkie. If you've created a rom-com I've probably watched it.
Your Daily Blend of Entertainment News
Thank you for signing up to CinemaBlend. You will receive a verification email shortly.
There was a problem. Please refresh the page and try again.