John Wick: Chapter 3 Ending - What Happens And What It Means For The Next Movie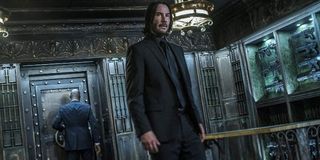 Warning: Spoilers for John Wick: Chapter 3 – Parabellum are in play. If you haven't seen the film, then bookmark this piece and come back later once you're caught up. Tick tock, dear readers; you're not going to want to wait too long to see this one.
At the end of John Wick: Chapter 2, it felt like the fortunes of poor John (Keanu Reeves) were at their worst. With his status as an excommunicado exile, per The High Table's orders and the codes of The Continental, a worldwide hit was about to be put out on his person, and there were plenty of people eager to collect that bounty.
However, the ending of John Wick: Chapter 3 – Parabellum has raised the stakes even higher, leaving poor Jonathan with an even tighter spot to work his way out of. With these new circumstances come new alliances though, as well as a potential way out that would change the fabric of the John Wick franchise forever.
This is your last chance to back out of here, before spoilers start flying like bullets. If you're not current on the John Wick franchise, you should go and rectify that ASAP, and enjoy some of our other coverage of Chapter 3. Otherwise, if you want peace, prepare for spoilers, as we jump into the ending of John Wick: Chapter 3 – Parabellum, and what it means for the universe at large. Start with our exclusive interview with director Chad Stahelski, on the ReelBlend podcast:
What Happens During The Ending Of John Wick: Chapter 3?
After being threatened with being removed from his position at the head of the New York branch of The Continental, its venerable owner Winston (Ian McShane) reaches a compromise with The Adjudicator (Asia Kate Dillon) of The High Table. The deal is simple, but effective: if he kills John Wick, he's allowed to keep his position and the hotel will be re-consecrated as a safe haven for anyone in their world to claim as sanctuary.
With that deal in place, Winston shoots John, causing him to fall off of the roof and into an alley next to The Continental. The Adjudicator is mostly satisfied with their terms being fulfilled, and they let Winston and Charon (Lance Reddick) go back to business as usual. However, there's one problem: John Wick's body has mysteriously disappeared. Winston certainly isn't worried, as he goes about his business, and the issue is warily waived off.
John Wick: Chapter 3 – Parabellum ends with John coming to in front of The Bowery King (Laurence Fishburne,) who survived his seven cuts at the hands of Zero (Mark Dacascos) earlier in the film. Healed, but scarred, The Bowery King has sworn vengeance against The High Table. With an all-out war on the menu, John Wick and The Bowery King form an alliance in their mutual scorn of the institution that has ruled their lives for so long.
What It Means For The Next Chapter
With John Wick: Chapter 3 – Parabellum's ending in place, there's one big factor still in play: John's presumed dead, and even if he wasn't, those sitting at The High Table would want him liquidated. So no matter what John's next moves are, they're going to have to be pretty large, and very secretive. If there's a John Wick: Chapter 4, you can bet it'll probably feel like one extended stealth mission.
But perhaps the greater threat is the fact that, unlike John Wick: Chapter 3 – Parabellum, John more than likely won't have the unofficial help of his dear friend Winston. While the last film saw the central assassin still wandering, with some help from the man running New York's branch of The Continental, this next hypothetical outing would see them presumably on separate sides of the divide.
Winston
With his presumed killing of John Wick putting him back in the good graces of The High Table, Winston has regained the right to run his beloved Continental. And with the location just being reconsecrated as a result of this action, you can be sure that Winston won't want to jeopardize his position with those that rule the criminal underworld of John Wick: Chapter 3 – Parabellum.
So if John Wick: Chapter 4 should kick off in the future, it would most likely start with John totally unable to access The Continental's services. Though this time out, it truly would be a total blackout, as Winston would be watched more carefully, as The Adjudicator knows how this last round played out, and they wouldn't want to take any chances when it comes to John's possible resurfacing.
The Bowery King
While John Wick more than likely won't have the help of Winston to fall back on, he has a new ally that he'll be able to work with. The Bowery King would be a sort of substitute to the mentorship that Winston would offer John in the past, seeing as John's technically supposed to be dead. Though if he's really going to wage war with The High Table, there's no better partner that John Wick could have asked for.
With his network of homeless spies and compatriots blanketing the city of New York, The Bowery King has somewhat of a tactical advantage. Though he'll definitely need to recruit some more friends, as there were quite a few dispatched in The High Table's punishment for his previous aid to John Wick. Possibly the most exciting prospect for John Wick: Chapter 4 is that not only will we see more of The Bowery King's world, we just might get to know him better, as he could spring into the action himself.
The High Table
Much as The Bowery King and John Wick are ready for war at the end of John Wick: Chapter 3 – Parabellum, The High Table is going to more than likely have a greater stake in the conflict to come. While they let Winston off the hook for the absence of a corpse for Mr. Wick, The Adjudicator isn't dumb and has probably reported to their superiors that John is probably still going to be a concern.
At the very least, these power brokers in the shadows are going to want to actively seek out the body of Mr. Wick, and put him in the ground for good. But if they're all concerned enough about Wick and The Bowery King's alliance, something else they're probably more than aware of, they may be compelled to step out of the darkness and hunt him down themselves. While we in the audience may know how that would turn out, The High Table is more than likely convinced they have the upper hand against the man who has more than earned the nickname "Baba Yaga."
Obviously, the future of John Wick's universe is up in the air, as the box office performance of John Wick: Chapter 3 – Parabellum will dictate if the series moves forward, and where it will head. One thing is for certain though: no matter how he resurfaces, John Wick is going to be in more trouble than he's ever been before. And judging how he's handled himself these past three films, we're starting to think he prefers it that way.
John Wick: Chapter 3 – Parabellum is in theaters now, and stay tuned to CinemaBlend as we round off our coverage of the film's release.
Senior Movies Contributor
CinemaBlend's James Bond (expert). Also versed in Large Scale Aggressors, time travel, and Guillermo del Toro. He fights for The User.
Your Daily Blend of Entertainment News
Thank you for signing up to CinemaBlend. You will receive a verification email shortly.
There was a problem. Please refresh the page and try again.