Keanu Reeves And Halle Berry Reveal Their Most Challenging John Wick: Chapter 3 Stunts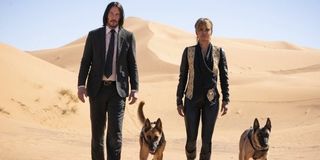 Watching a movie like John Wick: Chapter 3 – Parabellum, you can't help but be amazed by the buffet of stunts and kills that make the franchise one of the most bone-crunching, knife-throwing, ammo-blazing experiences that could ever hit the big screen. One movie featuring that sort of action is impressive, but three whole films is a testament to knowing your market, and knowing how to make such action come alive in a vibrant way.
Stars Keanu Reeves and Halle Berry definitely know this firsthand, as they've trained harder than ever before in order to make John Wick: Chapter 3 – Parabellum one hell of a show for the folks heading to cinemas this weekend. However, with that sort of showmanship comes some pretty challenging work.
Talking to the folks behind John Wick: Chapter 3 – Parabellum during their recent press day, CinemaBlend was able to learn just where the most challenging stunt work came in for various members of the cast. When it came to Keanu Reeves himself, there was one particular spectacle that took some wrangling to get into. Reeves described that feat as follows:
Taking into account that John Wick: Chapter 3 – Parabellum continues the franchise that Reeves helped get off of the ground alongside director Chad Stahelski, it's pretty awesome to learn that this sort of thing isn't just a rote undertaking for any involved. Understanding how Keanu Reeves approached this latest film, it's even more impressive a feat to behold, as his gratitude shows in every frame.
In co-star Halle Berry's case, John Wick: Chapter 3 – Parabellum allowed her a chance to take the action chops she already had, and push them even further. This included some pretty hardcore weapons training, getting used to working with trained dog actors, and in the case of one particular stunt, taking on a circle of stunt performers that surrounded her during one of the big fight scenes her character Sofia finds herself wound up in at her branch of The Continental in Morocco.
While speaking with Berry and co-director Chad Stahelski about that scene, the following details emerged:
You could imagine this, or any meticulously set up fight sequence in John Wick: Chapter 3 – Parabellum needing several takes to get nailed down. That's especially true when you take someone new to the John Wick universe and put them into this particular world of carnage.
Still, four takes is pretty damned impressive for something that involves being surrounded on your own turf, and involving stunt animals in the process.
Perhaps the most grueling story we got involving the stunts in John Wick: Chapter 3 – Parabellum is the one that we heard from co-star Mark Dacascos, who plays one of the film's major antagonists, a sushi chef/assassin named Zero.
Mark Dacascos' character gets a pretty big fight scene toward the end of the film, in a sort of glass labyrinth that doubles as an office in Winston's branch of The Continental. As an extended sequence of pain and shattering scenery, it's a lot of fun to watch. Judging by Mark Dacascos' own words describing the execution of that scene below, it definitely sounds like he had just as much fun shooting those scenes:
For as hardened as all involved in John Wick: Chapter 3 – Parabellum get to look on the silver screen, seeing them talk about achieving such a feat leads to all smiles. Watching the actors talk about the daring feats they've professionally pulled off in the name of the John Wick universe is just as rewarding as watching them beat each other, and their opponents, up with those very moves.
You can see it for yourself, as you watch the cast and director of John Wick: Chapter 3 – Parabellum talking about these experiences in the flesh, through the clip provided below:
So long as the John Wick series never loses the spark of madness that sees Keanu Reeves, Chad Stahelski, and everyone else they take along for the ride work as hard as they smile, the world will be in a good place. And as evidenced by the results shown in John Wick: Chapter 3 – Parabellum, it feels like that joy isn't going away anytime soon. Which is good, because the world can always use an avenging angel of righteous justice on its side.
John Wick: Chapter 3 – Parabellum opens in theaters with early showings tonight, and be sure to keep your eyes peeled here at CinemaBlend for further coverage on John Wick related happenings.
Your Daily Blend of Entertainment News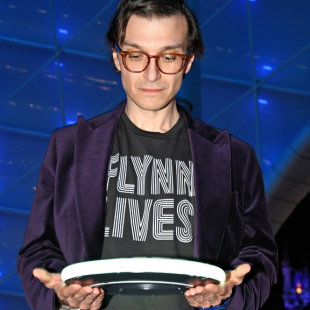 Senior Movies Contributor
CinemaBlend's James Bond (expert). Also versed in Large Scale Aggressors, time travel, and Guillermo del Toro. He fights for The User.