Every Song From The Baby Driver Soundtrack, Ranked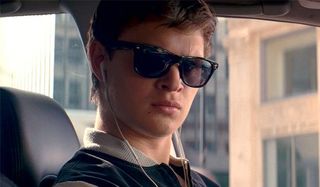 Every once in a while, a movie comes along with such an awesome soundtrack that it can even overshadow the rest of the film. Sometimes the songs can be huge hits all on their own. Baby Driver is a perfect example, because let's be honest, the music is central to the movie's plot about a getaway driver for a bank robbery crew with tinnitus. The driver, named Baby, constantly listens to music to drown out the ringing in his hears, so music is key.
The music is not only central to the plot, but because the song choices are so cool, it adds almost all the style to the movie. Every scene and every car chase are elevated by the fantastic song choices made by director Edgar Wright and Steven Price, Baby Driver's music composer. Music, driving, and stealing sunglasses are what makes Baby tick.
There are 30 tracks on the soundtrack, ranging from solid gold oldies to very modern choices and everything in between, so we've ranked from worst to best – but make no mistake, there really aren't any bad songs in the lot.
30. "Was He Slow (Credit Roll Version)" – Kid Koala Featuring Kevin Spacey And Jon Bernthal
One of two original songs on the soundtrack and as is clear from the title, it's the song over the end credits. It's just a mishmash of quotes from the movie and the weakest song on the Baby Driver soundtrack.
29. "Tequila" – The Button Down Brass Band
An off-brand cover of the The Champs song from 1958 by an off-brand British copy of Herb Albert & The Tijuana Brass. Easily ignored on Baby Driver's great soundtrack.
28. "Unsquare Dance" – Dave Brubeck
This jazz number by the great Dave Brubeck is mostly clapping, drums, and bass. It works great to build tension; it's not so great to listen to on its own.
27. "The Edge" – David McCallum
There is a lot of great jazz on the Baby Driver soundtrack, but this isn't the best of the bunch. It is however, the sample for Dr. Dre's "The Next Episode," which does make it pretty cool from that angle.
26. "Debora" – T. Rex
It's difficult putting a band as awesome as T. Rex toward the bottom, at least for me, but this isn't the band's best song by a mile.
25. "Easy" – Sky Ferreira
"Easy" is a decent enough cover of The Commodores classic (which also appears in the movie), but it's not deserving of being higher on this list of great songs.
24. "Intermission" – Blur
Like T. Rex, it's hard to rank an amazing band like Blur this low on a ranked list, but this song is really kind of a throwaway from the group's album Modern Life Is Rubbish and serves as an intermission on the album; in Baby Driver, the buildup of sound is used well, however.
23. "Kashmere" – Kashmere Stage Band
This funky number, played by a bunch of high school students no less, is a fantastic feel-good and move-your-feet kind of song. This stuff's starting to get good!
22. "Every Little Bit Hurts" – Brenda Holloway
Motown's Brenda Holloway is one of the lesser-known artists on that label's legendary roster, but this song goes to show how great Motown was at producing incredible songs.
21. "Know How" – Young MC
Any song that samples "The Theme From Shaft" by Isaac Hayes is cheating. But it's the best kind of cheating and Young MC nailed it with this one.
20. "Bongolia" – Incredible Bongo Band
This may seem as if it is ranked a little high on the list; regardless, Incredible Bong Band's music always sounds awesome on soundtracks.
19. "Smokey Joe's La La" – Googie Rene
Such a fun little tune with easy lyrics and great beat to drive to. Play it now if you don't know it off the top of your head.
18. "B.A.B.Y." - Carla Thomas
Carla Thomas is a soul singer who has sadly been overshadowed over the years, but her powerful voice is on full display in this 1966 hit.
17. "Brighton Rock" – Queen
This is circus music from Queen. It's a weird little song that is often overlooked in the band's catalog, but it's a great song with a great solo by Brian May – which is like half the track!
16. "Early in the Morning" – Alexis Korner
Alexis Korner is way more important to rock history than most people realize and this dripping, plotting, sweat-soaked track is weird and awesome and a great addition the Baby Driver soundtrack.
15. "Baby Driver" – Simon & Garfunkel
It's pretty clear that this song inspired the whole movie. It's not the most recognizable tune by this famous duo, but just check out the first couple lyrics to see how important this song is to the movie:
I was born one dark gray morn
With music coming in my ears
They call me Baby Driver
And once upon a pair of wheels
I hit the road and I'm gone
14. "Chase Me" – Danger Mouse Featuring Run The Jewels And Big Boi
"Chase Me" is the other of the two original songs on the Baby Driver soundtrack. This is by far the better one, with great performances by all three MCs and a great beat from Danger Mouse.
13. "Baby Let Me Take You (In My Arms)" – The Detroit Emeralds
Another track on the Baby Driver soundtrack that is more famous for being the sample in a hip hop song. This is used by De La Soul in "Say No," but the original is fantastic.
12. "Harlem Shuffle" – Bob & Earl
This song is mostly famous for the horn fanfare that opens it (and was very famously sampled by House Of Pain), but it should be known for much more. The horns are fantastic throughout the whole song.
11. "Neat Neat Neat" – The Damned
In a movie with so much chaos, Baby Driver needed at least one chaotic punk song and this is one by a band that isn't as well known as The Sex Pistols, brings a bit of the drama and anger that Johnny Rotten brought with the Pistols, but with more musical talent.
10. "When Something Is Wrong With My Baby" – Sam & Dave
There is nothing quite like that old time soul like Sam & Dave were the masters of.
9. "Never, Never Gonna Give You Up" – Barry White
The great Barry White and his silky smooth bass/baritone voice is unmatched in 20th century music. Honestly, anytime it appears anywhere, it's one of the best.
8. "Radar Love" by Golden Earring
Okay, this song might not deserve to be in the top ten usually, but "Radar Love" is one of -- if not the -- greatest driving song of all time and Baby Driver is a movie about driving, right? Seriously, put this one next time you hit the highway and hit the gas, that's why it's here.
7. "Egyptian Reggae" – Jonathan Richman & The Modern Lovers
This little weird ditty by the godfather of punk Jonathon Richman fits so perfectly in this movie it's almost like it was written for it.
6. Bellbottoms – Jon Spencer Blues Explosion
While it's not the best song in the movie (though it is awesome), it's the most important song as it sets the tone right away for Baby Driver. Car chases and great music abound.
5. "Debra" – Beck
Beck loves to show off sides of him you'd never expect and "Debra" is Beck channeling his inner Prince, falsetto and all, to outstanding results. This really is close to perfect.
4. "Let's Go Away For Awhile" – The Beach Boys
If you are going to be including The Beach Boys on a soundtrack, choosing something from Pet Sounds is never a bad idea. Brian Wilson's musical genius is on full display with this American classic.
3. "Nowhere To Run" – Martha And The Vandellas
"Nowhere to Run" is of the greatest Motown songs from the sixties,period. It's so catchy and wonderful, it's like you know the lyrics before you've ever heard it. It's a song that's impossible to ever get sick of and it were used in every movie ever, that'd be just fine. It's a fantastic addition to the Baby Driver soundtrack.
2. "Hocus Pocus" – Focus
This is one of those songs that always makes everything awesome, whether it's the scene in Baby Driver or a Nike Commercial, "Hocus Pocus" by Focus (yes, you have to say the full title and band name every time, because it's awesome), makes the world a cooler place.
1. "Easy" – The Commodores
The easy pick? Probably. Not much needs to be said about this absolute classic of a song. Is there a person on earth that doesn't like it? It's just easy like Sunday morning and that's alright with us.
Every good car chase needs great music and in Baby Driver, a movie with lots of car chases, the music is crucial to making them as wonderful as they are. Next time you steal a car or rob a bank, pop in your earbuds blast this soundtrack. Let's hope when they make another one, the soundtrack will be just as good.
Hugh Scott doesn't believe aliens are hidden at Area 51 or that Elvis is alive, but he does believe birds are real and Meghan Markle isn't treated fairly by the tabloids. He's been writing about music, movies, and celebrities for most of his adult life after realizing stocking shelves in a paper warehouse in college wasn't all it was cracked up to be.
Your Daily Blend of Entertainment News
Thank you for signing up to CinemaBlend. You will receive a verification email shortly.
There was a problem. Please refresh the page and try again.