Fox Almost Made A Marvel Crossover Movie Starring The X-Men, Fantastic Four And More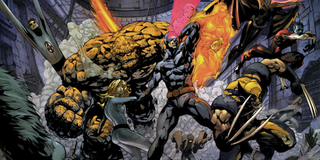 The superhero movie landscape looks a lot different than it did at the beginning of the decade. For one thing, back then, the film rights to properties like X-Men and the Fantastic Four still belonged to 20th Century Fox, a studio a long ways away from being owned by a certain Mouse House. As such, the chances of seeing these Marvel characters share screen time with those in the Marvel Cinematic Universe wasn't possible.
However, evidently at one point Fox was considering making its own Avengers-level crossover superhero movie. During his recent appearance on Fatman Beyond, screenwriter Zack Stentz, who co-wrote both X-Men: First Class and Thor, was asked which of his movies that he's written that will never come out is his favorite, Stentz answered:
Man, this takes me back. While the X-Men, Fantastic Four and Deadpool were obviously Fox-only Marvel characters up until the Disney transaction went through, it's easy to forget that Daredevil was also part of that group for a long time. The Man Without Fear only starred in one movie, and while Fox tried to get a reboot off the ground by 2012, that fell through and the rights went back to Marvel, paving the way for the Daredevil Netflix series.
Having Paul Greengrass direct this Fox crossover movie also would have been a cool choice, as the man had proved his action mettle with The Bourne Supremacy and The Bourne Ultimatum. Going off the loose time frame Zack Stentz laid out, I suspect Greengrass turned down this opportunity in favor of directing Captain Phillips, which went on to be nominated for an Academy Award and a Golden Globe, among other accolades.
Had Fox moved forward with this movie featuring the X-Men, Fantastic Four, Deadpool and X-Men, this might have placed the Fox Marvel franchise on a higher pedestal. Granted, the X-Men film series has been chugging along steadily for nearly two decades, which includes the surprise success of Deadpool, but along with Daredevil barely getting a chance to shine, the Fantastic Four movies didn't fare particularly well, with the 2015 reboot ending up a critical and commercial bomb.
Perhaps new life could have been breathed into all these characters had they been able to join forces in such an epic tale, although I worry introducing Deadpool here might have resulted in the character not being adapted as well as he was in 2016. It's also a good bet that this movie would have taken the X-Men down a much different path than they are now.
Fast-forwarding to now, all of these properties now rest under Marvel Studios, and while the plan is to keep Ryan Reynolds' Deadpool around, it's expected that the Fantastic Four and X-Men will are rebooted down the line. Daredevil was cancelled over a month after Season 3 premiered, and it remains to be seen if we'll ever see Charlie Cox's version of Matt Murdock again or if the character will be rebooted again to better fit within MCU continuity.
Stay tuned to CinemaBlend for updates concerning Marvel's plans for any of the above characters on the big or small screens. Those of you who are curious about what the MCU has lined up next can look through our comprehensive guide.
Your Daily Blend of Entertainment News
Connoisseur of Marvel, DC, Star Wars, John Wick, MonsterVerse and Doctor Who lore. He's aware he looks like Harry Potter and Clark Kent.