Quentin Tarantino Will Not Re-Cut Once Upon A Time In Hollywood For China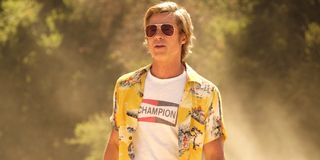 Quentin Tarantino is no stranger to controversy. And his latest big screen endeavor has already weathered its fair share of detractors. But despite an apparent boycott from Chinese cinemas, the director is standing firm, and will not re-cut Once Upon a Time in Hollywood.
On October 18, the film's release was indefinitely suspended in China. The film had been scheduled to debut there on October 25. According to The Hollywood Reporter, while it has not been officially stated as the cause, an appeal to halt the release came from one of the film's biggest critics: Bruce Lee's daughter.
Once Upon a Time in Hollywood brings several cinematic idols to life, including the legendary Chinese star. However, the film portrays Bruce Lee as an arrogant egomaniac who talks shit about Muhammad Ali and can't win in a series of fights against Brad Pitt's Cliff Booth. This narrative decision did not sit well with many, including Shannon Lee, who feels the film's interpretation of her father is both unflattering and unfair. Tarantino doubled down on his decision to show Lee in that light.
Thus far, China has not clarified its rationale for blocking the film from distribution. But THR's sources reported that Bruce Lee's daughter went to the National Film Administration in China and personally requested that they demand Quentin Tarantino change his portrayal in the film. However, another source for the magazine claims that China's censors object to the violence in the film, which portrays the infamous Manson family murders. Either way, Bona Film Group, which co-produced the film, was asked to intervene and help edit the film so that it could be approved for release.
Regardless of the reason, or lack thereof, Quentin Tarantino has no plans to make any edits to Once Upon a Time in Hollywood. The director has famously been protective of his films' final cuts. But he was willing to edit Django Unchained when Chinese censors blocked it from release at the last minute in 2012. To date, Once is his second-most successful film, after Django, at least by box office standards. Releasing the film in China would almost certainly push it to the number one spot. As of yet, it's unclear if the country will reconsider its decision -- but without Tarantino's cooperation this time around, it seems unlikely.
Even if Once Upon a Time in Hollywood never makes it to Chinese cinemas, the film remains an Oscar frontrunner, and one of the most talked about films of the year. And Quentin Tarantino will have another shot at global box office domination if his Star Trek adaptation gets off the ground.
Your Daily Blend of Entertainment News