Quentin Tarantino Defends Once Upon A Time In Hollywood's Controversial Bruce Lee Scene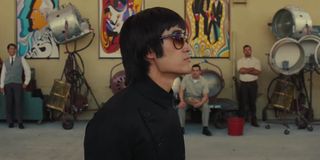 Warning: SPOILERS for Once Upon a Time in Hollywood are ahead!
Although Quentin Tarantino's latest movie, Once Upon a Time in Hollywood, has earned a lot of positive reception in the two+ weeks it's been in theaters, as is frequently the case with Tarantino's movies, it hasn't escaped controversy. For instance, there's been debate about Bruce Lee's depiction in Once Upon a Time in Hollywood, with Lee's daughter saying that her father came off as an "arrogant asshole" in the movie, and Lee's protégé Dan Inosanto taking issue with derogatory comments Mike Moh's Lee made about Muhammad Ali.
Quentin Tarantino has now responded to these criticisms, saying that because Bruce Lee was somewhat arrogant in real life, it would make sense for Mike Moh's interpretation of the actor and martial arts legend to deliver those lines. In Tarantino's words:
There's no question that Quentin Tarantino is a Bruce Lee fan, as previously evidenced by how The Bride's yellow tracksuit in Kill Bill Vol. 1 looks like the one Lee wore in Game of Death. And as he said at the Moscow press conference for Once Upon a Time in Hollywood (via Indiewire), he stands by the direction he went with Lee's dialogue because he supposedly read and heard about similar comments the man had made.
However, that's just one aspect of Once Upon a Time in Hollywood's usage of Bruce Lee that fans have deemed problematic. Fans have also taken issue with when he and Brad Pitt's Cliff Booth get into a fight where the goal is to knock the opponent to the ground. Lee wins the first round with a straight kick to Booth's chest, Booth wins the second round by throwing Lee into the side of a car, and the third round is interrupted, thus ending the match with a tie.
Speaking about whether it was distasteful to have Cliff Booth's fighting skills so evenly matched against Bruce Lee's, Quentin Tarantino said:
Quentin Tarantino added that if Bruce Lee and Cliff Booth were fighting in a martial arts tournament at Madison Square Garden, then the former would have wiped the floor with the latter. However, if they were engaged in hand-to-hand combat in the jungles of the Philippines, then Booth would come out on top.
It's unlikely the discussion surrounding Once Upon a Time in Hollywood's use of Bruce Lee will die down anytime soon, but Quentin Tarantino is defending what he delivered to the masses. It should be noted, though, that the fight between Lee and Cliff Booth was originally supposed to be longer, with Booth winning the third round. However, Brad Pitt, stunt coordinator Robert Alonzo and others had issues with the fight ending this way, so it was changed for the shoot.
Once Upon a Time in Hollywood is still playing in theaters, and be sure to read CinemaBlend's review of the movie if you haven't already. Look through our 2019 release schedule to see what else is hitting the big screen for the rest of the year.
Connoisseur of Marvel, DC, Star Wars, John Wick, MonsterVerse and Doctor Who lore. He's aware he looks like Harry Potter and Clark Kent.
Your Daily Blend of Entertainment News
Thank you for signing up to CinemaBlend. You will receive a verification email shortly.
There was a problem. Please refresh the page and try again.