Damon Lindelof Still Wants People To See The Hunt And Judge For Themselves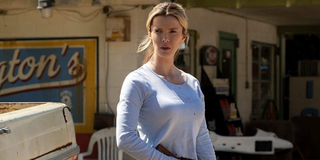 Art and controversy go hand in hand and Hollywood is no exception. While there have been plenty of controversial movies in film history -- most of which have been released to a wide audience -- Damon Lindelof's The Hunt stands out as a recent example that has yet to hit the big screen.
Universal pulled the plug on The Hunt in August and have remained quiet since its initial press release. However, the show must go on, as they say in the biz, and co-writer Damon Lindelof has moved on to other projects, including HBO's Watchmen. When asked about the status of The Hunt in a recent interview he had this to say:
In his interview with Deadline, he shared his thoughts on working as a storyteller today and addressing controversial subjects, however he didn't have a concrete answer for where The Hunt currently stands in terms of release.
From the initial trailer release, The Hunt was surrounded by controversy, complete with false rumors that the original title was Red State vs Blue State. Despite that not being the official title, many believe it directly criticized by President Donald Trump on Twitter, which may have led to its eventual shelving. Even though the future of The Hunt is questionable, Blumhouse president Jason Blum is optimistic the film will eventually see the light of day.
In the meantime, Damon Lindelof hasn't shied away from getting controversial given the subject matter of his Watchmen series. Just like Alan Moore's original 12-issue run, HBO's Watchmen isn't afraid to tackle tough subjects such as racism and vigilante justice.
Based on the 1924 short story The Most Dangerous Game, The Hunt follows twelve strangers who are hunted by a group of cold-blooded aristocrats until one of the pursued decides to fight back. The film features political references such as the elitist giving their prey the monicker of "deplorables," based on a quote by Hilary Clinton during the 2016 presidential election.
While the future of The Hunt is up in the air, HBO's Watchmen is looking quite bright indeed with a solid 98% on Rotten Tomatoes. Watchmen airs Sunday nights on HBO at 9 p.m. ET. As for The Hunt, all there is left to do is wait and CinemaBlend will update you when the latest news pops up. In the meantime, you can check out the what's coming out next with our 2019 release schedule.
Into tracksuits by Paulie Walnuts, the Criterion Channel and Robert Eggers.
Your Daily Blend of Entertainment News
Thank you for signing up to CinemaBlend. You will receive a verification email shortly.
There was a problem. Please refresh the page and try again.