This Rotten Week: Predicting Terminator: Dark Fate, Motherless Brooklyn, Harriet, And Arctic Dogs Reviews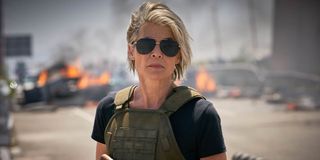 There are four movies hitting the screen in wide release this week. We've got the return of some iconic action characters, a New York-set mystery, a biopic, and an animated feature. Let's get ready for Terminator: Dark Fate, Motherless Brooklyn, Harriett and Arctic Dogs.
Just remember, I'm not reviewing these movies, but rather predicting where they'll end up on the Tomatometer. Let's take a look at This Rotten Week has to offer.
The Terminator franchise has had a bunch of starts and stops, iterations, timelines and universes. Following the original The Terminator (100%) we've gotten classics like Judgment Day (93%), but also campy (Rise of the Machines - 69%), confusing (Salvation - 33%) and crappy (Genisys - 27%). Hell, there was even a TV spinoff with The Sarah Connor Chronicles. Much like the titular character though, this franchise refuses to die. And now it might finally have a real winner with Terminator: Dark Fate.
Linda Hamilton is back as Sarah Conner, and this film is part of the original James Cameron timeline as a direct sequel to Judgment Day. In this one, a young girl from Mexico (Natalia Reyes) finds herself at the center of a hyper-dangerous pursuit as Sarah Conner and a resistance fighter from the future (Mackenzie Davis) are sent to protect her from a dangerous killing machine (Gabriel Luna). Directed by Tim Miller (Deadpool - 84%), early reviews are positive, albeit not overwhelmingly positive. Considering many of the recent iterations have been blah, Terminator: Dark Fate at least looks watchable.
Writing, directing and starring in a movies does really seem like the mountaintop these days. Full control of everything about the production has wielded great results from guys like Ben Affleck, who did it with The Town and Argo. Now Edward Norton tries his hand at the trifecta with Motherless Brooklyn. It's the story of a private eye dealing with Tourette's Syndrome who works to solve the murder of his mentor in 1950s New York. From the trailer it looks every bit a noir thriller spanning the city with a plot exploring themes of race, power, politics and greed.
This is Norton's first official writing credit on a movie, and his second directorial work after Keeping the Faith (69%). Sitting at 62% on the Tomatometer, Motherless Brooklyn reviews so far are tepid at best. Some question the length (almost 2.5 hours) while others point to some disconnect between the characters and the plot. Those who enjoyed it credited the emotional gravity with a solid detective story at its core. I think it drops closer to 50% over the course of the week.
The story of Harriet Tubman, a leader of the Underground Railroad who helped facilitate the freeing of slaves, is one Americans grow up learning. It's a heroic tale of a woman who sacrificed her own life time and again to free those wrongfully and horribly treated in an evil system. It's only natural that it get the big screen treatment, and now it's arriving in the form of Harriet.
Directed by Kasi Lemmons, Harriet is receiving mostly above-average scores, with a few negative ones thrown in. Those who enjoy it praise the message and the voice of a character who's become (rightfully) synonymous with hope and justice during a terrible time in America's history. On the other hand, those who gave it negative marks cited a formulaic approach to a biopic without any real insights or depth. Many critics say the movie is much more geared towards a kids' audience which, while fine, wasn't likely director Kasi Lemmons goal. I think we see the score drop a tad more over the course of the week.
Let me tell you a bad sign for an animated movie: the trailer spends half its time telling you the celebrities who voice the characters. It's almost for sure a death knell regarding the critical chances if the voiceover work is the most compelling piece of the flick. That looks to be the case with Arctic Dogs, an animated film from the India-based Assemblage Studios. What was for sure a solid payday for folks like Jeremy Renner and Heidi Klum (the leads) won't likely translate to any positive critical scores.
The trailer looked every bit a corny mess about an arctic fox who dreams of pulling the big sled one day only to discover a nefarious plot that could destroy its habitat. This one is almost for sure headed to the dumpster even if the story is meant to be inspirational.
Overall, last week was a good one, with two of the the three movies out in wide release falling well within range of my predictions. It was easy to see Countdown (Predicted: 30% Actual: 27%) coming, and I could tell it would score low considering the silly nature of the film. Some horror releases like this have been able to get by with a tongue-in-cheek approach to the scares, being self-reflective enough to know it's all just a little goofy. But this one didn't get there, and the score reflects it.
Meanwhile, Black and Blue (Predicted: 45% Actual: 46%) was nearly right on the money. I thought it looked like a fine enough action film that would obviously struggle with anything close to a serious plot, and that was very much the case. Critics thought the Naomie Harris did a solid job as the lead, and the action paced out well, but overall, the story just fell short.
Finally, The Current War (Predicted: 29% Actual: 59%) was a big miss. I though the score would drop more over the course of the week and factored too much of the film's production hell into the final prediction. What's interesting is there are basically two versions of this movie: the "original," which scored a 33%, and The Director's Cut, which scored the 59%. That's a pretty big disparity for the "same" movie. But alas, my prediction was on the latter and was off the mark.
Next time around we've got Midway, Playing With Fire, Last Christmas and Doctor Sleep. It's gonna be a Rotten Week!
Doug began writing for CinemaBlend back when Terminator: The Sarah Connor Chronicles actually existed. Since then he's been writing This Rotten Week, predicting RottenTomatoes scores for movies you don't even remember for the better part of a decade. He can be found re-watching The Office for the infinity time.
Your Daily Blend of Entertainment News
Thank you for signing up to CinemaBlend. You will receive a verification email shortly.
There was a problem. Please refresh the page and try again.