Midway Box Office: The World War II Movie Performs A Surprise Upset And Beats Doctor Sleep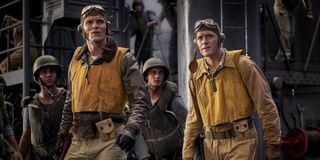 This weekend, ladies and gentlemen, was a strange one at the box office. Four new films arrived in wide release, all of them targeting very different and specific audiences. Still, even with all the competition, prognosticators estimated that it would be Mike Flanagan's horror feature Doctor Sleep that would wind up topping Roland Emmerich's war movie Midway, Paul Feig's romantic comedy Last Christmas, and Andy Fickman's family friendly Playing With Fire. It turns out those professionals only get partial credit this time around, though, as Doctor Sleep under-performed — leading to beat both Last Christmas and Playing With Fire, but lose the box office crown to Midway.
Check out the full Top 10 results below, and join me after for analysis!
As you can see by the numbers, Midway didn't so much win the box office by doing extraordinarily well, but instead by simply making enough money to top Doctor Sleep. This is a movie that carries a $100 million budget (not including publicity and marketing costs), so it still has a long way to go before it can actually be called profitable, and it isn't exactly a gold star-worthy release on the track record of Roland Emmerich. It's being dubbed one of the most expensive independent films ever made, but whether or not the investment will be worth it isn't quite clear yet.
This is a filmmaker whose resume includes three different $500 million-plus hits - including Independence Day ($817 million), 2012 ($789 million), and The Day After Tomorrow ($543 million). That being said, the appeal of his movies has definitely declined in recent years. He hasn't had a project open to more than $30 million in the last decade — a period that has seen him make four features — but at least he and the folks at Lionsgate can be proud of the title "The Number One Movie In America."
There are a couple of factors that could still result in Midway being called a legitimate win, however. The first is in the foreign box office realm, and we don't yet have totals from those regions. It's worth noting that a good amount of financing for the movie came from Chinese investors, so we could wind up seeing the film get a serious push in that particular country, resulting in some extra ticket sales.
And then there is the "legs" factor. Midway's release was timed to coincide with the Veteran's Day holiday, but it might not be the only holiday weekend from which the film could ultimately profit. It's later in the month than normal this year, but Thanksgiving is coming up, and with families of multiple generations coming together to celebrate, it might wind up being the most agreeable choice among any given clan planning a venture out to the local multiplex.
So what happened to Doctor Sleep? That's a question that a whole lot of people in the industry are going to be asking in the next couple of days. Early in the week it was said that the horror film starring Ewan McGregor and Rebecca Ferguson could potentially make as much as $30 million through its first three days, but as you can see, it ultimately only made less than half that total. Certainly it didn't help that it was being released during the same weekend as three other titles vying for audience attention, and, as many have pointed out, it's strange that the movie was timed to come out two weeks after Halloween (you may have already forgotten that the big scary movie tied to the holiday this year was Justin Dec's Countdown).
Looking at things from a broader perspective, it's possible that Doctor Sleep just kind of got screwed by Warner Bros. scheduling. It was just two months ago that the same studio put out Andy Muschietti's IT Chapter Two, which wound up being a hit, but didn't perform nearly as well as its predecessor. It's totally believable that WB thought that Stephen King sequel would do much better and potentially be the title of choice during Halloween. Meanwhile, sitting right between the two movies was Todd Phillips' Joker — which has been very much over-performing, as evidenced by the fact that it's been out for more than a month and continues to hold on to sixth place.
Speaking of Joker, the international total for the film now stands at $958.9 million, so it won't be too much longer until the character study comic book adaptation joins the three comma club, which in 2019 also includes Joe and Anthony Russo's Avengers: Endgame, Jon Favreau's The Lion King, Jon Watts' Spider-Man: Far From Home, Anna Boden and Ryan Fleck's Captain Marvel, Josh Cooley's Toy Story 4, and Guy Ritchie's Aladdin.
This scenario was likely always going to end with Playing With Fire and Last Christmas duking it out for third place, and the former just barely won the bronze medal (by a margin of just $800,000 to be exact). The good news for the John Cena-led comedy is that it doesn't have anywhere near the same inflated budget as Midway, but Paramount did still spend nearly $30 million to get it made, so it still has to hold tight in the Top 10 in the coming weeks if it wasn't to be labeled a win.
Last Christmas had the lowest budget the four new releases, but still this has to be seen as a bummer for Universal Pictures. This is definitely a film that could stay in the lower half of the Top 10 for the next few weeks until it becomes more timely in the heart of the holiday season, but for right now the outlook isn't all that wonderful. It's the lowest grossing film for Paul Feig since 2006's Unaccompanied Minors (coincidentally another Christmas-themed feature), and made four million less than the filmmaker's last offering, A Simple Favor, did in its first three days of release last year.
With the exception of Ruben Fleischer's Zombieland: Double Tap and Greg Tiernan and Conrad Vernon's The Addams Family switching places in the rankings, basically everything else in the Top 10 just shifted down to make room for the new films this weekend — but it will be interesting to see how the field responds to this weekend's crop of new arrivals, including Bill Condon's The Good Liar and James Mangold's Ford v. Ferrari. Be sure to check out our box office report next weekend to see how it all shakes out!
Your Daily Blend of Entertainment News
Assistant Managing Editor
NJ native who calls LA home and lives in a Dreamatorium. A decade-plus CinemaBlend veteran who is endlessly enthusiastic about the career he's dreamt of since seventh grade.
Your Daily Blend of Entertainment News
Thank you for signing up to CinemaBlend. You will receive a verification email shortly.
There was a problem. Please refresh the page and try again.