21 Bridges Reviews Are Up, See What Critics Are Saying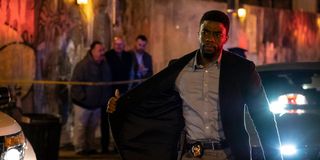 Thanks to Black Panther,'Wakanda Forever' has become part of our pop culture lexicon. And thanks to the box office performance of Ryan Coogler's MCU film, it has also become a promise that we will be seeing more of the fictional African nation for years to come. While Black Panther 2 won't arrive until 2022, this weekend Chadwick Boseman and a pair MCU luminaries, Joe and Anthony Russo, are bringing a new movie to theaters with 21 Bridges.
The Russo Brothers serve as producers on the crime drama that stars Chadwick Boseman as an NYPD detective on the hunt for a pair of cop killers. As the night goes on a manhunt turns into an investigation into a vast and insidious conspiracy. 21 Bridges is directed by TV director Brian Kirk and also stars J.K. Simmons, Sienna Miller, Taylor Kitsch and Keith David. So do these bridges hold or is this movie underwater?
The first reviews for 21 Bridges are now up and it looks like this movie doesn't quite live up to the sum of its parts. In his 2.5 star review of the film, CinemaBlend's Eric Eisenberg said:
For Eric, 21 Bridges had a ton of potential and was working with some interesting characters and ideas that were unfortunately cut off at the knees by accelerated pacing and an overabundance of clichés and tropes in this well-trodden genre. This sentiment, that a much better version of this movie was possible, was echoed by other critics as well, including Entertainment Weekly's Leah Greenblatt, who gave 21 Bridges a B and wrote:
Many of the criticisms of 21 Bridges seems to center on the script by Adam Mervis and Matthew Michael Carnahan. But despite its flaws on the page, critics still found things to like in Brian Kirk's film, calling it a nice alternative to the kinds of blockbuster superhero films we first associate Chadwick Boseman with. IndieWire's Kate Erbland gave 21 Bridges a C+ and said:
If you've seen a movie before and you're looking to be surprised, it seems that 21 Bridges may not be the movie to do that. Nevertheless, the predictability does not take away from the film's substance.
It seems that most critics found both good and bad to be had with 21 Bridges, with their reviews ultimately being determined by whether they thought those elements balanced or whether one outweighed the other. Unfortunately for The Hollywood Reporter's Todd McCarthy, it looks like those negative elements far outweighed any strengths the movie has. In his review he wrote:
MCU movies like Black Panther may be known for more stylized PG-13 violence, but the R-rated 21 Bridges apparently takes advantage of its rating, going hard with its R. Unfortunately, that may not have been for the best.
Most of the reviews for 21 Bridges were not quite so harsh. IGN's Kristy Puchko found the film solid overall, particularly the performance of the cast. In her 7.8 out of 10 review, she wrote of Chadwick Boseman's performance:
Lastly is AV Club's Jesse Hassenger who gave the film a B- and highlighted the unexceptional nature of 21 Bridges while also giving the film credits where it's due for being entertaining. He wrote:
Ultimately, it looks like 21 Bridges is a case where half of the critics couldn't quite give it a fresh review and the other half barely got it over the hump. The narrative among the reviews so far seems to be that 21 Bridges suffers due to its complete predictability and utter lack of surprise but succeeds on the strength of its cast and how it differentiates itself in the marketplace.
If you're going in to 21 Bridges expecting something on the level of Heat, you'll probably leave disappointed. If you're looking to be absolutely blown away by a film's greatness, this isn't it, but it's prestige season and there are plenty of other options available that can scratch that itch. But if you go in to 21 Bridges and are just looking to have some fun and see Chadwick Boseman onscreen, you'll probably have a decent time.
21 Bridges opens in theaters on November 22. Check out our 2019 Release Schedule to keep track of all the other big movies still to come this year.
Nick grew up in Maryland has degrees in Film Studies and Communications. His life goal is to walk the earth, meet people and get into adventures. He's also still looking for The Adventures of Pete and Pete season 3 on DVD if anyone has a lead.
Your Daily Blend of Entertainment News
Thank you for signing up to CinemaBlend. You will receive a verification email shortly.
There was a problem. Please refresh the page and try again.