The Russo Brothers Reveal A Slew Of Post-Avengers: Endgame Projects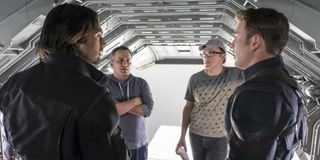 In the last five years, Joe and Anthony Russo have become two of the most famous filmmakers in the world. While they had previously been best known for their work on beloved cult television shows like Community and Arrested Development, everything changed when Marvel Studios hired them to take the helm of 2014's Captain America: The Winter Soldier. Since then they have not just directed three more Marvel movies– including Captain America: Civil War, Avengers: Infinity War, and Avengers: Endgame – but turned those projects into some of the biggest blockbusters of all time.
That kind of success has some major benefits in Hollywood, and now the directing duo is taking full advantage. The brothers have used their clout to start their own production company called AGBO Films, they are now they are now developing a full slate of projects to both produce and direct. Much of the work is still in the early stages and just starting to come together, but this morning at San Diego Comic-Con the two filmmakers did a great job preparing audiences for what to expect in the future.
Joe and Anthony Russo took the stage for their very own Hall H panel earlier today, and they revealed some interesting details about what is coming up for them – and for your digestion we've compiled all of the key information here:
Cherry
The Russos are only a few months removed now from the insane back-to-back productions of Avengers: Infinity War and Avengers: Endgame, but already they have settled on the film that they want to direct next. Cherry is an adaptation of the novel of the same name by author Nico Walker, and is particularly special to the Russos because it's a story that brings them back to their home city: Cleveland, Ohio. Dealing with some intense subject matter like the on-going opioid crisis and the lives of veterans, the film follows an army medic with PTSD who becomes a serial bank robber in support of a deepening drug addiction. Tom Holland, who the directors notably cast as Spider-Man in Captain America: Civil War, is set to star, but the project won't be quite as kid-friendly as the web-slinging adventures, as it is going to be made with an R-rating in mind.
Dhaka
During the panel, Joe and Anthony Russo both noted that a big part of their mission with AGBO Films is creating a place where filmmakers can have opportunities that they might not find elsewhere in the industry, and the development of Dhaka is a great example. The movie is based on a script that Joe Russo wrote, but it is being helmed by Sam Hargrave – who is making his directorial debut after having previously been a part of the stunt department on all four of the Russos' Marvel movies. The film is set in India and centers on a mercenary (Chris Hemsworth a.k.a. Thor) who is hired by a businessman to try and rescue his kidnapped son.
Magic: The Gathering
Despite the name of the company, AGBO Films won't just be making features, as they are also dedicated to developing small screen projects as well. One they are making, for example, is based on one of the great geek properties of the modern era: Magic: The Gathering. The show is being developed as an animated property for Netflix, with the possibility of someday spinning off into something in live-action. It's still very much in the early days, but Joe Russo noted that those who are fans of characters Jace and Chandra should get very excited.
21 Bridges
Most of the projects discussed during the panel are not going to be released until at least 2020, but that's not the case for director Brian Kirk's 21 Bridges – which will be hitting theaters on September 27th. The film features yet another major Marvel star, in this case Chadwick Boseman, and in addition to featuring a quick video with the actor discussing his experience working with the Russo brothers, we also got a brand new trailer, which you can watch below:
The Thomas Crown Affair
It was back in early 2016 that we first learned that a new version of The Thomas Crown Affair was in development with Michael B. Jordan set to star, and today the Russo brothers confirmed that it is still very much a thing that is coming together. Both filmmakers expressed real appreciation for both previous big screen versions of the story – famously starring Steve McQueen and Pierce Brosnan, respectively – but added that this new take will be brand new. Matthew Michael Carnahan, who wrote the movies State of Play and Deepwater Horizon in addition to 21 Bridges, is currently working on the screenplay.
The Electric State
All four of the Russo brothers' Marvel Studios films were based on scripts by Christopher Markus and Stephen McFeely, and their collaboration will soon continue in the making of the new graphic novel adaptation The Electric State. Not much was said about what to expect from the project, but Markus and McFeely are writing it, and in the words of Joe Russo, "that alone is the reason to be excited about that project."
Grimjack
It was also further noted that the Russo brothers definitely aren't done developing properties based on comic books. While it's a bit of a deep cut, they are now getting ready to produce a movie based around the First Comics character Grimjack – who was created by John Ostrander and Timothy Truman back in the early 1980s. The story centers on a grizzled hero named John Gaunt a.k.a. Grimjack, who lives in a world that blends science-fiction and fantasy and operates as a pan-dimensional mercenary.
The Battle Of The Planets
For right now Cherry is the primary focus of the Russo brothers when it comes to directing, but after that it's possible that the siblings might try and bring The Battle Of The Planets to the big screen as a directorial effort. From the 1970s, the original show was an American adaptation of the Japanese anime series Science Ninja Team Gatchaman, and it's a big bombastic science-fiction adventure that centers on an intergalactic team called G-Force that works to protect the Earth from constant threats originating from the planet Spectra. This is a project that Hollywood has been trying to make for years and years, but now the Russos are doing their best to make it a reality.
Which of these projects are you most excited for? Hit the comments section below with all of your thoughts, feelings, and opinions, and stay tuned here on CinemaBlend for a whole lot more of our coverage out of San Diego Comic-Con 2019! Don't forget to also look through our 2019 release schedule.
Your Daily Blend of Entertainment News
Assistant Managing Editor
NJ native who calls LA home and lives in a Dreamatorium. A decade-plus CinemaBlend veteran who is endlessly enthusiastic about the career he's dreamt of since seventh grade.