A Beautiful Day In The Neighborhood: How Accurate Was The Mister Rogers Biopic?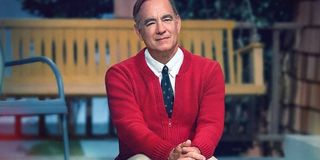 Hello, neighbor. Once again, it's a beautiful day in the neighborhood with the much-anticipated release of the appropriately-titled A Beautiful Day in the Neighborhood. The awards-friendly movie, which stars Tom Hanks as the late, great Fred Rogers, has earned a wealth of acclaim for its warm, tender, and moving portrayal of the celebrated PBS personality. But while the film is celebrated for how it brings the beloved Mr. Rogers back into the spotlight yet again through Hanks' exceptional performance, one must wonder if the movie itself is closer to reality or the Land of Make Believe in its accuracy.
Ultimately, A Beautiful Day in the Neighborhood is quick to use both fact and fiction, borrowing from reality while crafting a largely fictional story that tells a tale that feels deeply human. The result is a moving and sincere, if not always accurate, retelling from the life of one of our most well-beloved television personalities. Let's explore the different ways director Marielle Heller's movie reflects reality, while also using its imagination to concoct its own version of Mr. Rogers' indelible legacy. The result is honoring what the well-cherished children's performer had accomplished in his life and career.
The Movie Takes A Lot of Creative Liberties With Its Main Character (Not Mister Rogers)
When it comes to its main character, A Beautiful Day in the Neighborhood takes a lot of creative liberties. But it should be noted that, despite what the marketing might suggest, Fred Rogers isn't the movie's central character. Instead, he plays a supporting role opposite Matthew Rhys' Lloyd Vogel. The protagonist is a disgruntled and jaded Esquire journalist who is asked to do a puff piece on Mr. Rogers for the publication's heroes issue, only for the world-weary writer to fall under Rogers' spell and learn that his beloved television personality is not merely an act for the cameras. While this might take some folks aback, it ultimately makes sense in the long run. Fred Rogers is a character who stays true to himself throughout the film, while Rhys' Lloyd changes drastically over the course of the movie. Through Lloyd Vogel, we see a character have a full arc, while makes for a compelling and illuminating movie.
That said, Lloyd Vogel is almost entirely a fictional creation. He's based on Tom Junod, the writer who penned the piece "Can You Say... Hero?" in Esquire back in November 1998. The autobiographical cover story is the basis for the new movie, though it cherry picks what it wants to take from its source of inspiration. Specifically, both Junod and Vogel are award-winning journalists and they both had a fond connection to their stuffed animals, named Old Rabbit, as a child, which helps each of them relate to Fred Rogers throughout the course of this story. Ultimately, however, that's where the overlaps between reality and fiction end. From there, everything we know about the main character from this film was created for dramatic purposes.
The Narrative Between Lloyd Vogel And His Father Is Entirely Fictionalized
That includes the overarching narrative between Lloyd Vogel and his father, Jerry Vogel, played by Oscar winner Chris Cooper. Throughout the movie, Lloyd Vogel holds a long-standing grudge against his father, for reasons that are revealed throughout the course of the movie. As Jerry starts to get sick, however, and Lloyd Vogel spends more time with Fred Rogers and listens to his methods about coping with your burning feelings of anger and resentment, as well as learning to forgive those who have hurt you in the past, Lloyd Vogel begins to heal the bond with his ill father — particularly since he is a recent father himself.
Almost all of this is entirely fake. Scenes where Lloyd Vogel passes out on the set of Mister Rogers' Neighborhood and Fred Rogers visits Jerry Vogel with a pie are created for the dramatic purposes of the story and have no baring on reality. That said, one anecdote from Tom Junod's piece helps inform this narrative. When Mr. Rogers meets a child with cerebral palsy, Fred Rogers asks the kid to pray for him, because he thinks "anyone who has gone through challenges like that must be very close to God." Subsequently, Tom Hanks' Rogers asks Jerry Vogel to pray for him, since the TV personality claims that "someone who is suffering that much must be very close to God."
The Details Surrounding Mister Rogers And His Profile Are Generally True, But The Timeline Is Jumbled
When it comes to the movie's depiction of Fred Rogers, however, A Beautiful Day in the Neighborhood is generally factual. Many of the details revealed about the television personality over the course of the movie are based in truth, which we'll discuss more later in the article. But one thing that should be noted now is that while a lot of the details involving Mr. Rogers did happen or are based in truth, the sequence of events in which they happen are not exactly true to life. In typical movie fashion, Marielle Heller's film likes to play fast and loose with the subject's timeline.
For instance, when Lloyd Vogel comes to the WQED studio to watch a recording of Mister Rogers' Neighborhood before he interviews his subject, he watches a scene where the television personality is trying — with tremendous difficult — to fold up a tent. It doesn't work out, but he's okay with that. While his producers are willing to fold the tent up to make it easier for him the second time around, Fred Rogers insists on keeping it. He believes the lesson that things don't always work the way you intended them to is more valuable than what he was originally trying to say with this demonstration. While this is a highly enjoyable scene, it didn't happen in 1998, when the film takes place. Instead, this memorable clip is from decades prior in 1975.
The Subway Scene Really Happened
Similarly, the scene in the subway where a train full of passengers start singing "Won't You Be My Neighbor?" to Mister Rogers in New York City did, in fact, happen, believe it or not. In fact, this sequence was lifted directly from Tom Junod's original article, though the writer himself wasn't there when it happened — unlike his screen persona, Lloyd Vogel. Additionally, it was a lot more spontaneous in real life than it was in the movie.
In the film's depiction, Mister Rogers claims he likes to ride the subway whenever he's in the city — likely in an effort to further humanize him. As the story goes in the article, though, Fred Rogers was in New York City and he got caught in the rain. He couldn't hail a taxi and he didn't have an umbrella. Therefore, he opted to take the trolley instead (fittingly enough). The subway was filled with school children, and once they recognized him, they started singing. Soon enough, many more people on the subway started singing, and Mister Rogers was in the midst of a choir of adoring train riders. While the movie does fudge a few details, this scene is largely accurate to what actually happened — at least, how it was depicted in Tom Junod's inspirational article.
The "10 Seconds of Silence" Was Lifted From Mr. Rogers 1997 Emmy Speech
Later in the movie, there is a moment where Fred Rogers shares "10 seconds of silence" with Lloyd Vogel, in an effort to help the writer slow down and appreciate the world around him and what has been provided to him. Soon enough, it appears that the full restaurant is participating in this activity in the process. This moment is based in reality, but in a very broad sense. Specifically, it appears to be lifted from Rogers' 1997 Emmy speech when he accepted the Lifetime Achievement Award, which is also referenced in Tom Junod's feature. Here is the clip of that awards speech with this moment:
You can certainly understand why A Beautiful Day in the Neighborhood lifted this real-life moment and applied it to its own narrative.
Mr. Rogers Was A Vegetarian
Shortly before the restaurant scene where Mr. Rogers shares a moment of silence with Lloyd Vogel, Fred Rogers is seen eating a plate of vegetables. When Lloyd comments on this decision, asking if he is vegetarian, Mr. Rogers answers this question by saying he couldn't "eat anything that had a mother." This is a line commonly uttered by Mr. Rogers in real life. While he didn't say it directly to Tom Junod (so far as we know), it was well-known that he practiced a vegetarian lifestyle. Specifically, Fred Rogers became a vegetarian in the 1970s. He even helped finance — and later appeared on the cover of — the magazine Vegetarian Times. Suffice to say, Mister Rogers wasn't necessarily shy about his vegetarian lifestyle and his reasons why.
Tom Hanks' Depiction of Fred Rogers Is Largely Truthful, If Highly Dramatized
Overall, Tom Hanks portrayal of Fred Rogers is largely based in truth. As seen in the opening sequence, which meticulously recreates the traditional opening of the show, the two-time Academy Award-winning actor took dutiful strides to bring the TV personality to life, largely since so many people have such vivid memories of Mister Rogers and his impact on the world through his influence, love, and his popular and acclaimed television program.
That said, for many of the reasons discussed in this article, the events portrayed in the film are heavily dramatized. Oftentimes, Tom Hanks treats his depiction of Fred Rogers the same way the actor brought Walt Disney back to life in Saving Mister Banks or recreated the most triumphant moment in Captain Chesley "Sully" Sullenberger to the big screen in Sully. He relies on warm dramatization, sometimes heavily sugarcoated, in order to bring the messages and life lessons that the television personality strived to give the world through a humble, dramatic portrait of a broken man who learns to accept his flaws, open his heart, and forgive those who hurt him through Lloyd Vogel. It's not always accurate, but it's truthful to Rogers' convictions.
The Movie Often Speaks The Emotional Truth Rather Than The Historical Truth, Which Is Where It Succeeds
With that said, it should ultimately be noted that, above all else, A Beautiful Day in the Neighborhood finds the emotional truth, rather than the historical truth, in Mr. Rogers' life. Though the movie is based on an actual real-life correspondence that the television personality shared with Esquire's Tom Junod, it uses this story to focus on the message of the article and the larger intent of Mister Rogers' Neighborhood. Namely, that Mr. Rogers was not pretending to be the man he was on TV; that his values were truthful and held dear, and they resonated because Fred Rogers was deeply human.
Typically, A Beautiful Day in the Neighborhood will acknowledge — either pointedly or not — that Fred Rogers was a great man, but not necessarily a saint by day or a totally flawless person. He had his troubles, and he wasn't without sin. Yet, it was how he learned to cope with his shortcomings and overcome his adversities that made him such a beloved figure in pop culture history. This movie speaks clearly and lovingly to the emotional core of Mr. Rogers' well-seen and well-liked persona, and that — more than anything else — is where the truth is found in Marielle Heller's acclaimed film.
So even though A Beautiful Day in the Neighborhood isn't entirely accurate, it's easy to like it just the way it is. You can catch the movie in theaters now, and be sure to read CinemaBlend's review on it.
Your Daily Blend of Entertainment News
Will is an entertainment writer based in Pittsburgh, PA. His writing can also be found in The Playlist, Cut Print Film, We Got This Covered, The Young Folks, Slate and other outlets. He also co-hosts the weekly film/TV podcast Cinemaholics with Jon Negroni and he likes to think he's a professional Garfield enthusiast.