Why The Opening Crawl To Star Wars: Rise Of Skywalker Starts With That Big Reveal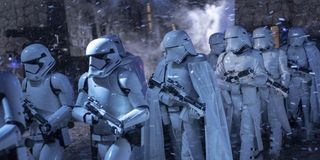 This story discusses plot details for Star Wars: The Rise of Skywalker. Don't read any further if you don't want to be spoiled!
The opening crawl is, by now, one of the most famous parts of a Star Wars film. It serves as a way to offer any background information the viewer will need and set the scene for what's to come. The Rise of Skywalker wasted no time in its crawl, immediately jumping in with Palpatine news that would shock anyone who somehow managed to avoid all trailers and posters for Episode IX: "The dead speak! The galaxy has heard a mysterious broadcast, a threat of REVENGE in the sinister voice of the late EMPEROR PALPATINE..."
The creative team behind The Rise of Skywalker didn't exactly keep the Emperor Palpatine reveal under wraps ahead of the film's premiere. But that doesn't mean we knew when or how we could expect to see him -- and it was definitely an intriguing choice to anchor the opening crawl.
Star Wars fans have certainly had a few questions about some of the creative decisions made regarding The Rise of Skywalker. In an interview with IndieWire, Star Wars: The Rise of Skywalker screenwriter Chris Terrio attempted to explain why they chose to reveal the Palpatine return that way:
That's all well and good -- but probably won't be enough to appease fans that are frustrated, in general, with the villain's presence in The Rise of Skywalker. Fans have complained that the movie doesn't do a good enough job of explaining how and why he's there -- and weren't exactly impressed when the film's editor admitted that she and J.J. Abrams figured fans wouldn't care about the backstory. Riiiiight.
Chris Terrio added that other versions of Rise of Skywalker's opening crawl revealed less or more, and the film had a completely different version for a while.
Not that we got to hear Palpatine's broadcast in the movie. (But maybe you can in Fortnite?)
Fandom irritation or praise aside, Star Wars: The Rise of Skywalker is still making bank. It's well on its way to making $1 billion at the box office. Keep up with everything showing on the big screen this year with our 2020 movie release date schedule.
Your Daily Blend of Entertainment News
Thank you for signing up to CinemaBlend. You will receive a verification email shortly.
There was a problem. Please refresh the page and try again.