Yikes, The Grudge Got A Rare F CinemaScore, Joining This Sad List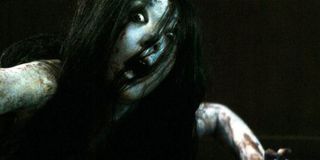 The Grudge hit theaters this weekend, to the excitement of basically no one. While it may not seem much different than any of the other horror franchise remakes out there, it's just earned a unique distinction: it's one of the few films to earn an F rating on CinemaScore. Yeah. Apparently it's that bad.
CinemaScore is a market research firm that specializes in gathering data from moviegoers. Since 1979, they've been surveying film audiences all over the country and asking them to give letter grades to the movies they see. It's basically like a movie report card. To date, just 20 films have held the unfortunate distinction of receiving an F -- the lowest grade possible.
In general, it seems like horror films tend to be the most likely to be leveled with this score by audiences. The Grudge joins other horror films Lost Souls, Darkness, Fear Dot Com, Alone in the Dark, Wolf Creek, Bug, The Wicker Man, Silent House, and The Devil Inside in the F-rating hall of shame.
The first film to earn an F rating was 1999's Eye of the Beholder. Since then, Dr. T and the Women, Lucky Numbers, Solaris, In the Cut, I Know Who Killed Me, Disaster Movie, The Box, and Killing Them Softly also rounded out the list.
The last movie to earn an F rating before The Grudge was Darren Aronofsky's wildly controversial Mother! The CinemaScore rating for the Jennifer Lawrence-led psychological thriller was particularly intriguing, since the divisive film was championed by some film critics. The same can't be said for The Grudge. It's been largely eviscerated by critics, who have complained that the film is so not scary that it's funny. It currently holds just 19% approval on Rotten Tomatoes.
It shouldn't come as a surprise that The Grudge wasn't a huge hit with audiences. Nicolas Pesce's reboot of Takashi Shimizu's 2004 remake of his own 2002 horror film Ju-On: The Grudge wasn't really something that anyone asked for. Even some of the people involved with the series weren't excited about The Grudge hitting theaters. It was held from theaters for over a year after the producer of the original The Grudge filed a lawsuit after he alleged that he'd been denied a producer credit.
But it's one thing for a movie to be poorly received by audiences, and entirely for it to be universally disliked on such a level that it seems like no one likes it. Given the lack of a positive response, it's unlikely that The Grudge will usher in a new era for the franchise. That is, unless they're looking to make the most unliked series in cinema history.
Your Daily Blend of Entertainment News