The Rhythm Section Reviews Are In, See What Critics Are Saying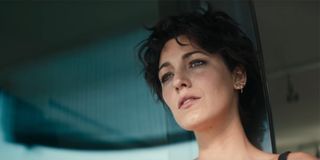 We've heard this time and time again, that new releases will show a "new side" of established actors. BBut this time it may actually be true. Most audiences probably know actress Blake Lively as the star of Gossip Girl and films like The Age of Adaline. She's shown more of her talent and range in movies like The Shallows, The Town and A Simple Favor, but this weekend you'll be able to see the blonde bombshell as you've truly never seen her before in The Rhythm Section.
Revenge movies never go out of style and this one from The Handmaid's Tale director Reed Morano stars a nearly unrecognizable Blake Lively as a broken woman named Stephanie Patrick who finds a new violent purpose when she discovers that the plane crash that killed her family was not an accident. The Rhythm Section is based on a series of books by Mark Burnell who adapted his own work for the movie's screenplay. So, how is it?
Well, that will really depend on who you ask. The first reviews for The Rhythm Section are in and critics are divided on this one. CinemaBlend's own Mike Reyes was a fan though and gave The Rhythm Section 3.5 out of 5 stars in his review. Mike wrote:
The James Bond comparisons are not surprising given that The Rhythm Section comes from Eon Productions, which also makes those spy films. But according to Mike, The Rhythm Section is something different, something that is brutal and brilliant. There is no need for a female Bond when there are original female characters like Blake Lively's Stephanie Patrick.
Mike wasn't the only one who enjoyed The Rhythm Section. Variety's Peter DeBruge also appreciated Reed Morano's film, especially the approach to the lead character and Blake Lively's performance in the role. In his review Peter wrote:
Unlike Daniel Craig's James Bond or Liam Neeson's Bryan Mills or Charlize Theron's Lorraine Broughton, Blake Lively's Stephanie Patrick is not a highly-skilled, cold-blooded assassin. In fact, she's pretty bad at first and basically stumbles her way through. That approach to this kind of character sets The Rhythm Section apart from many of its contemporaries.
Variety highlighted Blake Lively's performance and it wasn't the only one. The strength of the actress's work in The Rhythm Section is a common thread in many of the reviews for the film. Digital Spy's Ian Sandwell gave The Rhythm Section 3 out of 5 stars and wrote:
It seems that Blake Lively more than proves her action chops in The Rhythm Section and manages to elevate the film despite its flaws. However, for some critics even a great performance doesn't make up for The Rhythm Section's story failings. The Hollywood Reporter's Frank Scheck wrote:
Those convoluted goings-on cited by Frank Scheck proved to be too much for some critics, with the weakness of the film's script popping up in multiple reviews for The Rhythm Section. One critic who found those weaknesses particularly offensive was The Chicago Sun Times' Richard Roeper. He gave The Rhythm Section 1.5 out of 4 stars and wrote:
We've heard about Blake Lively's performance, but this is a revenge spy thriller and if you've seen the trailers for The Rhythm Section you know that there is plenty of violence and action in this movie. So how do those elements stack up? Fairly well according to The Guardian's Peter Bradshaw, who gave The Rhythm Section 3 out of 5 stars in his review and said:
While many audience members might not know it, The Rhythm Section is the first in a series of books. So the feature film adaptation could in theory be the first of multiple movies. It's too early to know if that will be the case, but it seems there is potential there, at least in part because of the lead performance and the fact that the film isn't overly concerned with it. Forbes' Scott Mendelson wrote:
So as you can probably tell, critical consensus is fairly hard to come by on this one. The Rhythm Section is clearly not perfect and it really comes down to whether you think the strength of the action and Blake Lively's performance outweighs the weaknesses of script and story.
If you're a Blake Lively fan or a fan of the books it's a must. Otherwise it's probably 50/50. Right now The Rhythm Section sits at 48% on Rotten Tomatoes based on 25 reviews. Then again, over a decade ago another January revenge film received a rotten score and it wound up being a fan favorite. We'll see starting this weekend if The Rhythm Section can pull a Taken and kick off a franchise.
The Rhythm Section hits theaters on January 31. Check out our 2020 Release Schedule to keep track of all this year's biggest movies and for the latest entertainment news, stay tuned to CinemaBlend.
Nick grew up in Maryland has degrees in Film Studies and Communications. His life goal is to walk the earth, meet people and get into adventures. He's also still looking for The Adventures of Pete and Pete season 3 on DVD if anyone has a lead.
Your Daily Blend of Entertainment News
Thank you for signing up to CinemaBlend. You will receive a verification email shortly.
There was a problem. Please refresh the page and try again.