20th Century Fox: The 10 Best Movies The Studio Ever Made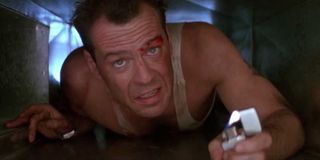 After almost 85 years of making blockbusters, awards darlings, and general crowd pleasing movies under the name 20th Century Fox, the famed studio has officially changed its name. It was recently announced that Disney, the new owners of the formerly independent major studio, have now rebranded 20th Century Fox and Fox Searchlight Pictures as 20th Century Studios and Searchlight Pictures.
We are now in a new era of motion picture history, and as this bold new epoch unfolds, it's a good time to look back and remember the beautiful visions that 20th Century Fox has brought us in the past. So cue the iconic fanfare and conduct along as if it was the last time, as we celebrate these ten favorites from the history of Fox movies.
10. The Martian (2015)
Sci-fi has been a genre that 20th Century Fox has always made some pretty interesting films from. While it has made movies in all corners of the cinematic world, the world of the fantastic has been a place where Fox has made a cozy home, shown again in one of its most recent films, Director Ridley Scott's The Martian.
As astronaut Mark Watney (Matt Damon) finds himself stranded on Mars, the challenges faced in this adaptation of author Andy Weir's grounded, but futuristic tale are all brought to brilliant life. With an ensemble of unique characters that all make up the team that will help Mark try to come home, the action and the character work are both painted in brilliant detail.
9. Young Frankenstein (1974)
While writer/director Mel Brooks' classic Young Frankenstein owes its own debt to the horror genre, it's comedy that rules the roost in this takeoff based on Mary Shelley's iconic masterpiece. Brooks worked with valued collaborator Gene Wilder, whose performance as Frederick, the grandson of Dr. Victor Frankenstein, is a gem in a career full of winners.
Pitted against Marty Feldman, Madeline Khan, Teri Garr, Kenneth Mars, and Peter Boyle as The Monster himself, the talent on display is on par with Mel Brooks' direction of the script that he and Wilder co-wrote. Running gags, romance, and a musical number all make this film a true classic in the 20th Century Fox fault.
8. Miracle On 34th Street (1947)
20th Century Fox movies aren't all creatures and sci-fi, as they've also made some heartwarming films in their day. Miracle on 34th Street is one of the prime examples of such a movie, as George Seaton's holiday focuses on something much more grounded, but still very fantastical: the existence of Santa Claus.
A legal debate over whether Kris Kringle (Edmund Gwenn) is truly the Santa is the heart of the movie's story, as folks far and wide have encountered his magic firsthand at Macy's, which prompts skeptics to come out of the woodwork. With Maureen O'Hara and Natalie Wood as the mother and daughter caught in the middle of it all, the film would spawn a remake, but the original version is still firmly placed in the hearts of its fans.
7. Mrs. Doubtfire (1993)
Divorce is a hard topic to tackle in entertainment, whether it's aimed at adults or children. It's a fact that makes director Chris Columbus' 20th Century Fox classic Mrs. Doubtfire sound all the more magical, as it is a movie that speaks of this subject with a high degree of emotional understanding, while also serving as a fall down funny vehicle for Robin Williams' comedy chops.
Williams plays both a father whose about to be separated from his family, and the housekeeper alter-ego he invents to keep himself in the picture, and the resulting film is one of his career's best efforts. Showcasing both the dramatic and slapstick sides of Robin Williams, as he navigates life with ex-wife Sally Field and their three children, Mrs. Doubtfire doesn't take any shortcuts, and serves as a 20th Century Fox movie that can make the whole family laugh, cry, and smile without ever feeling either emotion is out of place.
6. All About Eve (1950)
Before Titanic and La La Land tied its record for the most Academy Award nominations, 20th Century Fox had Hollywood history beat with All About Eve. When all was said and done, 14 nods were handed to this drama involving the fickle nature of both show business and the fans that love it so.
With Bette Davis' actress Margo striking up a friendship with younger, eager fan Eve (Anne Baxter,) their relationship goes from friendly to furious, as Eve takes advantage of her newfound connections and tries to make a name for herself as an actor. Six of the 14 Oscars All About Eve was nominated for were won, with another record for four actress' being nominate for top honors from the film, and it's still a film that's worth its epic reputation.
5. Die Hard (1988)
It doesn't matter which sequel you value over the other, or if you think it's a Christmas movie or not: 1988's Die Hard is, and always will be, one of the best 20th Century Fox movies ever. Bruce Willis' origin story as the unkillable John McClane is still a modern benchmark for action-comedy to this very day, and it's not hard to see why.
Fighting through a skyscraper of villains, and trying to convince the police below that he's on the up and up, Willis' iconic '80s hero pitted against Alan Rickman's formidable, and borderline charming villain is something that's kept the film in the public consciousness for decades since its release. Say what you will about the rest, but Die Hard is a solid gold classic.
4. Fight Club (1999)
Here's an interesting scenario: author Chuck Palahniuk's incendiary counter-culture novel Fight Club, a long standing middle finger to consumer and corporate culture, became a long standing hit for a major film studio. With 20th Century Fox taking a gamble on this payload of shock and awe philosophy, it was a bold statement as the world headed into a new millennium.
The adventures of Brad Pitt's Tyler Durden and Edward Norton's unnamed narrator, and their mutual investment in "Project Mayhem" outraged quite a few with its content back in its theatrical run. But as time and analysis have shown, director David Fincher's adaptation of such a firebrand of a book was way ahead of its time, and an indicator of what audiences were truly ready for when it came to pushing the envelope.
3. Star Wars (1977)
If there was ever a movie that put 20th Century Fox on the map, at least in the world of the modern blockbuster, it has to be the original Star Wars. While Steven Spielberg's Jaws brought the concept of a smash summer hit into the forefront, it was fellow film brat George Lucas that turned that model into a bonafide smash. The first adventure of Luke Skywalker (Mark Hamill,) Princess Leia (Carrie Fisher,) and Han Solo (Harrison Ford) in this classic trilogy, Star Wars kicked off a world of cinema through what could have been a simple one-off.
But instead, Lucas' lore was so compelling, and the results of that first film so thrilling, that audiences kept 20th Century Fox in the Star Wars business for some time; a fact that undoubtedly convinced Disney to purchase Lucasfilm, and eventually Fox itself. All of that magic, and merchandising, started with this singular sci-fi event that marked a seismic shift in filmmaking.
2. The Sound Of Music (1965)
Some musicals are memorable, while others are so timeless they become annual institutions. Rogers and Hammerstein's The Sound of Music is most definitely one of the latter, as every year ABC or one of its affiliated networks has shown the film around the Christmas holiday for some time. While director Robert Wise's movie is another classic that falls into the "Christmas or Not?" debate, what can't be questioned is how well the film holds up.
Julie Andrews' delightful nun turned governess Maria and Christopher Plummer's handsome, but firm Captain Von Trapp slowly start to fall for each other, with the backdrop of Hitler's rise to power providing a dramatic threat to their burgeoning romance. Of course, that's just the surface to a story that has plenty of warmth and memorable songs to move it along into the history books as a 20th Century Fox classic.
1. Alien (1979)
Some may find it weird to say that director Ridley Scott's Alien is the best 20th Century Fox movie known in its entire history, but hear me out. Not only was the film a certified hit in the wake of Star Wars mania, it's also been one of the most consistent properties the studio has ever held, and with a comparatively smaller market share thanks to its R-rating.
But that's never stopped the Sigourney Weaver led franchise from, even in its darker days, making a lot of noise. It's all because of that first film, with H.R. Giger's vision of a hellish extraterrestrial hunted down Ripley and her crew in bloody, frightening fashion. Much like Die Hard, the Alien franchise built a rock solid reputation on its initial dose of terror, and has been able to beautifully do business on it ever since.
Senior Movies Contributor
CinemaBlend's James Bond (expert). Also versed in Large Scale Aggressors, time travel, and Guillermo del Toro. He fights for The User.