The 10 Best Christmas Movies On Disney+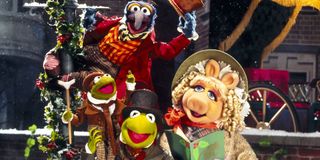 CinemaBlend participates in affiliate programs with various companies. We may earn a commission when you click on or make purchases via links.
We're getting ever closer to holidays, and much like any other streaming platform, Disney+ is going to have its fair share of Christmas movies to share with all of its subscribers. With the service having finally opened its doors, one would think there's a relatively small selection of seasonal cheer to choose from. Not true, as this is Disney after all, and Christmas is one of those holidays the studio has always excelled at.
In particular, the 10 movies we're about to mention are the best the library has to offer at this moment. With some obscure gems mixed in with holiday staples, this is a pretty surprising lineup for a streaming library as fresh as Disney+. Get ready, as this is the ultimate list of Disney+'s Day One Christmas movies you won't want to miss. And if you haven't already signed up for the service, the Mouse House is currently offering a 7-day free trial.
Miracle On 34th Street
With the acquisition of the 20th Century Fox library, a lot of legacy titles are now open for Disney+ to call its own. And sure enough, 1947's Miracle on 34th Street is one of those films that Disney is proudly boosting as a streaming exclusive. Telling the timeless story of Kris Kringle (Edmund Gwenn) and the trial to prove whether or not he truly is the Santa Claus, this movie is as traditional as the Macy's Thanksgiving Day Parade itself.
Which, strangely enough, is where the action for this particular film starts, and where your holiday marathon should probably begin as well. You can't go wrong with choosing Miracle on 34th Street as your first post-Thanksgiving dinner movie to start the Christmas season right.
One Magic Christmas
Another advantage to having the Disney+ streaming service is the fact that there are a lot of the older, more obscure entries in its cinematic vault. One example is the film One Magic Christmas, which sees legendary character actor Harry Dean Stanton playing an angel who's sworn to help one family make it through their hardships during the holiday season to have a very merry Christmas.
It may feel a little unconventional at times, but this Disney Christmas movie is one of the best examples of the studio's more experimental, but still family friendly eras of filmmaking. Plus, if there was anyone we'd believe to be a Christmas angel, Harry Dean Stanton would be pretty high on that list.
The Muppet Christmas Carol
Charles Dickens' classic A Christmas Carol has been remade in so many forms, we could probably do a top 10 list of which Christmas movies adapting its story are the best. And assuredly in the upper echelon of such choices would be another Disney+ Day One title, The Muppet Christmas Carol.
Starring the legendary Michael Caine as Ebenezer Scrooge, and the iconic Gonzo the Great as Charles Dickens, this version of Dickens' evergreen tale of changing one's ways is told with an irreverent, yet noble spirit. It also includes some of Paul Williams' most memorable songs with the Muppets, rounding out this timeless tale as not only a good for Muppet laughs, but also a beautiful classic that will warm and break your heart when it sees fit.
The Christmas Star
Before Ed Asner memorably played the role of Santa in director Jon Favreau's Elf, he got a little bit of earlier practice wearing the iconic red suit in the Christmas movie caper The Christmas Star. Playing a con-man who needs to recover the spoils from a recent score, Asner's Horace McNickle finds himself crossing paths with two children who really think he's Santa.
As this movie not only has the Disney brand attached to it, but is also going to be a Disney+ launch title, you can bet the trademark Ed Asner snark is going to eventually give way to a kinder, gentler version of the man you see on screen. If you want to make things extra interesting, make it a heartwarming Ed Asner double feature and watch Up right after The Christmas Star.
The Nightmare Before Christmas
You probably know someone who's watching The Nightmare Before Christmas already, as once Halloween ends, this baby usually comes out to play. So seeing as this title will probably be a Disney+ staple, you can bet that Jack Skellington's attempt to be the king of Halloween and Christmas will be in a lot more living rooms than before; and that's saying something.
A twisted tale of ambition, kidnapping and gambling the fate of the holiday, it's a film lighthearted enough to work with Christmas, dark enough to serve as a continuation of Halloween, and an all-around crowdpleaser no matter which side you identify with.
Beauty And The Beast: The Enchanted Christmas
Sure, you know the story of Disney's classic tale as old as time, Beauty and The Beast. But do you know the story of how their love was almost thwarted by an enchanted pipe organ, hell-bent on keeping the entire castle under the spell of the enchanted rose? It happened, and it's canon, thanks to Beauty and The Beast: The Enchanted Christmas.
One of the direct-to-video sequels that Disney experimented with in the late '90s, Disney+ is now a platform for such films to find a second life. And believe it or not, this is one such movie that deserves to be revisited, not only as a Christmas movie, but also as a chapter of the Beauty and The Beast saga.
The Santa Clause
It's hard to make a new holiday tradition, especially when it comes to a movie like The Santa Clause. A perfect storm of talent and comedy chops that definitely speak to the times this film was made, but bundled with a story that easily holds up almost three decades after its debut, Tim Allen's Christmas movie comedy will see itself on Disney+ in time for this holiday season to take full advantage.
You loved it as a kid, and so did your parents, so why not bond over reliving Scott Calvin's unlikely transformation from grumpy toy executive to Saint Nick himself? And yes, both sequels will also be available on Disney+, so the fun doesn't have to stop after that first film ends.
Mickey's Once Upon A Christmas
Sometimes you're not in the mood for a full Christmas movie, and would rather watch a collection of vignettes that show off your favorite Disney characters at the holidays. It's a specific itch, but it's one that can be scratched when you watch Mickey's Once Upon A Christmas.
Three vignettes tell stories that both entertain with their festive nature, but also touch upon what makes this time of year so special for one and all. And should you enjoy this compilation of animated merriment, you can enjoy the second volume, Mickey's Twice Upon A Christmas, which is similarly inclined to entertain the entire family this Christmas.
I'll Be Home For Christmas
Much like how The Santa Clause took advantage of Disney's success with Home Improvement by casting Tim Allen as its lead, I'll Be Home For Christmas aimed for the same result by using Jonathan Taylor Thomas as its lead. With both his father's vintage Porsche and his relationship with his girlfriend, played by Jessica Biel, on the line, Thomas' protagonist Jake has to make his way coast-to-coast in order to get home by the Christmas Eve deadline set in front of him.
Another demonstration of just how deep Disney+'s roster runs, this teen comedy will be there for anyone who can use a good laugh. Though you might have some fun explaining yourself when you start talking about that time "JTT" was one of the reigning heartthrobs of pop culture.
The Sound Of Music
This final selection is a bit of a cheat, as Rogers and Hammerstein's classic musical The Sound of Music isn't a movie directly related to Christmas. However, it has been a long standing tradition that the ABC network, and also Freeform, would air this movie during the holidays, so the Julie Andrews/Christopher Plummer starring heartwarmer basically has become a Christmas movie by popular acclaim.
It's hard to argue with the will of the public, and now with Disney+ offering another, easier way for folks to get their fix of fighting the Nazis through the power of song and family, it's never a bad time to think of your favorite things.
Everyone has something to look forward to with these Christmas movies being offered on what's probably going to be the hottest streaming services during the holiday season. So if you're looking for something to keep yourself in the holiday spirit, or if there's a family/friends gathering that could uses some seasonal excitement, you may want to make sure you have a Disney+ subscription handy when the time comes.
Keep in mind, all of these titles are subject to change. So if you're looking for something specific, and it's not in the Disney+ lineup (opens in new tab), it may have pulled specific titles for various reasons. But other than that, enjoy your Christmas movie marathons on what's sure to be the happiest streaming service on Earth, and don't forget to binge responsibly!
This poll is no longer available.
Your Daily Blend of Entertainment News
Senior Movies Contributor
CinemaBlend's James Bond (expert). Also versed in Large Scale Aggressors, time travel, and Guillermo del Toro. He fights for The User.
Your Daily Blend of Entertainment News
Thank you for signing up to CinemaBlend. You will receive a verification email shortly.
There was a problem. Please refresh the page and try again.