Disney+ Original Movies Fix An Important Problem In Disney's Theatrical Schedule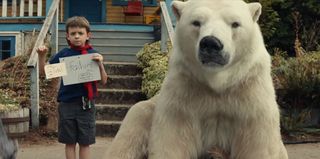 CinemaBlend participates in affiliate programs with various companies. We may earn a commission when you click on or make purchases via links.
The Walt Disney Company is the biggest name in entertainment. That's maybe the least controversial statement that is possible to make. Today, thanks to the success of studios like Pixar, Marvel, and Lucasfilm, not to mention Disney's own live-action and animated divisions, the company just dominates the movie business. In fact, the top six domestic box office movies of 2019 were Disney films. Disney had the highest grossing domestic movie of the year in seven of the last 10 years. Globally that number increases to eight out of ten. But the studio had a problem and its one that has been fixed thanks to Disney+.
Disney's films have become such behemoth blockbusters that the studio has been putting more and more resources behind fewer and fewer films. In 2019, for example, Disney released nine theatrical movies in 2019. If you look back a bit farther, in 2000 Disney released twice as many movies and only five years before that, the studio and its various subsidiaries released more than 30 films. Of course, Disney did significantly more business with the nine movies it released last year than any studio had ever done before, so this shift is not super surprising.
However, with this change, it's hard to not feel like something has been lost. In those years when Disney was releasing 20 and 30 films in a year, there were still major event releases, but there were also smaller films, simple projects that were never designed to be massive box office hits, but could still be smart, funny, heartwarming, emotional, or exciting for smaller audiences.
In 2003, Disney released both Finding Nemo and Pirates of the Caribbean: The Curse of the Black Pearl, the two highest-grossing domestic movies of the year, but it also saw the release of [Holes](https://en.wikipedia.org/wiki/Holes_(film), a fantastic, and generally well-reviewed and well-remembered little movie that was 39th highest-grossing movie of the year. (And was an early acting win for Shia LaBeouf.) Still, it was a smaller, modestly budgeted movie, and thus it didn't need to set the box office on fire, it just needed to do well enough on its own terms. It did, ultimately making over $67 million domestically (plus a little extra cheddar internationally) on a budget of $20 million plus P&A.
It's difficult to imagine that the Disney of today would ever release a movie like Holes theatrically. It's not that anybody would necessarily be against it on spec, but it's just too small of a property. Take Disney's lowest-grossing movie of 2019 in comparison. That film, Dumbo, still did a little more than double the business domestically that Holes did, making over $114 million in the U.S. and Canada -- more if you count worldwide distribution. And expectation certainly was that Dumbo would fly higher than it did during its theatrical release.
This same goes for other kinds of Disney productions that we used to see on the big screen a lot. Years before the "Disney live-action remake" was a thing, the "Disney inspirational sports movie" was basically its own franchise. Remember the Titans, Miracle, even The Mighty Ducks movies all fell into a similar formula, but that was OK. The formula was what fans wanted. These movies are fondly remembered and made money and memories for the studio.
If you're a fan of classic Disney, especially the simple, fun, movies the studio used to produce, then seeing these sorts of movies fade from the Disney release calendar has been a little sad. But there's good news. While these movies seemed like they were on their way out entirely, it appears that they've been saved, because this is exactly what we're seeing from the original films being released on Disney+.
It's not just that Disney+ is where you can find a lot of those older, smaller movies, (which can be checked out via a free trial Disney+ is offering), but it feels like the studio is making a concerted effort to produce new movies that look right at home alongside The Love Bug and Cool Runnings.
At first, it felt like Disney+ was going to be the new "direct-to-video" dumping ground for films that simply weren't up to snuff. The day one cinematic offerings were Noelle, a Christmas movie that had been given a theatrical release date, and was then pulled from the schedule, and Lady & the Tramp, the newest live-action remake of an animated Disney movie, but one that wasn't quite at the same level of popularity as something like Cinderella or The Lion King.
Both of those movies were... fine, good even. However, the next two Disney+ movies released felt like they could have been movies that came out a decade or more ago, and I mean that as a compliment.
Togo tells the story of the 1925 serum run to Nome which brought diphtheria medication to the remote Alaska town. It's ultimately a "boy and his dog" story; yet, it comes with an element of those against-the-odds inspirational sports movies that Disney used to make all the time. Nothing about Togo feels cheap or only done halfway. In another era, Togo would feel right at home on the big screen.
The same goes for the newest addition to the Disney+ library, Timmy Failure: Mistakes Were Made. The new film, which will hit the service on Friday February 7, would have a hard time finding an audience on the big screen today -- or at least would have a hard time finding a window on the Disney release calendar -- but a lot of people will likely be happy Disney+ exists, because if it didn't that would mean this movie wouldn't exist at all either.
Timmy Failure is what is usually derisively referred to as a "kids movie" because the younger set is the major audience for it, but it's the sort of kids movie that anybody could enjoy. It has fun characters and smart writing. It's not going to make anybody's list of best movies of the year, but who cares? A decade ago these were the movies that you flipped past on basic cable and just let run in the background. Today, they're the movies you're going to watch a dozen times when you can't decide what else to put on.
Looking ahead to the future of Disney+, continuing to release these movies that fit so comfortably into the classic Disney formula, appears to be the plan. Dolphin Reef is a documentary from Disneynature, a branch of the studio whose films used to be released in theaters, but unsurprisingly never did much business. Safety is based on a true story about a young man's battle with various personal trials as he attempts to play college football. Yeah, it's Disney+'s first "inspirational sports movie."
In some ways, it's still unfortunate that movie like Togo or Timmy Failure aren't being given theatrical releases. However you want to look at it, movies released to streaming services are always going to be viewed as second tier to theatrical releases, no matter how good they are. But in the end, it's better to have them somewhere than nowhere at all. It certainly fixes a problem with Disney's release schedule.
CinemaBlend's resident theme park junkie and amateur Disney historian. Armchair Imagineer. Epcot Stan. Future Club 33 Member.
Your Daily Blend of Entertainment News
Thank you for signing up to CinemaBlend. You will receive a verification email shortly.
There was a problem. Please refresh the page and try again.