Why The Invisible Man Never Tries To Convince The Audience Elisabeth Moss Might Be Crazy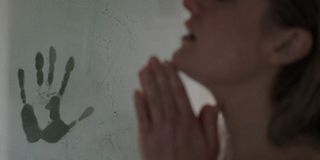 Warning: The end of this story contains significant spoilers for The Invisible Man.
The Invisible Man takes the audience on a pretty crazy ride. It follows Elisabeth Moss' character through a frightening psychological journey -- but never once seems to question her sanity. And that intentional choice by the film's director was key to making sure the movie pulled off its frightening premise.
The Invisible Man features plenty of crazy twists and turns, and it would have been easy for director Leigh Whannell to make it seem as though Elisabeth Moss' character Cecilia was as out of her mind as those around her believe her to be. But in an exclusive interview with CinemaBlend's Eric Eisenberg, the director said he made a conscious choice to tell The Invisible Man from her perspective:
Check out the full interview below to see Leigh Whannell discuss his approach to telling Cecilia's story:
By focusing on Cecilia's perspective, Leigh Whannell is still able to create the kind of tension necessary to make a thriller like The Invisible Man work. And he makes sure that the audience stays invested in Cecilia's survival. Or, as he puts it:
In The Invisible Man, Elisabeth Moss' character Cecilia escapes an abusive relationship with a genius scientist, Adrian (Oliver Jackson Cohen), only to be terrorized by him after he fakes his own suicide. Throughout the film, he uses a suit that renders him invisible to try and drive her crazy and ends up getting her committed after making it appear as though she lost it and killed her best friend. At one point, it seems as though Adrian's brother Tom (Michael Dorman) was the man in the suit, and that he had held Adrian captive in his home. But Cecilia eventually outsmarts Adrian and gets him to admit that he orchestrated it all in order to gaslight her. The film ends with Cecilia exacting her revenge on Adrian, as she dons his suit and kills him, making it look like a suicide.
The Invisible Man has earned glowing reviews from critics who've praised the film for rebooting the classic story in a way that can resonate with a modern audience. It's currently playing in theaters.
Your Daily Blend of Entertainment News
Your Daily Blend of Entertainment News
Thank you for signing up to CinemaBlend. You will receive a verification email shortly.
There was a problem. Please refresh the page and try again.