The Crucial Forrest Gump Change Barry Sonnenfeld Suggested To Tom Hanks Before Filming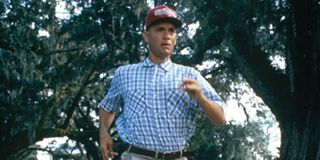 While most people probably think of 1994's Forrest Gump chiefly as one of Tom Hanks' most popular movies, let's not forget it's among the biggest credits on director Robert Zemeckis' resume. However, before Zemeckis came aboard Forrest Gump, the plan was for The Addams Family's Barry Sonnenfeld to helm the feature about an Alabaman man who was got caught up in many notable mid-late 20th century historical events.
Barry Sonnenfeld ultimately decided to pass on directing Forrest Gump, but during the time he was attached, he suggested to Tom Hanks that the eponymous character be changed in a key way compared to how he's depicted in the original source material: having him be a skilled runner. As Sonnenfeld recalled during his recent appearance on the ReelBlend podcast:
The original Forrest Gump novel, written by Winston Groom, was published in 1986, and the film rights were snagged several years later by Paramount Pictures. However, as with any cinematic adaptation, creative liberties were taken, including multiple chapters from the book being skipped over, new life events for the main character and, straight from Barry Sonnenfeld, making Tom Hanks' Forrest into a runner.
That proved to be a good call, as Forrest Gump's running proved to be one of the most memorable aspects of the movie, from outrunning those bullies in his school years to racing as a college football player to spending three years as a cross-country marathoner. And needles to say that Tom Hanks clearly didn't think Forrest Gump was too similar to 1988's Big since he accepted the role and went on to win the Academy Award for Best Actor for his performance.
As for why Barry Sonnenfeld passed on the opportunity to direct Forrest Gump, it's because he was offered Addams Family Values at the same time, and when push came to shove, Sonnenfeld decided he'd rather stick with the creepy, kooky and altogether ooky clan. The filmmaker explained:
Maybe there's an alternate reality where Barry Sonnenfeld ended up scoring that producer credit and was able to contribute to Forrest Gump further. Still, in our reality, he left an important impact on that movie, and deciding to helm Addams Family Values also proved to be a wise decision, as like its predecessor, the sequel was met with a solid amount of positive reception. Sonnenfeld went on to direct the original Men in Black trilogy and Wild Wild West, among other things.
Feel free to listen to ReelBlend's full interview with Barry Sonnenfeld below.
Made off a $55 million budget, Forrest Gump collected over $678 million worldwide during its theatrical run, and in addition to Tom Hanks bringing home an Oscar that year, the movie won five other Academy Awards and scored seven other nominations. There was also talk about giving Forrest Gump a sequel in the 2000s, but such a project never moved forward.
Keep checking back with CinemaBlend for all the biggest movie news, and don't forget to look through our comprehensive guide detailing all the recently delayed movies.
Your Daily Blend of Entertainment News
Connoisseur of Marvel, DC, Star Wars, John Wick, MonsterVerse and Doctor Who lore. He's aware he looks like Harry Potter and Clark Kent.