Forrest Gump: 10 Behind-The-Scenes Facts About The Classic Tom Hanks Movie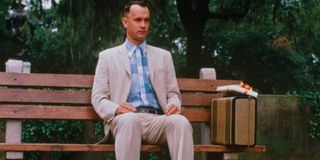 There are few movies more culturally recognizable and instantly quotable as 1994's Best Picture winning Forrest Gump. Director Robert Zemeckis' adored adaptation of Winston Gloom's 1986 novel proved the Back to the Future director was one of the most prestigious filmmakers of the late 20th century, and it cemented Tom Hanks' status as an A-list actor when he won his second consecutive Best Actor Oscar after the actor's well-acclaimed performance in 1993's Philadelphia. But much like a box of chocolates, the filmmakers didn't know what they were going to get with this hit film, and the behind-the-scenes details surrounding the world-beloved movie prove it took lots of luck and hard-work to turn Forrest Gump into such a classic.
Here are 10 behind-the-scenes details about the making of Forrest Gump, as well as a few tidbits surrounding the aftermath of the movie's release.
Tom Hanks Didn't Earn A Salary For Forrest Gump... Which Got Him A Big Payday
When it comes to an actor's salary, there are different methods in which they can get paid. They can receive thousands or sometimes millions of dollars upfront, or they can sacrifice their salary to receive a portion of the movie's earnings. It's a gamble, but if you do it right, it's a move that can pay off fabulously. Ultimately, Tom Hanks decided to go with the latter option for Forrest Gump, and it worked out handsomely in the long run. To be specific, Forrest Gump earned $678.2 million worldwide, which meant Hanks reportedly received over $60 million (!) for the Best Picture-winning film.
John Travolta, Bill Murray And Chevy Chase Were Sought To Play Forrest Gump Before Tom Hanks
Casting is key to any great movie. To paraphrase Robert Altman, 90 percent of directing is casting. Therefore, if you have the right people in the right roles, you tend to be alright in the long run. Ultimately, director Robert Zemeckis made the right call casting Tom Hanks in the title role, but there was a point in pre-production where three different actors were considered to play the Oscar-winning part: John Travolta, Bill Murray, and Chevy Chase.
To be specific, John Travolta was the first actor the producers had in mind for the role of Forrest Gump, but the actor would go on to do Pulp Fiction instead. Likewise, Bill Murray and Chevy Chase were also sought for the part but they both turned it down. There are also claims that Sean Penn was circling the part at one point. In the end, the film certainly worked out with Tom Hanks in the Oscar-winning role. It should be noted that in a 1994 interview with Robert Zemeckis and Hanks, the director said he couldn't imagine anyone else playing Forrest. Many audiences will say the same.
Jim Hanks, The Brother Of Tom Hanks, Did A Lot Of Forrest Gump's Running In The Movie
Jim Hanks, the younger brother of Tom Hanks, looks an awful lot like his famous sibling. So much so that the fellow actor has filled in for his two-time Oscar-winning brother on several occasions, notably doing some additional voiceover work for Toy Story's Woody for various toys and merchandise. And Jim Hanks also played a big hand in helping Forrest Gump come to life on the screen. Notably, the lead actor's brother was on hand to do quite a few of the running scenes for the main character. Because what are brothers for? Additionally, Elizabeth Hanks, Tom Hanks' real-life daughter, is in the movie as well. She plays one of the girls on the school bus who denies Forrest Gump a seat. Indeed, filming Forrest Gump became a family affair.
Billy Crystal And Robin Williams Were Consulted To Write A Funny Speech For The Movie
As you likely remember, during the famous Washington Monument scene, Forrest Gump goes up to the mic to say something, only to be promptly cut off. It's an amusing moment, though that wasn't how the scene was originally staged. As it turns out, there were plans to give Forrest something to say during this scene, but director Robert Zemeckis and screenwriter Eric Roth never agreed on what Gump should state in this particular moment.
As Eric Roth explained to Yahoo! News, Robert Zemeckis wanted something "way funnier and more important" than what Roth initially had in the script, and the screenwriter tried to put together something that would fit the director's specifications. He even consulted two very funny comedians, Billy Crystal and the late Robin Williams, to come up with a speech that would be fitting of this moment. Ultimately, however, their material and anything Roth wrote for this scene was scrapped, and Zemeckis opted to have the mic cut out during this scene. It worked out, but one wonders ...
Tom Hanks and Robert Zemeckis Paid For The Running Montage From Their Own Wallet
Forrest Gump is an epic story, one that requires a whole lot of sets, cast of characters, different time periods, and various expensive special effects. It's an expensive undertaking, to say the least, and there was a point where the studio didn't have a lot of faith in the project. When the movie was going over budget and threatening to become too big of an undertaking for their liking, Paramount reportedly threatened to pull the plug on the whole thing. Alas, in a last-ditch effort to save the film, Zemeckis paid for the running scenes out of his own pocket and asked Tom Hanks to do the same.
Indeed, as Tom Hanks explained in recent years, the actor and Robert Zemeckis decided to split the cost of shooting this scene in a dash effort to save the movie, and they banded together to keep Forrest Gump alive a mere 48 hours after the studio threatened to shut it all down. Ultimately, to do so, Tom Hanks also sacrificed his $7 million paycheck to keep the famous film afloat. But as we explained earlier, that decision certainly worked out.
The Vietnam Scenes In Forrest Gump Were Filmed In A Golf Course In South Carolina
There is a lot of movie magic that unfolds in Forrest Gump. The character doesn't actually meet President John F. Kennedy, obviously. Nor does he go to Vietnam. In the movie, Forrest Gump is seen fighting the war in Vietnam, but the filmmakers weren't actually in the war-torn country when they filmed their classic movie. Rather, the cast and crew were on Fripp Island, a golf and beach resort in South Carolina, when they filmed these scenes, and the post-production crew used special effects wizardry to make the audience believe that the characters were actually in the thrust of war. It's pretty convincing special effects; there's a good chance that if you polled an audience about this scene, they wouldn't believe it was at a golf resort.
One Of Forrest Gump's Most Memorable Lines Was Improvised
An actor contributes a great deal to the creative process. A healthy set will feature a lot of feedback from the performers, allowing them to toy and expand on their characters as they work on-set. Indeed, this is how some of the most memorable lines in movie history came to be, including the famous line "My name is Forrest Gump. People call me Forrest Gump." This line was nowhere to be found in the screenplay. Indeed, it was a line that Tom Hanks threw out on set while on the bus, and Robert Zemeckis thought it was so funny, he kept it in the movie. The rest, as they say, is history.
Kurt Russell Made An Uncredited Cameo As The Voice Of Elvis Presley
Throughout the course of Forrest Gump, our title character makes connections with some of the most famous people of the '50s, '60s, and '70s, including, but certainly not limited to, President Richard Nixon, President John F. Kennedy, John Lennon, and, during his childhood years, a young up-and-coming singer by the name of Elvis Presley. The record-breaking musician, of course, wasn't the world-famous superstar we know him to be today when our young main character meets him. As seen in an early scene in the film, the Gump bed-and-breakfast features a number of travelers, and one such visitor is none other than Elvis, who watches Forrest dance with his leg braces. He later inspires a few of Elvis' signature dance moves.
In the scene, Elvis Presley is mostly heard instead of seen, but the voice of Elvis is left uncredited. But if it sounded awfully familiar, there's a good reason why. That's because the voice of The King was provided by none other than Kurt Russell, who once played Presley in 1979's TV movie Elvis.
Author Winston Groom Didn't Make Any Money Off Forrest Gump's Massive Success
There's no denying that Forrest Gump made a ton of money at the box office. To be more specific, the Academy Award-winning movie made $678.2 million worldwide, which is certainly a lot of cheddar. Nevertheless, some of the key people involved in the major motion picture didn't reap the film's benefits. Namely, author Winston Groom, who wrote the 1986 novel of the same name that Forrest Gump is based upon, barely made anything from the hit film's enormous success, if you can believe it.
As it was detailed in a New York Times article from 1995, Winston Groom was paid $350,000 for the film rights and received three percent share of the net profits. However, since there were reportedly no net profits by Hollywood metrics, he walked away empty handed, which certainly did not sit well with him. He sued Paramount and it came to a settlement, which included buying the rights to another one of his books. Ultimately, Groom was not at all pleased about the whole experience. In Gump & Co., the sequel to his since-famous novel, the author wrote, "Don't never let nobody make a movie of your life's story."
There Were Plans To Make A Forrest Gump Sequel, But They Were Cancelled After 9/11
When you have a movie as critically, culturally, and commercially successful as Forrest Gump, there are inevitably going to be talks of a sequel. Indeed, at one point in the late '90s/early '00s, there were serious conversations had about making a proper sequel to the Best Picture-wining 1994 movie, based on Winston Groom's 1995 follow-up novel, Gump & Co. And the ideas involved in the proposed sequel were, admittedly, pretty nutty.
If Forrest Gump 2 (or whatever it would be called) came to be, there would have been scenes where our title character was in the back of O.J. Simpson's bronco and later dancing with Princess Diana during a charity event, to name a mere few ideas spun for the proposed blockbuster. Alas, screenwriter Eric Roth turned in the sequel's screenplay on September 11th, 2001, which was a day that changed the course of American history forever. As Roth admitted to Yahoo! Movies, he, Robert Zemeckis and Tom Hanks ultimately felt that the movie was "meaningless" after the tragedy.
These are only a few of the riveting details behind the making of 1994's adored hit, Forrest Gump. What are some of your favorite behind-the-scenes tidbits related to the making of this beloved film? What are your favorite lines from the film? Let us know all these details and more in the comments.
Your Daily Blend of Entertainment News
Will is an entertainment writer based in Pittsburgh, PA. His writing can also be found in The Playlist, Cut Print Film, We Got This Covered, The Young Folks, Slate and other outlets. He also co-hosts the weekly film/TV podcast Cinemaholics with Jon Negroni and he likes to think he's a professional Garfield enthusiast.