Why Bucky Didn't Get Captain America's Shield In Avengers: Endgame, According To Sebastian Stan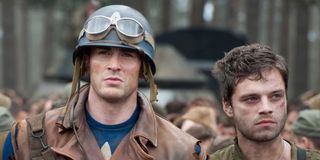 For many fans, Steve Rogers' enduring bond with Bucky Barnes is one of the most important parts of the MCU franchise. So, there was definitely some disappointment when he bequeathed Captain America's shield to someone else in Avengers: Endgame, since Bucky seemed to be his natural successor. Sebastian Stan has now offered some good rationale for why that was actually an act of kindness, though and has shed some light on what it means for Bucky Barnes' future.
Steve and Bucky have been through a lot of ups and downs. Yet, at the end of Avengers: Endgame, we see an elderly Steve offering his shield to Sam Wilson and not his lifelong best friend. Sure, he and Sam are close, too -- but some fans felt that Bucky deserved it more. However, Sebastian Stan doesn't agree -- in fact, he feels like Steve and Bucky's fates were exactly right for both their characters:
When you really think about Sebastian Stan's comments to THR, it does feel like Steve did the right thing in giving Bucky a chance to set his own course. Though we've likely seen the last of Captain America, Bucky and Sam are going to be teaming up for new adventures in The Falcon And The Winter Soldier, and Stan promises we'll get to see how Steve's decision plays out for both characters:
In other words: Steve's decision to give Sam the shield wasn't just a kind gesture toward Bucky, it could also end up making for some more interesting stories. We'll see what that all amounts to when the series hits Disney+.
And those who may feel they need to rewatch Bucky, Sam and Cap's fateful scene from the closing moments from Avengers: Endgame can stream the film on Disney+ now.
Your Daily Blend of Entertainment News