Sebastian Stan Offers Update On The Status Of Disney+'s Falcon And The Winter Soldier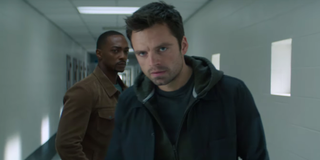 Not all of Marvel's Disney+ shows have been stopped by the coronavirus, with series like She-Hulk and Ms. Marvel still in the pre-production stage moving forward remotely. However, The Falcon and the Winter Soldier was among one of multiple productions that had to shut down due to coronavirus fears. The six-episode series was scheduled to premiere on Disney+ in August, and Sebastian Stan recently offered an update on the status of the show.
Production on The Falcon and the Winter Soldier has been disrupted a few times in 2020. The first time the Disney+ series had to shift their filming schedule was due to an earthquake, with the show having to suspend filming on the island of Aricebo. Earlier this month, the series was all set to shoot for a week in Prague, but production was shut down because of the coronavirus. Speaking with Muscle and Fitness, Sebastian Stan provided an update on the status of filming. In his words:
Coronavirus (COVID-19) has had a global impact and with so much uncertainty, it really is difficult to know when everything might get back to some semblance of normalcy. In the case of The Falcon and the Winter Soldier, I imagine that the show's premiere might be pushed back if the cast and crew aren't able to get back to filming soon.
It wouldn't be the only show facing major hiccups. For example, The Walking Dead's Season 10 finale was delayed because post-production wasn't going to be done in time for the April 12 release. What's more, other shows like Grey's Anatomy and New Amsterdam are facing shortened seasons, with the cast and crew not returning to finish filming the season.
Of course, the one benefit The Falcon and the Winter Soldier has is that the season hasn't begun airing yet. While it's unclear how far along the cast and crew were in filming the show's six episodes, I do think the series may be pushed back for a few months and premiere closer to the end of the year instead of in August. At the moment, however, nothing has been confirmed regarding when the show would pick back up or when the series is expected to premiere on Disney+.
Stay tuned to CinemaBlend for updates. In the meantime, be sure to swing by our updated TV list to see which shows are facing delays and shortened seasons.
Your Daily Blend of Entertainment News
Thank you for signing up to CinemaBlend. You will receive a verification email shortly.
There was a problem. Please refresh the page and try again.