How Chris Hemsworth Cries On Cue While Filming Movies Like Netflix's Extraction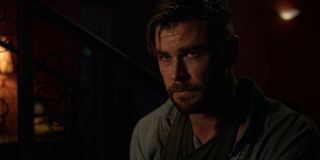 As a leading Hollywood star, Chris Hemsworth has been asked to do things on set that stretched him as an actor. Most of the time, he just has to punch, shoot, and fight his way through bad guys in movies like Extraction. But during those more occasional quieter scenes, he's required to show emotion and cry on cue, a feat that might be more difficult than summoning lightning from on high.
But Chris Hemsworth has some techniques and tips on how to cry when acting. During a live stream on Netflix's YouTube channel, he answered several fan questions and when asked about crying on cue, he told his fans what he tries to do. Here's what he said:
That's some good acting advice. It must be difficult as an actor to have to dredge up those feelings over and over again to nail a scene on film. For Chris Hemsworth and Extraction, that wasn't the only difficult part of the movie. Recently, he spoke about how intense the shoot was from the first day, saying it never really stopped for three months and became exhausting.
This hardcore work ethic may have come from advice from fellow actor Tom Cruise. Chris Hemsworth said he asked Cruise years ago what drove him to make certain decisions on films. Tom Cruise said, "I just want people to see my movies." Well, Hemsworth is certainly doing a good job finding ways to get people to see his movies.
And, it sounds like Chris Hemsworth really sold his performance as Tyler Rake in Extraction. Joe Russo, director of Avengers: Endgame and writer of Extraction, said Chris Hemsworth is one of the greatest movie stars in the world right now and has a unique gift of expression vulnerability.
All that hard work is paying off, too. Extraction became a huge hit on Netflix. Both the Russo Brothers and Chris Hemsworth celebrated the success on social media recently, thanking the fans for watching. On top of that, a deal has already been struck with Joe Russo to write the sequel. Perhaps he'll write more scenes of Tyler Rake crying? We'll just have to wait and see. Until then, there's plenty of other Extraction-like movies on Netflix to watch.
Your Daily Blend of Entertainment News
Thank you for signing up to CinemaBlend. You will receive a verification email shortly.
There was a problem. Please refresh the page and try again.