James Cameron's Favorite Guilty Pleasure Movie Is Not What You'd Probably Guess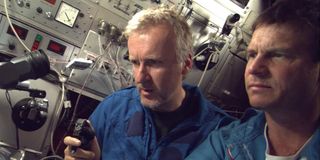 James Cameron is responsible for some of the most beloved movies of all time. While you might expect him to hold some highbrow opinions about cinema, he's recently revealed that he, too, has a few movies that he turns to when he needs some easy entertainment. In fact, one of his go-to guilty pleasures is a movie you probably wouldn't expect.
The director of Terminator, Titanic and Avatar has mastered the art of the blockbuster. While not everyone loves his approach to moviemaking, it's impossible to deny that James Cameron understands, at a base level, how to keep an audience entertained. He's also shown that he's capable of tackling multiple genres -- and it looks like his wide-ranging cinematic interests extend to what he chooses to watch, too. When asked what films he likes to watch for his own amusement, he shared a surprising answer:
Resident Evil, which was released in 2002, can definitely be described more as a guilty pleasure than a cinematic masterpiece. The adaptation of the popular video game series spawned a whole separate movie franchise, but it didn't exactly wow critics or audiences at the time. So, to get James Cameron's seal of approval (via Empire) is actually kind-of cool - especially since he admits he actually thinks Resident Evil is good.
It's not really clear how the director became a fan -- but it may have something to do with the fact that he's worked with Michelle Rodriguez before. In Resident Evil, she plays Rain Ocampo, who becomes zombified -- giving a performance that clearly impressed James Cameron.
The director told Empire Magazine, for their A Celebration of Cinema special edition issue, that he's returned to watching movies like Resident Evil during this period of coronavirus-induced social distancing. He's also taken the time to try to turn his children into cinephiles as well, by introducing them to classics like True Grit.
It's good that James Cameron has found a way to pass the time, since work on the Avatar sequels has been halted for weeks. Though there is no official word as to when they might be able to resume production, Avatar fans do have a glimmer of hope. The films are being shot in New Zealand, which has made considerable progress in containing the pandemic. Since other film and television projects have already started back up there, it's reasonable to assume Avatar could follow suit in the not-too-distant future. That will cut into James Cameron's binge-watching time -- but he'll probably be glad to get back to work.
What do you think about Resident Evil? Is it a guilty pleasure for you as well?
Your Daily Blend of Entertainment News
Your Daily Blend of Entertainment News
Thank you for signing up to CinemaBlend. You will receive a verification email shortly.
There was a problem. Please refresh the page and try again.