12 Awesomely Cheesy Movies To Stream On Shudder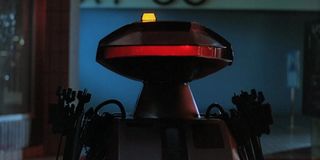 There is more than one kind of horror movie fan. For every person who admires complex narratives, nail-biting suspense, and haunting frights, such as in Halloween, there are those who are irresistibly in favor of just the opposite: storylines devoid of logic, overcooked (or undercooked) acting, and acts of violence too cartoonish to even be considered shocking, such as a few sequels to Halloween. Fortunately, the curators at Shudder certainly know their audience.
A good chunk of the films currently available on the "world's best horror and thriller streaming service" are perfect for fans of the cheesiest guilty pleasure classics in cinematic history, from as early as campy '80s Giallo slashers like Pieces or as recent as the 2018 Shudder exclusive sequel Puppet Master: The Littlest Reich. They even have a special category dubbed "Comedy of Terrors" filled with movies that are more likely to tickle your funny bone than send chills down your spine, and whether or not that effect is intentional is up for you to figure out.
If you are a self-proclaimed connoisseur of cheesy movies and you do not have a subscription to Shudder, what are you waiting for? Here are 12 reasons you should sign up as soon as possible, and it might not surprise you to learn that a few of these have Roger Corman's name on them.
Demons (1985)
What It's About: After receiving mysterious invitations to a special screening of a B-movie about people transforming into grotesque "instruments of evil," the audience gets a real fright when life begins to imitate the art.
Why It Is Awesomely Cheesy: Horror auteur Dario Argento produced the gory Italian cult classic Demons, which begins with a relatively earnest tone (as earnest as it could claim to be, at least) before curdling into a series of epically ridiculous moments (most famously the male lead mawing through monsters on a motorbike with a samurai sword) that get even crazier (and, quite frankly, more ludicrous) in its 1987 sequel, which is also available on Shudder.
Stream It On Shudder here
WolfCop (2014)
What It's About: Lousy, drunken police officer Lou Garou (Leo Farard) gains an unexpected sense of respect among his peers when his new animalistic abilities, which may have something to do with the Pentagram he finds carved into his chest, turn him from the deadbeat no one wanted into the hero everyone needs.
Why It Is Awesomely Cheesy: I think the title alone is enough to pick up on the fact that writer and director Lowell Dean never intended his low-budget B-movie love letter WolfCop to ever be taken seriously, which the gross-out humor and explosive, gory action (which you can see more of in its 2017 follow-up Another WolfCop) makes inarguably clear.
Stream It On Shudder here
Chopping Mall (1986)
What It's About: A group partying teens become trapped after hours inside the shopping center where they work with the building's new security system: a fleet of robots suffering a sudden (and under-explained) malfunction.
Why It Is Awesomely Cheesy: The absurdly improbable methods that these clueless youths (including beloved scream queen Barbara Crampton) craft in hopes to defend themselves from their overly weaponized mechanical enemies (which the manufacturer believed equipping with heat lasers would be necessary, for some reason) is just one of the best reasons to check out the hilarious cult classic Chopping Mall, produced by Julie Corman (Roger's wife).
Stream It On Shudder here
Jack Frost (1997)
What It's About: A serial killer named Jack Frost (Scott MacDonald) lives up to his name in ways he never expected when, after a car accident leaves him dead, his spirit is resurrected to continue his murderous rampage in the form of a snowman.
Why It Is Awesomely Cheesy: Michael Cooney's directorial debut is not to be confused with the 1998 family film Jack Frost. However, if you simply take away Michael Keaton as a late father reconnecting with his grieving son and supplement a grinning, murderous mutant snowman spewing eye-rolling one-liners, this classic holiday horror-comedy is not so different.
Stream It On Shudder here
Pieces (1982)
What It's About: A college student (Ian Sera) and a former tennis champion (Lynda Day George) are tasked by a demanding police lieutenant (Christopher George) to help identify chainsaw-wielding murderer terrorizing students at a Boston college campus.
Why It Is Awesomely Cheesy: The original title of this Italian-produced mystery translates from Spanish to The Night Has 1000 Screams, but Pieces gives you a much better idea of the limb-lopping, blood-soaked absurdity you are promised (and even a little kung-fu) in what is just about the most shamelessly campy Giallo film I have seen yet.
Stream It On Shudder here
Bride Of Re-Animator (1990)
What It's About: Mad scientist Herbert West (schlock hero Jeffrey Combs) and his friend Dan Cain (Bruce Abbott) continue their Frankenstein-esque experiments in bringing the dead back to life, this time in an effort to create the perfect woman.
Why It Is Awesomely Cheesy: Those who love Stuart Gordon's 1985 tongue-in-cheek take on H.P. Lovecraft's story "Herbert West, Re-Animator," will love how director Brian Yuzna ups the ante on cartoonishly gruesome practical effects and Combs chews the scenery in the second chapter of this iconic franchise of camp.
Stream It On Shudder here
Hello Mary Lou: Prom Night II (1987)
What It's About: An innocent student becomes possessed by the spirit of her high school's murdered prom queen Mary Lou Maloney (Lisa Schrage), who has returned to seek revenge on her killer: an old flame (Michael Ironside) who, 30 years later, is now the school principal.
Why It Is Awesomely Cheesy: Hello Mary Lou: Prom Night II is one of those horror sequels that you can easily tell was not originally written as a follow-up to the preceding film, considering 1980's Prom Night, starring Jamie Lee Curtis, is an enjoyably creepy whodunnit, and this uproarious supernatural thriller has more in common with Carrie, if the popular snob was the one wreaking havoc.
Stream It On Shudder here
Demon Wind (1990)
What It's About: Searching for answers behind his puzzling nightmares, a man (Eric Larson), his girlfriend (Fran Lapenseé), and childhood pals reunite at his grandparents' old farm where they soon fall prey to an unstoppable evil set on claiming the gang one by one.
Why It Is Awesomely Cheesy: Monstrous victims of possession have more personality than the emotionless robots struggling to pass off as humans in the central cast of Demon Wind: a wall-to-wall laugh riot that sort of feels like what Evil Dead II might have been like had the comedy not been intentional… as far as I can tell, at least.
Stream It On Shudder here
Society (1989)
What It's About: Bill Whitney (Billy Warlock) fears he may be the odd one out among his well-to-do family, friends, and even his lover, only to find out eventually that (without giving too much away) he is right, but in ways that make his peers the truly odd ones.
Why It Is Awesomely Cheesy: Rarely has Cronenberg-esque body horror ever been as laughably gruesome as Brian Yuzna's campy cult classic Society, which paints a surreal, stomach-churning, and uniquely satirical portrait of what goes on behind closed door in the world of the "upper class."
Stream It On Shudder here
Tammy And The T-Rex (1994)
What It's About: High school cheerleader Tammy (Denise Richards) is granted a bizarre reunion with her slain football player boyfriend, Michael (Paul Walker), after his brain is implanted into a mechanical prehistoric beast by a mad scientist.
Why It Is Awesomely Cheesy: Having already explained the plot, do I really need to explain to you any further why Tammy and the T-Rex might appeal to fans of B-movie trash? If so, how about you just go ahead and stream the uncut version of this romantic, jaw-droopingly insane spectacle, starring future Fast and Furious star Walker in one of his first starring roles, and see for yourself.
Stream It On Shudder here
Slumber Party Massacre II (1987)
What It's About: Five years after surviving the slaying of several people, 17-year old Courtney Bates' (Crystal Bernard) weekend getaway with her all-girl band is plagued by suspicions that history is repeating itself.
Why It Is Awesomely Cheesy: While 1982's The Slumber Party Massacre is a suspenseful and clever subtextual commentary on objectification in horror, its follow-up (once again produced by Roger Corman) throws all that out the in favor of countless dream sequences, random musical interludes, a rockabilly wannabe who kills with a power drill/electric guitar hybrid, and a nonsensical twist ending that might just make it the definitive '80s slasher sequel. On the other hand, there is our next entry…
Stream It On Shudder here
Dude Bro Party Massacre III (2015)
What It's About: A lone outcast (Alec Owen) joins his twin brother's fraternity hoping to learn the truth about his death, only to become the next target of a killer known as "Motherface" during a weekend an old lakeside sorority house.
Why It Is Awesomely Cheesy: Do not let the title of Dude Bro Party Massacre III fool you as this comedy, made to look like a VHS recording of a cable access rerun of a banned '80s B-movie (complete with awful video quality and fake commercials), is part of a non-existent franchise, despite having everything (and more) you could expect from a slasher sequel, effectively becoming the closest a horror movie parody has come to being the real thing.
Stream It On Shudder here
So, what do you think? Are these the most laughable guilty pleasures a Shudder subscriber could ask for, or does this prove how desensitized I have grown? Let us know in the comments and be sure to check back for more recommendations of what to watch on the horror streaming service here on CinemaBlend.
Your Daily Blend of Entertainment News
Jason has been writing since he was able to pick up a washable marker, with which he wrote his debut illustrated children's story, later transitioning to a short-lived comic book series and (very) amateur filmmaking before finally settling on pursuing a career in writing about movies in lieu of making them. Look for his name in just about any article related to Batman.