15 '80s Movies That Launched A-List Celebrities' Careers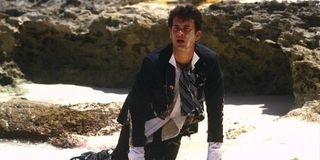 (Image credit: Touchstone)
Imagine your parents want you to sit down with them to watch one of their favorite '80s movies. Being a modern individual, you reluctantly agree, until one of the starring characters appears and you realize, Hey, I just saw that celebrity in a movie last week! Or imagine you are one of those parents wanting your kids to give an eighties movie a shot--what better way than to pick a movie that kicked off an a-lister's career?
From Tom Cruise to Tom Hanks, many of the biggest A-list celebrities of film and television today were also the biggest stars of the Regan-era. Indeed, witnessing the beginning of a lasting career in the spotlight is one of the greatest things about revisiting classic '80s movies.
Discover, or rediscover, these '80s movies with a few familiar faces. These are just a few films from that revolutionary decade that launched the careers of Hollywood's best.
E.T. the Extra-Terrestrial (Drew Barrymore)
Drew Barrymore has been a producer, director, and one of Charlie's Angels. Her most often-referenced and widely celebrated work came when she was just seven years old and Steven Spielberg cast her as little Gertie in one of the most beloved '80s movies, E.T. the Extra-Terrestrial.
Steven Spielberg's heartwarming sci-fi spectacle about the friendship between a young, lonely boy (Henry Thomas) and a lost alien became the highest-grossing film of 1982 and won four Academy Awards out of the nine it was nominated for. Since then, Drew Barrymore has become one of the few child stars to maintain her relevance.
Fast Times at Ridgemont High (Sean Penn)
Normally it is a slam dunk to refer to anything out of John Hughes' filmography as the greatest that '80s high school movies had to offer. Amy Heckerling's 1982 feature-length debut, from a screenplay by Cameron Crowe, is one major exception to that claim.
Future two-time Academy Award-winning (Mystic River, Milk) actor and director Sean Penn is masterful in Fast Times at Ridgemont High as Jeff Spicoli, a Southern California student with straight A's in the subjects of sex, drugs, and rock n' roll. Fast Times, which was also a major turning point for stars like Phoebe Cates, Forest Whitaker, and a young Nicolas Cage (more on him later) is one of the most quotable, hilarious, and formerly rewound '80s movies.
Night Shift (Michael Keaton)
This does not sound like the premise of a film starring a future Batman or from the director of Oscar-winning masterpieces like Apollo 13, but here its goes: after a local pimp is brought to the morgue, late night attendants Chuck (Henry Winkler) and Bill (Michael Keaton) take a liking to one his prostitutes, Belinda (Shelley Long), and decide to help her and colleagues by turning the morgue into a brothel.
It was Michael Keaton's scene-stealing performance as fast-talking, perverted-yet-charming Billy Blaze in 1982's Night Shift, one of Ron Howard's earliest directorial efforts, that made him one of Hollywood's most sought after comedic actors, potentially later helping him nab iconic roles in hilarious '80s movies Mr. Mom and Beetlejuice. The Academy Award-nominee has since played a Spider-Man villain, led the cast of two Best Picture Oscar-winners in the past decade (Birdman, Spotlight), and is still considered by many to be the best actor to play Batman.
The Outsiders (Tom Cruise)
I could have picked just about any actor from Francis Ford Coppola's adaptation of S.E. Hinton's 1967 coming-of-age novel, as it features the likes of Matt Dillon, Patrick Swayze, Rob Lowe, and several other A-listers of '80s movies and beyond. However, the biggest living star from The Outsiders, undeniably, is Tom Cruise.
Tom Cruise plays the rambunctious Steve Randle in 1983's The Outsiders, the tragic story of the young men who make up a pair of rival gangs in mid-1960s Oklahoma. Today, you may know Cruise as Jerry Maguire, Top Gun's Maverick, and death-defying secret agent Ethan Hunt in the Mission: Impossible franchise, but then he was just one of The Gang.
Valley Girl (Nicolas Cage)
There may not be a more definitive '80s movie than this modernized Romeo and Juliet story form 1983. Randy (Nicolas Cage) is an L.A. punk who bumps into Julie (Deborah Foreman), the movie's titular "valley girl" at a party and spurs a romance with her, much to the chagrin of their shallow friends.
If dark thrillers like Face/Off or Mandy have caused you to forget that Academy Award winner Nicolas Cage is also a comedically talented actor, Valley Girl may be the right film to help remind you. Not to mention, the outlandish fashion choices and killer soundtrack, featuring Modern English's "I Melt With You," is sure to give you an invigorating '80s nostalgia trip.
BMX Bandits (Nicole Kidman)
Also an Academy Award winner, Australian native Nicole Kidman is an actress of nearly chameleonic talent, blending into her versatile roles almost effortlessly. Unless you refer to her debut in BMX Bandits, in which all of her biking stunts were clearly performed by an 18-year-old male in a wig. See for yourself in the video below:
This 1983 "ozploitation" comedy about three young BMX bike riders who get unwittingly entangled in a bank robbery has earned cult status over the decades for its over-the-top, lighthearted action, but more due to the fact that it stars a then 16-year-old Nicole Kidman. If you need a more convincing recommendation, Quentin Tarantino has referred to BMX Bandits as the Australian equivalent of this other kid-friendly '80s adventure:
The Goonies (Josh Brolin)
Of course, this leads to The Goonies. Josh Brolin has starred in some of the most respected films of the last few decades and has even wielded of the omnipotent Infinity Gauntlet as Thanos in the Marvel Cinematic Universe. Still, the 51-year-old actor is proud to be a Goonie.
The star of No Country for Old Men made his feature film debut in 1985 as Brand, who reluctantly joins his little brother Mikey (Lord of the Rings' Sean Astin) and his friends on a dangerous hunt for treasure, which greedy criminals are also looking to get their hands on. From executive producer Steven Spielberg, The Goonies is an iconic, family-friendly 1980s movie that remains a timeless classic for past and present generations.
Conan The Barbarian (Arnold Schwarzenegger)
Before he made a living off of governing the state of California, for some time, Arnold Schwarzenegger made a living off of his body. That is all the former Mr. Universe title holder needed to be cast as the hero of Conan the Barbarian.
Director John Milius' 1982 fantasy epic, based on the short stories of 1930s pulp-fiction writer Robert E. Howard and co-written by Oliver Stone, stars Arnold Schwarzenegger as a former slave who seeks vengeance for his parents' murderer, Thulsa Doom (James Earl Jones). Conan the Barbarian became a hit which would later inspire a 2011 remake starring Jason Momoa and spawn a direct sequel in 1984, the same year that Schwarzenegger's most iconic film was released, The Terminator.
Splash (Tom Hanks)
Perhaps Ron Howard is just a good luck charm for stars of '80s movies as many of the actors he has cast throughout the decade have gone onto tremendous success. Just ask Tom Hanks, who was already a hit on television with the sitcom Bosom Buddies, but made his first big "splash" with this 1984 romantic fantasy.
In Splash, Allen Bauer (Tom Hanks) is saved from drowning by Madison (Daryl Hannah), whom he instantly falls in love with, not realizing that she is really a mermaid. The film was nominated for an Academy Award for Best Original Screenplay, but, obviously, it would not be the last trip to the Oscars for Hanks.
A Nightmare on Elm Street (Johnny Depp)
In 1984, we met Robert Englund's grotesque, unhinged, and unpredictable antagonist, Freddy Krueger and one of the most iconic horror franchises was born. However, as the casual horror fan may not realize, Wes Craven's A Nightmare On Elm Street was also the beginning of a very prolific career.
Johnny Depp plays Glen Lantz, the boyfriend of Nancy Thompson (Heather Lengenkamp), a high school student terrorized in her dreams by the aforementioned boogeyman. Obviously, Depp's performance is not the most memorable, but if you ask any A Nightmare on Elm Street fan, his explosive death scene is the stuff of legend.
Weird Science (Robert Downey Jr.)
Before he was saving the world in the Marvel Cinematic Universe as Iron Man, two-time Academy Award-nominee Robert Downey Jr., believe it or not, was a Saturday Night Live cast member from 1985-1986. Around the same time, he starred in his biggest film role to date as the high school equivalent of Thanos in Weird Science.
In what is easily John Hughes' strangest and most uproarious comedy, lifelong losers Gary Wallace (Anthony Michael Hall) and Wyatt Donnelly (Ilan Mitchell-Smith) cannot catch a break in high school, thanks in part to a pair of bullies (Robert Downey, Jr. and Robert Rusler). That is until Gary and Wyatt use their computer to magically create the perfect woman, Lisa (Kelly LeBrock), who also happens to be a genie who can make their wildest fantasies come true.
Empire of the Sun (Christian Bale)
If you ever wanted to see The Dark Knight's Batman, Christian Bale, in a role that allows him to use his natural Welsch accent, you have to go way back. I mean, all the way back to his first introduction to America as a teenager in 1987.
In one of director Steven Spielberg's more lighthearted films dealing with the subject of war (by comparison), Empire of the Sun, based on J.G. Ballard's autobiographical novel, tells the story of a young, privileged English boy named James Graham (Christian Bale) and his struggle to survive in a confinement camp after he is separated from his parents following the Japanese invasion of Shanghai during World War II. The film is not without its heart wrenching moments, but also makes for a great family movie night.
Mystic Pizza (Julia Roberts)
Is it safe to call Julia Roberts America's sweetheart, not just because she was in the movie America's Sweethearts, but because of her unflinching charm in films like Pretty Woman, My Best Friend's Wedding, or Ocean's Eleven? The beginning of that charm was in a small town pizza parlor.
Mystic Pizza is about three young women (Julia Roberts, Lily Taylor, Annabeth Gish) learning harsh truths about love while working at a pizza place in Mystic, Connecticut. Fun fact: this was also the first movie of Matt Damon, who would later reunited with Roberts on screen in 2001's Ocean's Eleven.
Beetlejuice (Winona Ryder)
Winona Ryder has played characters of various time periods from the 15th century in The Crucible to the 24th century in Alien: Resurrection, but the best moments of her career are tied to the '80s (especially if you count Stranger Things), starting with this outrageous, visceral 1988 comedy of grim and ghostly proportions.
In Beetlejuice, which arguably set the tone for director Tim Burton's following career, Winona Ryder plays Lydia, an oddball teen whose clueless parents (Jeffrey Jones, Catherine O'Hara) clash with the recently deceased owners of their new home (Alec Baldwin, Geena Davis), who erroneously enlist the help of the vile, but hilarious, title character, played by Michael Keaton. That same year, Ryder starred in the lead role of another legendarily dark comedy, Heathers.
Die Hard (Alan Rickman)
Obviously, the star of the Die Hard franchise is Bruce Willis, but he was already well-known for the hit television series Moonlighting before 1988. The action movie is also famous, however, for being the first film of the late, great Alan Rickman.
Alan Rickman brilliantly plays Hans Gruber, a German thief who has no trouble getting violent to get what he wants, especially when New York cop John McClane (Bruce Willis) incidentally proves to be a real "fly in the ointment" for him. Before his untimely death in 2015, Rickman went on to several more iconic roles, such as in Galaxy Quest, Love Actually, and, most notably, Severus Snape in the Harry Potter franchise.
Any other stars of '80s movies you think are worth mentioning? Whoopi Goldberg in The Color Purple? John Cusack in Better Off Dead? Kevin Costner as a dead body in The Big Chill? Let's talk it out.
Your Daily Blend of Entertainment News
Jason has been writing since he was able to pick up a washable marker, with which he wrote his debut illustrated children's story, later transitioning to a short-lived comic book series and (very) amateur filmmaking before finally settling on pursuing a career in writing about movies in lieu of making them. Look for his name in just about any article related to Batman.