Wow, John Wick's Directors Had To Fight For One Of The Film's Key Moments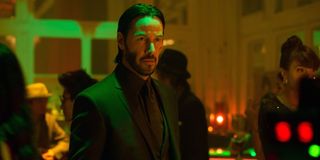 When you think of John Wick, you probably think of incredible fight sequences -- and that makes sense, because those moments are more or less the franchise's calling card. While there are some incredibly violent scenes in John Wick's films, it turns out the one moment that the studio pushed back on most wasn't centered on Keanu Reeve's character going into assassin mode. But it was a scene that the movie's directors felt was absolutely pivotal to telling John Wick's story.
The scene in question occurs when mobsters break into John Wick's house, beat him senseless, steal his car, and kill his beloved beagle, Daisy. It's a horrifying moment, to be sure and, according to screenwriter Derek Kolstad, it's one that almost didn't make it into the movie because the producers were concerned about how the movie's audience would react:
Derek Kolstad explained to ComicBook.com that the filmmakers envisioned that scene early on and stuck with it as a central plot point, and it's easy to see why. The way John Wick bonds with Daisy early in the film humanizes him, because it shows him as more than just a ruthless assassin. Daisy's demise also marks a psychological turning point for the film's protagonist. So John Wick's directors Chad Stahelski and David Leitch struggled with the studio's suggestion to remove the scene because they felt that the moment was essential:
Thanks to their dedication to telling John Wick's story, their way paid off. Derek Kolstad said that though they had to fight for Daisy's death to be included in the film until the last minute, they won out in the end:
Despite the studio's initial reservations, audiences weren't too put off. When John Wick hit theaters in 2014, it wound up doing big numbers at the box office. Moviegoers and critics loved it, and it ended up spawning an uber-successful franchise, spawning sequels like John Wick 3, which once again offered up some unforgettable canine moments. John Wick 4 is currently set to be released on May 27, 2022.
Your Daily Blend of Entertainment News
Thank you for signing up to CinemaBlend. You will receive a verification email shortly.
There was a problem. Please refresh the page and try again.