Shazam!'s Director Ridiculously Added Henry Cavill's Superman To The Movie And I Can't Look Away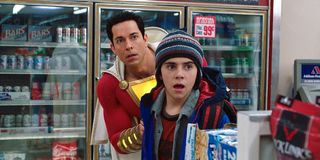 Shazam! director David F. Sandberg has primarily done horror movies like Lights Out and Annabelle: Creation, and even Shazam! had its moments of horror, which you wouldn't know given how well he pulls off comedy. Though what he's just done to his superhero film may qualify in both categories. After being pestered about it, David F. Sandberg has altered the cameo from Henry Cavill's Superman, and it's ridiculous.
As you may recall, the final scene in Shazam! shows Billy Batson as the hero and Freddy Freeman sitting in the school cafeteria before being visited by another special friend -- Superman. Unfortunately, we never actually get to see Superman's face, though. But this has now been rectified, as David F. Sandberg took to social media to post a new cut of the scene, complete with Henry Cavill's face. Check it out:
I'm not going to lie, that is hideous and hilarious at the same time. Still, it's impossible to look away, since it's almost like David F. Sandberg created some kind of new Superman monster from another dimension.
Originally, the Shazam! producers wanted to bring Henry Cavill into the movie for a cameo, which likely would've included dialogue between him and the main character. Unfortunately, Henry Cavill's schedule wouldn't allow him to do it. As a result, we got the faceless Superman cameo scene, instead. Though the creatives weren't exactly disappointed with how things turned out. Shazam! producer Peter Safran believes it turned out even better than expected because it allowed the camera to catch Freddy's reaction.
But who actually wore the Superman suit in the Shazam! scene? Last year, it was reported that stunt performer Ryan Handley stood in for Cavill. Zachary Levi even posted a selfie of him and Ryan Handley standing next to each other in their respective superhero suits. While it's not Henry Cavill, it's still pretty cool to see Shazam! and Superman standing next to each other.
As of right now, there's been no confirmation that Zachary Levi's Big Red Cheese will fight alongside Henry Cavill's Man of Steel in a future movie. Henry Cavill might be Superman again in some capacity in the DCEU as it was reported that he is in talks to return as the Man of Steel. However, what that will look like hasn't been totally confirmed, except that he may cameo in the films of characters he has previous ties to.
We do know that there is definitely more Shazam! on the horizon as a sequel has been greenlit. Unfortunately for fans, the film has been delayed due to recent events. Thankfully, Zachary Levi has stated that DC will want to get started as soon as possible since "those kids are growing up like weeds." As of now, its new release date is November 4, 2022. The first film is also available to stream on HBO Max.
Your Daily Blend of Entertainment News
Thank you for signing up to CinemaBlend. You will receive a verification email shortly.
There was a problem. Please refresh the page and try again.