Where Henry Cavill's Superman Could Reportedly Appear Next In The DCEU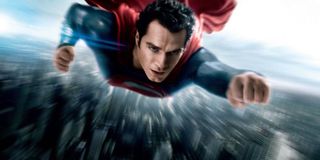 It's been nearly three full years since Henry Cavill last appeared as Superman, and while Zack Snyder's Justice League, a.k.a. The Snyder Cut, will provide a different account of how Kal-El/Clark Kent was resurrected in the DC Extended Universe compared to what was shown in theaters, it's been unclear if Cavill would return to the role. Then came word yesterday that Cavill is in talks to reprise Superman, though it would be in another character's movie rather than Man of Steel 2.
So then what specifically can we expect from Superman in the DCEU going forward? According to Variety reporter Justin Kroll, he's likely to share the screen with someone he already has an established rapport with in a minor role, as laid out below:
Superman not showing up in Wonder Woman 1984 makes sense since that movie's completed and the time period (duh), but I'm curious if Justin Kroll is also indicating that Superman's not being considered for a Wonder Woman 3 cameo, as Patty Jenkins has said that the threequel would be a contemporary story. As for Black Adam, evidently all those years of Dwayne "The Rock" Johnson teasing a fight between between his character and Superman have been for naught, which is a shame since those two have had some great fights in the comics.
Still, having Superman show up in either Aquaman 2 or Shazam! 2 makes sense given his ties with both characters. Clark Kent and Arthur Curry are on the Justice League together, and Superman cameoed at the end of the first Shazam! movie when the superhero-enhanced Billy Batson invited him to surprise Freddy Freeman at school (although Zachary Levi's stuntman, Ryan Hadley, portrayed the superhero, who was framed from the neck down).
Whichever one of these movies Henry Cavill's Superman appears in, it sounds like we shouldn't expect him to have a major role in the story. In other words, rather than his involvement being similar to how Hulk factored into Thor: Ragnarok, his future appearance being described as a "cameo" suggests something more like when Nick Fury popped up in the Phase 1 MCU movies.
And while Man of Steel 2 is evidently not happening anytime soon, if at all, one would imagine that this Superman cameo could be used to set up the sequel. Even ignoring the countless fan demands for Man of Steel 2, Henry Cavill has expressed interest in doing the project. Given how popular Superman still is after more than 80 years, it'd be a shame to have him just be a minor player in other characters' movies.
Frankly, the fact that Warner Bros is even considering bringing Henry Cavill back as Superman indicates that the studio isn't willing hit the reboot button on the hero just yet. So assuming the WB bigwigs and the actor work out a deal, we haven't seen the last of the Big Blue Boy Scout in the DCEU just yet, and wherever he ends up cameoing, fingers crossed that paves the way for something bigger.
Keep checking back with CinemaBlend for more updates on what's in store for Henry Cavill's Superman, but for now, check out what DC movies are coming down the pipeline with our handy guide.
Connoisseur of Marvel, DC, Star Wars, John Wick, MonsterVerse and Doctor Who lore. He's aware he looks like Harry Potter and Clark Kent.
Your Daily Blend of Entertainment News
Thank you for signing up to CinemaBlend. You will receive a verification email shortly.
There was a problem. Please refresh the page and try again.