Black Panther Gets Several Alternate Designs In Early MCU Concept Art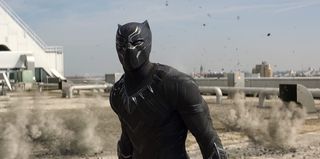 To some, it may feel like a decade or more since Black Panther made his way into the MCU, but check your calendars, folks: it's only been four years since T'Challa debuted in Captain America: Civil War, and just two years since he starred in his own movie. Wow, time flies!
Needless to say that Black Panther's MCU appearances look incredibly close to how he's depicted in the comics, but as it always the case for coming up with a costume for a superhero movie, some other designs were illustrated, as you can see below.
In the top lefthand corner, we have concept art that looks the closest to how Black Panther was depicted in Captain America: Civil War, and is similar to what was shown at Marvel Studios' Phase 3 presentation back in late 2014. And while the other three have more noticeable differences, they still do an excellent job of translating T'Challa's superhero persona for the big screen. The 4th one (lower righthand corner) is especially a hit with some of the commenters on this Instagram post from Marvel Studios' Director of Visual Development, Andy Park.
Personally, I dig the third one (lower righthand corner), as that design looks even sleeker than the version we ultimately got. Still, in the long run, I think Marvel Studios made the right call with picking the costume that Chadwick Boseman's T'Challa wore. That being said, fingers crossed that going forward, one of the next Black Panther costumes can incorporate the yellow eyes, because those look super cool.
Thus far, Black Panther has appeared four times in the MCU. Captain America: Civil War saw him allying with Team Iron Man in his efforts to track down Bucky Barnes (who he initially believed was the man who killed his father), and then T'Challa clashed with Erik Killmonger during the events of Black Panther. The Wakandan king then jumped back into action for Avengers: Infinity War, and while he was among the many who were turned to dust at the end of that movie, once Thanos' Snap was undone during Avengers: Endgame, he was brought back to life.
So now that T'Challa is back to ruling Wakanda and reunited with his loved ones, what's next for him? That remains to be seen, but whatever's in store for his future, it'll unfold in Black Panther 2. Considering how critically and commercially successful Black Panther was, it's unsurprising that Marvel decided to give the green light to a sequel, with Ryan Coogler returning to write and direct in late 2018.
Along with Chadwick Boseman obviously reprising T'Challa, it's been confirmed that Black Panther 2 will also see the return of Letitia Wright as Shuri, Danai Gurira as Okoye and Martin Freeman as Everett Ross. At last year's San Diego Comic-Con, Marvel Studios president Kevin Feige said that work on the script had begun, so it's unclear if that aspect of the creative process if finished or if there's still some polishing to be done.
Black Panther 2 is still scheduled to open in theaters on May 6, 2022, so keep checking back with CinemaBlend for more coverage. Learn what other Marvel movies are coming down the pipeline with our handy guide.
Connoisseur of Marvel, DC, Star Wars, John Wick, MonsterVerse and Doctor Who lore. He's aware he looks like Harry Potter and Clark Kent.
Your Daily Blend of Entertainment News
Thank you for signing up to CinemaBlend. You will receive a verification email shortly.
There was a problem. Please refresh the page and try again.