Why Black Panther Got A New Costume For His Solo Movie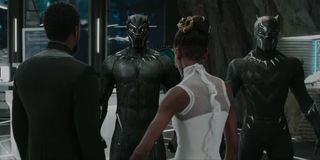 You'd be hard-pressed to find a more badass superhero costume in the Marvel Cinematic Universe than the one worn by Black Panther (Chadwick Boseman). The nearly-indestructible Vibranium suit made an impressive debut in Captain America: Civil War, and it will soon get some serious upgrades in Ryan Coogler's Black Panther. So why the change? As it turns out: the folks behind the movie wanted to create a suit that would reflect a new era and a further step in technological advancement. During a visit to the Black Panther set last year, costume designer Ruth Carter opened up to CinemaBlend and other outlets and said:
As if the king's suit wasn't already powerful enough during the events of Captain America: Civil War, it looks like Shuri (Letitia Wright) will give him some serious upgrades in Black Panther. Not only will the Vibranium outfit remain almost entirely indestructible against conventional weapons, but it will also absorb kinetic energy and allow Panther to refocus that power as an offensive attack. Couple that new ability with the suit's claws, T'Challa's superpowers, and a few cosmetic changes, and the outfit looks primed and ready for action.
The new suit worn by T'Challa isn't the only new outfit that we will see in Black Panther. It looks like Killmonger (Michael B. Jordan) will similarly get his hands another version of the new Black Panther suit -- complete with all of the same abilities.
Thematically speaking, it does make quite a bit of sense to emphasize new and advanced technologies for the first Black Panther movie. Wakanda is known in the Marvel lore as the most technologically-advanced nation on the planet (and Shuri is the smartest human on Earth), which means its science needs to remain at least one step ahead of the outside world -- which is saying something if you have seen the Iron Man suits produced by Stark Industries. Beyond that, Black Panther is T'Challa's first solo adventure in the wake of his father's murder at the hands of Baron Zemo (Daniel Bruhl), so the new king should get a new suit to reflect his unique style of rule.
Audiences will get to see King T'Challa's brand new (and super high-tech) Black Panther suit when Black Panther premieres in theaters on February 16. Looking forward to later this year, T'Challa will then go on to join Earth's mightiest heroes in the battle against Thanos (Josh Brolin) and The Black Order in Avengers: Infinity War on May 4.
Originally from Connecticut, Conner grew up in San Diego and graduated from Chapman University in 2014. He now lives in Los Angeles working in and around the entertainment industry and can mostly be found binging horror movies and chugging coffee.
Your Daily Blend of Entertainment News
Thank you for signing up to CinemaBlend. You will receive a verification email shortly.
There was a problem. Please refresh the page and try again.