6 Biggest Walt Disney World And Disneyland Questions We Still Have As Parks Start To Reopen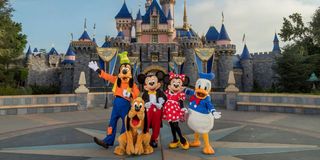 Both Disneyland and Walt Disney World are set to open within days of each other next month. And while between the opening of Disneyland in Shanghai and the opening of Disney Springs in Orlando, we have something of an idea what to expect when the theme parks themselves reopen, there are still many questions that we have. With the new policies and procedures, nearly every aspect of the parks is going to need to be reconsidered, and that's going to make for a very different Disney Parks experience.
We reached out to Disney Parks with some of our questions, but they had no new information to share, and thus we're left wondering just what Disneyland and Walt Disney World are going to look like when the parks reopen next month.
Will We See More Virtual Queues?
When Rise of the Resistance opened at Disneyland and Walt Disney World, the attraction was so popular that it became the first in the parks to use a virtual queue system. Rather than standing in line or even obtaining a FastPass, guests used the Disney Parks smartphone app to snag a spot in line, and then your phone would let you know when it was your turn to visit the attraction.
There have been some indications that we might be in for more virtual queues in the parks, as the Disneyland app currently includes a section dedicated to them, but as of yet, nothing has been officially announced. With the word being that FastPass+ is being cancelled at Walt Disney World for the foreseeable future, the same change is likely for FastPass at Disneyland. The space is needed for social distancing, and with virtual queues have usefulness beyond the obvious, that will mean fewer people in lines at attractions. Which, even with social distancing in place, is likely a good thing.
Will There Be Replacements For Fireworks And Parades?
Along with all the other changes that are taking place due to social distancing, Disney Parks have had to make some pretty big sacrifices. While it's possible for guests to keep their distance from each other most of the time, especially inside a park with limited capacity, events like fireworks and parades bring such large crowds that getting everybody to keep their distance is essentially impossible. Thus, those events won't be happening when the parks reopen in July.
And yet, parades and fireworks are some of the most popular events that you'll see in Disney Parks. For many (myself included), a night at Disneyland doesn't feel complete without a fireworks show or a viewing of World of Color. This could mean that the events removed from the schedule, like parades and fireworks, could result in potential guests not visiting the park. While Disney certainly wants everybody to be safe, the theme parks also wants guests to come. Could we see some sort of new special event? Perhaps something that plays music throughout the park and can be heard everywhere, which could give guests the same feeling without causing the crowd.
What Is The Status Of The Disneyland Hotel?
Last week, Disneyland revealed its plan to reopen the theme parks on July 17, 65 years to the day after Disneyland first opened to the public. Downtown Disney will open a few days prior to the parks, and the hotels will follow a few days after. Or, more specifically, two of the three hotels will follow. Opening dates were only given for the Paradise Pier Hotel and the Grand Californian Resort and Spa.
Conspicuous by its absence was any mention of the Disneyland Hotel. The location was not given a reopening date. It's unclear why that hotel among others was not given a reopening date. It's likely the reason is something simple. Perhaps the manpower needed to get everything clean in time might not be sufficient for all hotels, and the Disneyland Hotel, being neither the cheapest nor the most luxurious hotel option on the resort property, drew the short straw. It's also possible Disney doesn't plan to bring back enough hotel employees at first to properly staff all the hotels.
What's Up With Food Carts?
This one may seem like an incredibly simple question, but if you're a fan of Disney food, it's no small matter. Eating can be as much fun as anything at the Disney Parks, and there's certainly no shortage of options. In addition to every table service and counter service restaurant, there's everything from churros to Dole Whip to Mickey Mouse ice cream bars available at carts and kiosks around the resorts. But will you be able to grab anything you want as you walk around the park?
If everybody is supposed to be wearing a mask when walking around Disneyland and Walt Disney World, but you need to remove your mask to eat, then who wins? It's potentially possible to keep your mask off indefinitely with all the food and drink available to consume, which would defeat the purpose of the rule. One way to help encourage mask use is to reduce or eliminate the options for walk-around food.
What's Next For Spaceship Earth And Other Construction Projects?
Disneyland and Walt Disney World of the present are going to be very strange places, but the real question is what the parks are going to look like in the future. Major construction projects on both coasts were put on hold during the shutdown, and some were even supposed to start during the shutdown period. So when will these things resume? Or will they resume at all?
Spaceship Earth at Epcot was supposed to close for a major refurbishment at the end of May, but instead, the attraction will reopen with the park in July. There's no new word on when, or even if, the attraction will now close for the redesign that was announced. Similarly, Avengers Campus was announced to open at Disney California Adventure on July 18, the day after the park will now reopen. That clearly won't happen, but when we will see the new land is now anybody's guess.
Could Prices Change?
Disney vacations are never the cheapest option around. Between hotels, park tickets and food, you'll be spending a fair amount of cash. For most, it's worth it for that once in a lifetime experience, but what if you're not getting as much for your money? With all the things that won't be available when Disney World and Disneyland reopen, will Disney need to adjust costs?
Prices just went up for park tickets earlier this year, but that was in anticipation of all the new things that were being added to the parks. Now we're seeing real subtractions. A limited time promotional offer to make a Disney vacation more attractive seems like a no-brainer, but depending on how long some of these changes may be hanging around, something more long term, like an actual price cut, may be more necessary.
Some of these thoughts are just the general wondering that comes with the ever-evolving world of theme parks, but some of the answers to these questions could determine the likelihood that a family takes the chance to visit a place like Disneyland. The future of these parks is certainly going to be interesting. There's no denying that.
Content Producer/Theme Park Beat
CinemaBlend's resident theme park junkie and amateur Disney historian. Armchair Imagineer. Epcot Stan. Future Club 33 Member.
Your Daily Blend of Entertainment News
Thank you for signing up to CinemaBlend. You will receive a verification email shortly.
There was a problem. Please refresh the page and try again.