Total Immersion And More Make Disney World's Rise Of The Resistance Worth The Wait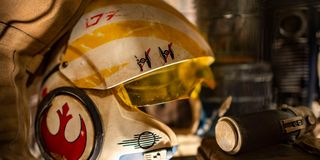 (Image credit: Matt Stroshane, photographer)
Disney World's Galaxy's Edge has a new ride at Hollywood Studios, and without exaggeration, it may be the best ride Disney World has in the entire theme park. Much like the Star Wars-themed land around it, Rise of the Resistance seeks to immerse attendees in the world of the movies, and succeeds in a way quite unlike anything we've ever seen before.
To make a long story short, there are some spectacular details on this ride that will make your jaw drop even more than it does after seeing Galaxy's Edge. We'll highlight those a little bit later, so anyone looking to ride Star Wars: Rise of the Resistance unspoiled by big details need only just hop out once the spoiler tag rears its head.
Star Wars: Rise Of The Resistance Is Near Complete Immersion From Queue To The Ride's End
Without getting into too much detail, it's truly amazing how Disney World managed to make Rise of the Resistance so immersive from start to finish. The whole wait time is part of the experience, and greatly elevates what is already a tremendous ride. In fact, I legitimately accidentally mistook one part of the queue for the actual ride, and was impressed enough not knowing I wasn't halfway through.
Obviously times will vary when the ride queues are full, but attendees will be able to pass the time amongst some insane scenery and interact with a cast that is all too willing to make you feel a part of the story. For those looking to avoid spoilers, I can only say there's a ton about this experience that is well worth the wait, even if it's one of the few things attendees may do with their day.
Warning! The rest of this contains heavy spoilers to the awesome stuff seen inside Star Wars: Rise of the Resistance. Read at your own risk!
Rise Of The Resistance's Realism Is Elevated By Cutting Edge Technology
Disney World has done some pretty groundbreaking stuff with rides over the past couple of years, and that trend continues in Star Wars: Rise of the Resistance. Ridegoers will get smacked in the face with that technology pretty early on, as they're greeted by BB-8 and an actual hologram of Daisy Ridley's Rey. Holograms are such a staple of Star Wars, and this ride did a magnificent job of recreating that look in real life in a breathtaking way.
Star Wars: Rise of the Resistance also uses a good deal of projection technology to emphasize blaster damage throughout the ride. Seeing actual blaster marks appear on the walls beside your cart raises the stakes on this ride, and can really help the rider get better immersed in the overall experience.
Star Wars: Rise Of The Resistance Uses Animatronics, But Doesn't Overdo It
Animatronics are a wonderful and vital part of Disney World, but they have their limitations. Just because an Imagineer can program a robot to drink out of a mug and belch doesn't necessarily mean it's going to look realistic. Star Wars: Rise of the Resistance takes the "less is more" route with its robotic characters, and in doing so, creates some uncannily realistic figures in the process.
Some great examples to keep an eye out for are the First Order Troopers in the Star Destroyer, who adjust their gun grips and twist their heads ever so slightly. The best work in the ride by far is in the part that is a transport ride with Nien Nunb and Mon Calamari Lieutenant Bek. Attendees can be inches away from Bek on the transport if they so choose, and Disney World took extra care to make him look like a living breathing being at that range to maintain realism.
Star Wars: Rise Of The Resistance Shows The Power And Scale Of The First Order
We all know the First Order is supposed to be powerful, though it can be hard to watch the sequel trilogy and see them as anything beyond the punching bags of the Resistance. Star Wars: Rise of the Resistance shows the First Order is way more powerful than some may give it credit, especially if you're just some Rebel spy cruising across the galaxy and up to no good.
After "capture," attendees are led to a massive hangar bay with a large number of First Order Troopers, and a fully digitized view of space with ships flying by in the background. After that, First Order lieutenants will insult and pester riders for several minutes until they enter the interrogation chamber. It can be uncomfortable, but in hindsight, it's actually really cool as it gives a sense of how scary it would actually be to get caught in a situation like this.
It Continues To Show Trackless Rides Are The Future For Disney World
There still aren't a ton of trackless rides out in the theme park world, but Disney has made a point to continue creating them both internationally and stateside. Trackless rides give attendees a hint of unpredictability, are a smooth ride, and allow for divergent paths that can allow for a single ride to have a bit more nuance in its presentation.
As an example, Rise of the Resistance has two different paths depending on whether one sits in the first or second car in their respective unit. The two cars still link up quite a bit, though one will get an up-close-and-personal look at Finn avoiding blaster fire, while the other car escapes the blasts of an AT-AT. The mobility a trackless ride offers is necessary for as in-depth as an experience as this ride is, and that will be evident once people get on and see just how much there is to take in!
Related: Walt Disney World's Star Wars: Rise Of The Resistance Reactions Are In, Here's What People Are Saying
Are you interested in riding Star Wars: Rise of the Resistance at Galaxy's Edge in Hollywood Studios? If you are in the parks already, you're in luck, as it opens this week. If you aren't in the parks, be sure to stick with CinemaBlend for all the latest news happening in the theme park world. After all, Disneyland is getting its own version of the ride soon.
Mick likes good television, but also reality television. He grew up on Star Wars, DC, Marvel, and pro wrestling and loves to discuss and dissect most of it. He's been writing online for over a decade and never dreamed he'd be in the position he is today.
Your Daily Blend of Entertainment News
Thank you for signing up to CinemaBlend. You will receive a verification email shortly.
There was a problem. Please refresh the page and try again.