10 Awesome Time Loop Movies To Watch After Palm Springs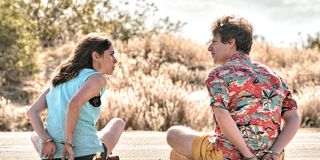 (Image credit: (Neon))
Over the weekend, Hulu found a big hit in the Lonely Island-produced Palm Springs, a blast of a comedy about two strangers who fall in love amidst being stuck living the same desert wedding over and over. The indie film that premiered at the Sundance Film Festival is a refreshing new take on the time loop storyline, which has been explored on film since Japan's The Girl Who Leapt Through Time was adapted in the early '80s.
The power of a quality time loop movie is actually wanting to hit play on the film again once it ends, even though the plot revolves around the same event again and again. Over the years, use of this premise has proved to breed unique stories that jump all across the spectrum of genres. From romance to science fiction to even horror, if you enjoyed exploring the concept of time loops in Palm Springs, it's time to check these movies out too:
Edge of Tomorrow
The most high-profile time loop movie in recent memory is 2014's Edge of Tomorrow, starring Tom Cruise and Emily Blunt. This film, based on Hiroshi Sakurazaka's All You Need Is Kill, was a massive sci-fi blockbuster penned by Christopher McQuarrie of Mission: Impossible fame. It's about an inexperienced officer (Cruise) who finds himself stuck in a time loop from the day he died in battle against aliens. As he continues to relive the same day, he begins to master training with Blunt's character and gain skills to live another day.
Happy Death Day
Blumhouse took on the time loop movie with 2017's horror comedy Happy Death Day. This hilarious slasher flick follows a college girl named Tree (played by Jessica Rothe), who keeps getting murdered by a mysterious person in a baby mask and then waking up on the same day to get killed again. Tree has to find a way to outsmart her killer with the help of that random guy she woke up to the morning after and come to terms with a family tragedy. Happy Death Day seriously has it all and the sequel plays tribute to Back to the Future.
Source Code
One time loop movie that came out of left field in 2011 was Source Code, starring the immensely talented Jake Gyllenhaal. In the action flick, we learn his character is a U.S. soldier who was stationed in Afghanistan before waking up in the body of a man on a commuter train going to Chicago. He learns he has been placed there in order to figure out how to stop a bomb from going off on that day. The simulation restarts over and over until he can figure it out.
Before I Fall
Based on the book Before I Fall and co-written by The Old Guard director Gina Prince-Bythewood, this movie that was released in 2014 takes the concept of time loops in the teen drama arena by following Zoey Deutch's Sam on the last day of her life before she died in a car accident. Before I Fall is an impressive take on the formula, as it combines elements of mystery-solving and the best of YA genre.
Blood Punch
If you're looking for a hidden time loop gem, you should check out 2013's Blood Punch. It's part dark comedy and part horror, and features a trio entangled in a love triangle who each end up reliving the same day while stuck in a remote cabin. What's especially interesting about Blood Punch is each of the characters are dealing with a time loop independently. It's gory, relentless and certainly a unique take on this tried-and-true concept of time loops.
The Endless
Another under-the-radar time loop movie is 2017's The Endless, a indie flick that garnered a 92% fresh Rotten Tomatoes score for its thrilling story centering on two brothers. In The Endless, the brothers find themselves venturing back to the UFO death cult they had previously escaped from after a video message brings them there. Once they return, they become stuck in the cult's time loop and must find a way to return to their realities.
Game Over
Time loops and horror seem to like each other. In the case of 2019's Game Over from India, the horror is turned up to 100. This film follows Swapna, a game developer and wheelchair-ridden woman who is suffering post-traumatic stress surrounding the anniversary of a horrible event of her past. She finds herself repeatedly getting murdered and reliving the same day. The plot twist here is Game Over leans into "video game rules," so after so many lives, Swapna's done for if she can't make it out.
Horse Girl
Okay, so the next two movies are not your typical "time loop" fare, but they definitely belong on this list – especially for viewers intrigued by the concept, but interested in ways Hollywood has shaken things up. In terms of Netflix's Horse Girl, you'll have to watch to find out exactly how time loops fit in. The story was co-written by Community and GLOW star Allison Brie, and examines her own fears about mental illness through the lens of a loner-type named Sarah.
About Time
The heartfelt romance film 2013's About Time is the most linear of the bunch, because it centers on Domhnall Gleeson's Tim, who learns he has the power to time travel at will thanks to genetics from his father. Tim decides to use his powers to catch the eye of Rachel McAdam's Mary, but its not without trial and error. About Time is not a typical "time loop" film, but it is a thoughtful examination of why the subgenre is so meaningful to us. We all wish for that perfect day and the ability to get it all right.
Groundhog Day
And what would a time loop movie list be without the most famous of them all, 1993's Groundhog's Day. This hilarious classic is the benchmark for many of us when it comes to this concept, because it was the first time many of us had watched this type of movie play out. The movie starring Bill Murray is about a weatherman who continues to wake up on the same exact day in February until he learns to make the most of his day… and yes, its still brilliant.
Which time loop movie are you checking out now? Vote in our poll below and stay tuned here on CinemaBlend for more movie recommendations.
This poll is no longer available.
Your Daily Blend of Entertainment News
YA genre tribute. Horror May Queen. Word webslinger. All her writing should be read in Sarah Connor's Terminator 2 voice over.