6 Things To Remember From The Bill And Ted Movies Before Bill And Ted Face The Music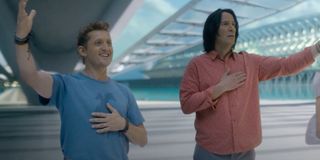 For nearly three decades, dudes and babes have been anxiously waiting for another most excellent adventure with Keanu Reeves and Alex Winter's historical alter egos. However, in a totally non-non-non-non-heinous turn of events, it looks the wait for Bill and Ted Face the Music may be egregiously longer than we once believe.
Yet, to scope out the bighter side of the situation, these bogus release schedule delays at least give us more time to become acquainted with Ted "Theodore" Logan (Keanu Reeves) and Bill S. Preston, Esq. (Alex Winter), collectively known as Wyld Stallyns, before they make their triumphant return in the third movie. Of course, it should not go unnoticed that 1989's Bill and Ted's Excellent Adventure, in which the pals travel through time to finish the ultimate history project, and 1991's Bill and Ted's Bogus Journey, in which the murdered duo seek resurrection to defeat their evil robot duplicates, may be goofy comedies, but go heavy on the in-depth details.
So, let us prepare ourselves for an unrivaled viewing experience of Bill and Ted Face the Music once it finally emerges. Take a trip to revisit the first two Bill and Ted movies with these six essentially stellar facts. Check it out!
How Each Bill And Ted Movie Ended
Before we get to some of the most crucial details about Bill and Ted, let's look back at how each of the movies ended...
Bill And Ted's Excellent Adventure
After an, indeed, most excellent adventure through time, Bill & Ted's Excellent Adventure concludes with the duo presenting a greatest hits of our world's history with help from its greatest icons. Then, in an atypical turn of events, Bill and Ted's futuristic pal Rufus (George Carlin) pays a visit in the phone booth to surprise them with the princesses, Elizabeth (Kimberly Kates) and Joanna (Diane Franklin), who, as it turns out, are future members of Wyld Stallyns.
Bill And Ted's Bogus Journey
Having brought themselves back from the dead, defeated their evil robot clones with good robot clones, and used the power of time travel to get the tyrannical De Nomolos (Joss Ackland) arrested, Wyld Stallyns have reached the end of their most Bogus Journey and are ready to finally perform in the globally broadcasted Battle of the Bands. However, then Bill and Ted remember that they still don't know how to play music, which prompts a quick dip in the phone booth for one "fast 16 months of intensive guitar training," fulfilling their destiny as the band that would unite the world... or so we thought.
Now let's look back at some of the key details about Bill and Ted, that may prove helpful going into Bill and Ted Face The Music...
Rufus Is The Man Responsible For Bill And Ted's Success
Bill and Ted would have never embarked on their most bodacious adventures if not for one most excellent guide, Rufus (George Carlin), who, in Bill & Ted's Excellent Adventure, is sent from the 27th century to ensure the Wyld Stallyns stay together so their music can teach people to "be excellent to each other" and save the world. He also turns out to be the reason Bill and Ted were ever able to participate in Battle of the Bands by disguising himself as Ms. Wardroe (Pam Grier).
Unfortunately, Rufus will not appear in Bill & Ted Face the Music as Carlin passed away in 2008, but the character will apparently be crucial to story, which will also star Carlin's daughter, Kelly.
Bill And Ted Married The Princesses
As previously established, Bill and Ted continued their romance with the "historical babes" they met in the Medieval times, as played by Kimberly Kates and Diane Franklin, in Bill & Ted's Excellent Adventure, and would propose to them in the first act of the sequel, then recast with Annette Azcuy and Sarah Trigger. For the upcoming third installment, Bill and Ted's lawfully wedded wives, and mothers to their daughters (played by Samara Weaving and Brigette Lundy-Paine), have been recast once again with Glee's Jayma Mays as Joanna and Children's Hospital's Erinn Hayes as Elizabeth.
Ted Has A Brother Named Deacon
Another character from the Bill & Ted universe who has been recast is a character you may not remember as well as, say, the Princesses, for instance. However, if you recall in Bill & Ted's Excellent Adventure when the guys first bring Napoleon Bonaparte (Terry Camilleri) to the 20th century, they put the "very famous French dude" in the care of Ted's younger brother, Deacon (played by Frazier Bain), who did not return for the second film (though we did learn that Ted once stole Deacon's Easter basket as a kid.)
Deacon will appear in Bill & Ted Face the Music, this time portrayed by current Saturday Night Live cast member Beck Bennett.
Bill's Former Stepmom Missy Married Ted's Dad
Two characters who have not been recast in either sequel to Bill & Ted's Excellent Adventure are Ted's Dad, Captain Logan (Hal Landon Jr.) and Bill's stepmother, Missy (Amy Stoch). Well, I really should be referring to Missy as Ted's stepmom as it was revealed in Bill & Ted's Bogus Journey that she left Bill's dad for Captain Logan. Who know's what their relationship will look like when Landon and Stoch reprise their roles in Bill & Ted Face the Music?
Bill And Ted Are Friends With The Grim Reaper
After Bill and Ted are totally killed by their robot clones in Bill & Ted's Bogus Journey, they escape the wrath of the Grim Reaper (William Sadler) by giving him a Melvin, and later convince him to help them achieve resurrection and save the princesses after defeating him in a series of board game challenges. The first teaser for Bill & Face the Music revealed an appearance of the 70-year-old Sadler in full makeup and hood, confirming that Death is still a most non-heinous dude and should be a triumphant presence in the film, especially without Rufus around.
Was this a most resplendent trip down memory lane for the Bill & Ted fan in you or are still totally bummed by what an odious amount of time it may take see them Face the Music? Let us know in the comments and be sure to check back for an insane plethora or information and updates on this most excellent trilogy, as well as more bodacious cinematic retrospectives, here on CinemaBlend. Party on, dudes!
Your Daily Blend of Entertainment News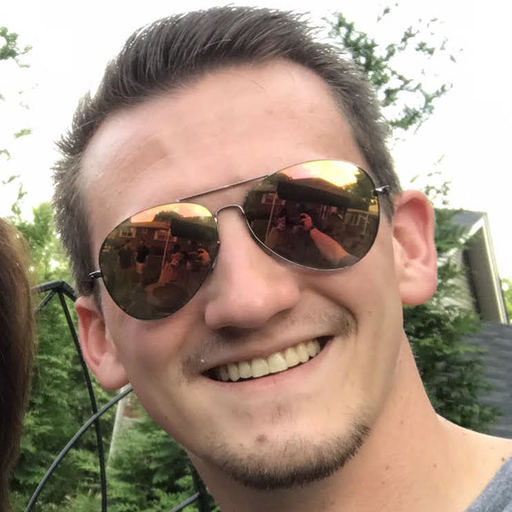 Jason has been writing since he was able to pick up a washable marker, with which he wrote his debut illustrated children's story, later transitioning to a short-lived comic book series and (very) amateur filmmaking before finally settling on pursuing a career in writing about movies in lieu of making them. Look for his name in almost any article about Batman.