Bill And Ted Face The Music Has Been Pushed Back Following Tenet Delay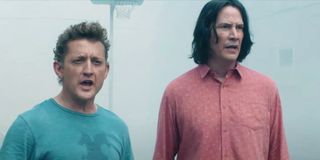 At this point, we could all really use another excellent adventure. Unfortunately, we're going to have to wait a little longer for the next one from Bill and Ted. As Hollywood continues to shift its 2020 movie release dates around, Bill & Ted Face The Music's premiere has been pushed back following the news that Tenet has been delayed again.
The reason behind MGM's decision is to avoid having the third installment of the Bill & Ted franchise compete against Christopher Nolan's highly-anticipated spy film, per Variety. Warner Bros. recently announced that it has pushed Tenet back to August 12, the latest in a series of shuffles. As a result, Bill & Ted Face The Music is now scheduled to hit theaters on August 28.
If you're confused about what's coming out when, it's okay. You're not alone. The past few days have seen some big release date changes, and it's a little hard to keep track. Mulan, which was first scheduled to hit theaters in March and then pushed back to July, has now been moved to August 21, due to continued uncertainty over the trajectory of the global health crisis. That uncertainty means that even the dates we do have could be subject to change yet again, especially those scheduled for the rest of the summer.
Right now, there are a handful of films besides Mulan, Tenet and Bill & Ted Face The Music that are scheduled for theatrical release before Labor Day. The New Mutants currently shares August 28 with Bill & Ted, and A Quiet Place Part II is due to open on September 4. However, most of the big movies we should have already seen this year have been pushed all the way back to the end of 2020 or later.
The fact that MGM has chosen to keep Bill & Ted Face The Music as a theatrical release is telling regarding their belief in its ability to draw a crowd. Several other films have been shifted to digital releases, which has helped studios rake in some money in the wake of this unprecedented health crisis. Still, it's easy to understand why they're banking on it -- fans of the time-traveling duo have been waiting for a third chapter for almost 30 years.
Bill & Ted Face The Music will find William "Bill" S. Preston Esq. (Alex Winters) and Theodore "Ted" Logan (Keanu Reeves), still best friends albeit a little bit older, as they try to save all of humanity with their music. Fans of the franchise can expect to see some familiar faces -- but some new ones as well. (Bill and Ted are parents now!)
While we're all hopeful MGM can keep this release date in place, CinemaBlend will keep you updated if anything changes. And be sure to keep an eye on our 2020 Movie Release Guide.
Your Daily Blend of Entertainment News
Thank you for signing up to CinemaBlend. You will receive a verification email shortly.
There was a problem. Please refresh the page and try again.