Bill And Ted Face The Music, An Updated Cast List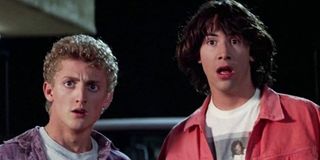 The Bill and Ted train is chugging along, with a steady stream of information continuing to flow in from the production of the long awaited threequel, Bill and Ted Face The Music. The movie is now in production, but that has not stopped regular casting news from being announced - some of the most exciting being about those who have already had past adventures with Bill. S. Preston, and Theodore Logan, Esq.
With these developments in mind, we've put together this cast rundown that will identify all those bringing this trilogy-closing adventure to life. And, naturally, the best place to start is with the duo that we literally couldn't have this series without:
Alex Winter as Bill S. Preston, Esq. and Keanu Reeves as Theodore "Ted" Logan, Esq.
Members of Wyld Stallions, the band known to bring the world peace through their most excellent music, Bill S. Preston and Theodore Logan have been best friends for pretty much their entire lives. Called upon to save the world once again, Alex Winter and Keanu Reeves are reprising their respective roles just over 30 years after they first played them.
William Sadler as Death
Death was once a nemesis that Bill and Ted were pitted against in their second adventure, Bill and Ted's Bogus Journey, but after losing to the heroes in a series of board game competitions, this specter of mortality became the servant to Wyld Stallions royalty. With Willam Sandler returning to reprise his memorable role from their sequel, it looks like Death is still pretty close to Bill and Ted, and presumably still a part of the band.
Anthony Carrigan as The Villain
With every Bill and Ted adventure there's a villain trying to stop their quest to continue promoting universal unity, and while we don't have the exact details as to how Anthony Carrigan's mysterious villain will fit into that mold, there's a pretty good chance he'll try to do what other baddies have failed to do in the films and try and stop the heroes from fulfilling their destiny.
Brigette Lundy-Paine as Billie Logan
As time passes, the added responsibilities of life present themselves in various forms. In the case of Bill and Ted Face The Music, we see that not only are the heroic pair married, but they both have daughters they've named after each other. In the case of Ted, his daughter Billie will be played by Brigette Lundy-Paine.
Samara Weaving as Thea Preston
For every Bill, there's a Ted; and with that natural logic, Billie Logan will have a best friend of her own in Thea Preston. The daughter of Bill and his princess bride, Thea will appear in Bill and Ted Face The Music played by Samara Weaving.
Amy Stoch as Missy
The history of Bill and Ted's Missy is pretty complicated, as she started out as Bill's stepmother in Bill and Ted's Excellent Adventure, only to divorce him and become Ted's stepmother in Bill and Ted's Bogus Journey. While we're not quite sure if Missy's still with Chet Logan in this new outing, we do know that Amy Stoch will be returning to reprise her role for a third time out.
Hal Landon Jr. as Police Chief Chet Logan
We'd like to think that somehow after the craziness of the '80s and '90s Police Chief Chet Logan still has Missy to come home to. But while we're not certain of that, we do know that Ted's dad has been promoted from Captain since Bill and Ted's Bogus Journey. And with that promotion comes the return of Hal Landon Jr. in the role.
Erinn Hayes as Princess Elizabeth Logan
During their original exploits in Bill and Ted's Excellent Adventure, our pair of heroes stumbled upon two princesses that they would eventually engage to wed by time Bill and Ted's Bogus Journey rolled around. Each time out they've been played by a different pair of actors, and Erinn Hayes is now set to be the most recent Princess Elizabeth, who is Ted's wife and Billie's mother.
Jayma Mays as Princess Joanna Preston
Also returning to make the families complete is Bill's wife, Princess Joanna. Mother to Thea, she too is being played by a new actor this time around. Jayma Mays will be occupying this particular role in Bill and Ted Face The Music.
Beck Bennett as Deacon Logan
In another blast from the past, Ted Logan's younger brother Deacon will be returning to the fold as well. All grown up, and played by Beck Bennett, there's a good chance that if any historical figures appear in Bill and Ted Face The Music, he'll probably be able to excuse himself from the duties. Unless he's interested in being a good brother... but somehow we doubt that.
Jillian Bell as Dr. Taylor Wood
In another recent casting development, Bill and Ted Face The Music had introduced who might be a focal figure when it comes to the Logan family. The survival of Missy and Chet Logan may depend on Dr. Taylor Wood, a couples' therapist played by Jillian Bell. Here's hoping that in Dr. Wood's case, she's not easily freaked out by random historical figures that may or may not barge into sessions between her and her clients.
Kristen Schaal
As with the other films in the franchise, Bill and Ted Face The Music will involve some time travel tomfoolery involving both the past, as well as the future. The most recent news behind the project has given us two new figures to watch out for from the latter half of the time spectrum, with Bob's Burgers and Toy Story 4 star Kristen Schaal playing a messenger by the name of Kelly. Surprise surprise, she's from a time that's way past our own; 700 years to be specific.
Holland Taylor
Rounding out the other important figure from the future is legendary actor Holland Taylor, who will be playing "the most powerful person in the universe", known as The Great Leader. With future events revolving around Bill and Ted's hometown of San Dimas, California, it's only fair that they be recruited to bring peace and prosperity to the world yet again. And Taylor's Great Leader would know better than anyone that our classic pair of rock and roll heroes would be the ones to do just that.
With a cast like this, and production already underway, Bill and Ted Face The Music looks destined to be one of next year's fun joy rides at the movies. We'll find out when we get closer to the film's debut, as it will tune up and open the curtains for the first time on August 21, 2020.
Your Daily Blend of Entertainment News
Senior Movies Contributor
CinemaBlend's James Bond (expert). Also versed in Large Scale Aggressors, time travel, and Guillermo del Toro. He fights for The User.