Pitch Perfect's Anna Camp Says She Contracted COVID After Not Wearing A Mask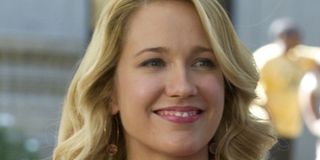 With more businesses starting to open their doors and more people going out in public, the COVID cases in the US continue to spike. Since the virus is highly contagious, it doesn't take much to become infected, and Pitch Perfect's Anna Camp believes she caught the virus after not wearing a mask.
Anna Camp, who recently appeared in Netflix's The Lovebirds, took to social media to let everyone know she contracted COVID-19. She explained that she had been careful, did all the right things, but one day, she didn't wear a mask and soon after she started showing symptoms. Here's what she said:
It's good to hear that Anna Camp was able to recover from the disease. Other actors have not been as lucky. Considering all the precautions she took, Anna Camp's message should certainly be considered, though it should be noted that it wasn't confirmed by a health professional if that one day of not wearing a mask did indeed lead to her contracting COVID.
In any case, Anna Camp continued by saying her experience with COVID-19 is different from having the flu, even though it's been compared to that, and revealed some of the other symptoms and challenges it presents:
Wearing a mask to prevent the spread of the virus has been a hot topic lately. Many celebrities, such as Jack Black, have issued online PSAs encouraging people to wear masks. Tom Hanks, for his part, just came out and said everyone needs to do their part by washing their hands, social distancing and wearing a mask.
The strange part about COVID-19 is the drastic differences in the symptoms people experience. While Anna Camp seemed to share some of the same symptoms as Rita Wilson, like losing her sense of smell, D.L. Hughley reported that he didn't have any symptoms at all, but just lost consciousness.
Regardless of the symptoms, Anna Camp's message seems pretty straightforward: don't take a chance, wear a mask.
Your Daily Blend of Entertainment News