Colin Trevorrow Reflects On His 'Traumatic' Departure From Star Wars: Episode IX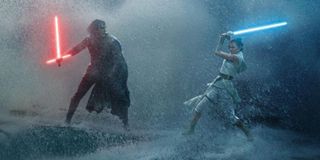 Leaving a job is stressful. If that job is helming a movie in one of the most successful film franchises of all time? Yeah, that's really, really stressful. Just ask Colin Trevorrow, who recently opened up about his departure from Star Wars: Episode IX in the midst of development.
In September 2017, news broke that Colin Trevorrow had stepped down from directing the then-untitled final chapter of the Skywalker Saga. There was a lot of speculation as to why he decided to leave. But according to both him and Lucasfilm, the split was amicable and due to the fact that their visions for the film were ultimately too different for the collaboration to be successful.
But that doesn't mean it wasn't a difficult decision for the director. While Colin Trevorrow initially stayed pretty mum about the whole ordeal, in the years since he's addressed it -- and even joked about it -- on a few occasions. Now, he's opened up even more in a conversation with Collider, in which he talks about why his exit from Star Wars was particularly painful:
That's definitely a healthy way to look at it. He may not have been able to see his Star Wars dreams through to fruition, but he didn't let it stop him altogether. J.J. Abrams ultimately took over for Episode IX, and The Rise of Skywalker was released -- to a bit of controversy -- in December 2019.
Colin Trevorrow, on the other hand, refocused his efforts on the Jurassic World franchise. The 2018 sequel to his blockbuster franchise revamp, Fallen Kingdom, was a huge success. The latest installment, Jurassic World: Dominion, is currently back in production after a prolonged COVID-19-related shutdown -- and the director spent his time in quarantine editing footage to try and help them stay on schedule. It's due to hit theaters in June 2021.
Would you have wanted to see Colin Trevorrow's version of Episode IX? Let us know in the comments!
Your Daily Blend of Entertainment News