Why Shooting John Wick 4 And 5 Back To Back Is The Best Idea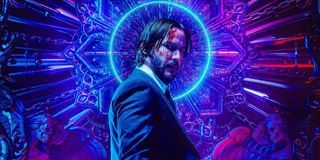 With the success of last year's John Wick: Chapter 3 – Parabellum fresh in everyone's minds, a brand new round of Keanu Reeves action was just what the doctor had ordered; and for a little while it looked like we'd be getting both a new Wick movie and The Matrix 4 on the same day in 2021. Unfortunately, John Wick 4 found itself encountering a delay in production and release, like many of the films that's were looking to get going in 2020.
It hasn't all been bad news, as recent developments have confirmed that John Wick 5 is now on the table as well, and will be filmed back to back with its predecessor. Right then and there, a good time became a great time, as two Wick movies in production are the absolute best idea. For numerous reasons, all of which we're about to dive into right now, having John Wick 4 and John Wick 5 in development to shoot back to back is something really wise. And it all starts with
The Delay In Getting Back To Shooting John Wick 4 Gives The Franchise More Time To Shape Its Future
The unexpected delay in shooting John Wick 4 opens the door to the opportunity to better craft the future path the entire series will take. Rather than taking things one film at a time, there's two films now being planned, thanks to John Wick 5's addition to the roster. With that much story at play, it's probably a good idea to figure out where things should move onto from this point. If Keanu Reeves and director Chad Stahelski really want to keep making these flicks for the foreseeable future, they should plot out a road map to guide them.
Stunt Planning For John Wick 4 And 5 Can Be Better Developed
One of the greatest challenges for an action franchise like John Wick is keeping the stunts fresh, and topping the previous film with the next installment. On its own, John Wick 4 already had some stiff competition, especially with the history of stellar kills already logged in the books; one of which actually involving a book. With John Wick 5 being prepped for back to back shooting with John Wick 4, Chad Stahelski and his wizards of pain in the Wick franchise can not only make the fourth film bigger than the third, they can save some fuel in the tank to make John Wick 5 even more bonkers when it comes to its physical shenanigans.
There's A Chance The Story For John Wick 4 And 5 Is A Two-Parter
After the final twists in John Wick: Chapter 3 – Parabellum's shock filled third act, an all-out war between The High Table and the combined forces of John Wick and The Bowery King (Lawrence Fishburne) looks like it's not too far off in the world of this action-adventure franchise. As the world of John Wick has become more expanded and interconnected with each passing film, the fact that John Wick 4 and John Wick 5 will be shooting back to back means that there's a chance the story for both films will form into one big two-parter. Much like Mission: Impossible 7 & 8, John Wick 4 & 5 could take advantage of its current situation and build a proper bedrock for Mr. Wick's future past these two films.
Planning John Wick 5 Now Could Help The Various In Universe Spin-Offs
As if two feature films in the main line John Wick franchise wasn't enough, there's a much larger world at work with The Ballerina spin-off film and The Continental TV series also in the pipeline. Only adding further branches of story to be pruned and shaped with care, those concerns could be better addressed as John Wick 4 and John Wick 5 are being worked out in the extended hiatus. With The Continental especially looking to align itself with John Wick 4, and more than likely John Wick 5's story points, taking the time to flesh out the connections between the films and the companion series could tie the series together all the better in the end. Not to mention, all of this focus on story could have another advantage.
Old Friends And Foes Could Make Unexpected Returns
In the world of John Wick, we've seen Keanu Reeves' legendary assassin cross some pretty bad people. Some have been dispatched to the realms of death, while others, have lived to fight another day. With Common's Cassian from John Wick: Chapter 2 being a prime example of a figure that was written with an easy excuse to return, and that all-out war in the criminal underworld looking to break out, his return could be one of several friends, foes, and innocent bystanders who return to the playing field in John Wick 4 and John Wick 5's brawltacular storyline. And while we were supposed to believe that Ruby Rose's Ares was on her way to the underworld herself, there's always a chance she could have survived through some sort of miraculous twist of fate.
Figuring Out Keanu Reeves' Shooting Schedule Between John Wick And The Matrix Just Became Easier
One of the other reasons that John Wick 4's shooting schedule was delayed was, basically, because those in charge saw the gridlock between themselves and The Matrix 4, and gave Lana Wachowski's project the right of way. Which is great, because that's another anticipated return to a Keanu Reeves filled wonderland that is anticipated far and wide. Should that big relaunch work the way it's intended to, there may be more Matrix sequels that will need to factor into Reeves' pretty hectic schedule. But with John Wick 4 and John Wick 5 shooting on the same schedule The Matrix Reloaded and The Matrix Revolutions engaged in back in the day, it'll be easier to coordinate both franchises with a little more harmony.
Fans Won't Have To Wait As Long For John Wick 5 To Be Released
John Wick: Chapter 3 – Parabellum was a hit at the box office in summer 2019, and by time John Wick 4 was slated to open originally, it was at the tail end of a two year wait. Now, with the delay present, and John Wick 5 in the mix, fans will still sadly have to wait longer for the release of the fourth chapter in John Wick's story. However, when all is said and done, two films will be completed at the end of production. This theoretically means that if Lionsgate wants to go the full Matrix, they could space out both films with only a handful of months between their respective releases. Or, if they really want to stay on an extended interval, it would be at most a year between both film's deployments in theaters.
Delays suck in the respect that it takes a little longer to get back to the action than most would like. However, it looks like John Wick 4 and John Wick 5 are going to take advantage of the extended off season. If the approach described above is where this series is going next, then John's next two adventures could mean a lot to the future of the John Wick franchise. We'll see what happens between now and John Wick 4's May 27, 2022 release date; and whenever any major updates break, we here at CinemaBlend will report on them as they develop.
Your Daily Blend of Entertainment News
Senior Movies Contributor
CinemaBlend's James Bond (expert). Also versed in Large Scale Aggressors, time travel, and Guillermo del Toro. He fights for The User.
Your Daily Blend of Entertainment News
Thank you for signing up to CinemaBlend. You will receive a verification email shortly.
There was a problem. Please refresh the page and try again.