What's Going On With Avatar And Other Hollywood Productions As New Zealand COVID-19 Cases Spike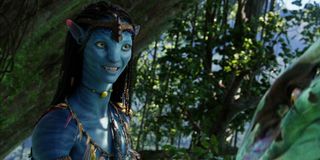 While much of the world has managed at least some semblance of control over the spread of the novel coronavirus, it's still lurking in corners and pockets of most countries. This is even true of New Zealand, which has often been touted as a model for how to successfully wrangle Covid-19, but recently saw new cases enter the country. So, what does this mean for the major Hollywood productions -- including the massive Avatar sequels -- that are currently filming there?
New Zealand is currently on a three-day lockdown after four people in a family tested positive for Covid-19, numbers that would seem minor in the U.S. but effectively ended the country's 102-day streak with no positive Covid-19 tests found within a New Zealand community. This led New Zealand to clamp down again. Auckland, where an upcoming Robert Downey Jr. Netflix project Sweet Tooth and other TV and movie projects are filming, have asked staff to work from home for a few days.
Wellington, where Avatar 2 is filming, has been able to continue moving forward with production as the city has only been graded at a Level 2 concern. Currently Level 2 means gatherings up to 100 people are OK. Though the Avatar productions are more involved than that, as long as people are social distancing, per Variety, production is able to move forward with safety precautions in place.
Thankfully, it seems there won't be a huge change regarding much with the Avatar production, though protocols are in place for close up sequences including fights or intimacy scenes. Avatar 2 allowed 400 locals to get back to work in June, so clearly keeping the movie sector rolling has been important for certain factions of the New Zealand government. It's important to Hollywood too, as Covid continues to be a problem in the U.S., movies and TV programs are looking for new places to film.
The news comes as people on set have started getting us hyped again for the long-awaited Avatar 2. The official Avatar account only yesterday shared a look at James Cameron from the set of the upcoming movie. So, it seems as if stuff is very much moving forward with the now-Disney project.
Ultimately a few cases is likely more shocking for New Zealanders than a big spike would be in the U.S. given how the Middle Earth-esque country has handled its caseload so far. However, things still seem to be moving forward with Avatar 2 and we'll be sure to keep you updated as more news related to Avatar 2 and 3 – which are shooting back-to-back -- as well as the upcoming 4 and 5 sequels break.
Meanwhile, if you've kept tabs on Avatar 2, you should know it has changed its release date myriad times. Originally expected in 2014 under Fox and subsequent years thereafter, for now, Disney has settled on December 16, 2022. To find out what else we know about the upcoming flick take a look at our full guide.
Your Daily Blend of Entertainment News
Reality TV fan with a pinch of Disney fairy dust thrown in. Theme park junkie. If you've created a rom-com I've probably watched it.
Your Daily Blend of Entertainment News
Thank you for signing up to CinemaBlend. You will receive a verification email shortly.
There was a problem. Please refresh the page and try again.