Why Alex Winter Doesn't Buy The Theory That John Wick's Success Helped Bill And Ted Face The Music Get Made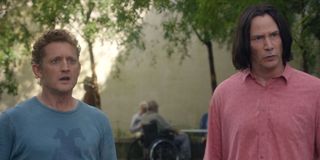 It's was almost 30 years in between the release of Bill and Ted's Bogus Journey, and the new Bill and Ted Face the Music. With a break that long in between films, it was easy enough to believe that we would never see a third Bill and Ted movie, and yet the movie is finally here. The trilogy was finally completed after Keanu Reeves had something of a career renaissance thanks to the John Wick franchise, so it's easy to connect the dots that John Wick's success ultimately helped Face the Music happen, but co-star Alex Winter isn't so sure that's what happened. In fact, he was afraid the success of John Wick might ultimately hurt the Bill and Ted movie's chances of happening.
Pretty much the entire world seems to be in love with Keanu Reeves right now. The world also, more specifically, loves the John Wick movies, as each of the three installments has only been a bigger box office success than the one that came before it. However, Alex Winter says that he doesn't think that Keanu's popularity thanks to John Wick really helped Bill and Ted because getting the necessary support for Face the Music didn't get any easier after John Wick became a hit, for very obvious reasons. According to Winter...
Alex Winter's comments to THR are pretty on the money when you think about it. Yes, Keanu Reeves is an incredibly popular actor right now, possibly more so than any other time in his career, and that's certainly going to be something that studios care about. No studio wants to take crazy risks, which is why, when we see one movie become successful, we tend to see similar movies follow it. Simply putting Keanu Reeves in any movie isn't going to be as sure a bet as putting Keanu Reeves in a movie that is similar to John Wick.
And so Alex Winter was afraid that the people who were necessary to fund Bill and Ted Face the Music wouldn't be interested in seeing Keanu Reeves in a role so far away from what he had been successful doing. And the fact that it still took six years after the first John Wick movie came out to get a release for Face the Music would seem to confirm that.
Instead, Alex Winter credits the fan base for showing the money people that there was enough interest in the movie on its own merits that it could be a success on its own. And that appears to be coming true, as Bill and Ted Face the Music is the top digital movie on most or all platforms right now.
Your Daily Blend of Entertainment News
Content Producer/Theme Park Beat
CinemaBlend's resident theme park junkie and amateur Disney historian. Armchair Imagineer. Epcot Stan. Future Club 33 Member.