Of Course Bill And Ted Face The Music Made Kevin Smith Cry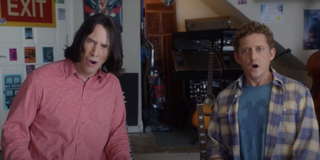 The Bill & Ted franchise means a lot of things to a lot of people. It's a classic comedy series, the source of iconic catchphrases and an essential piece of nostalgia. However, it hasn't ever really been considered a tearjerker by most of us -- at least, not yet. According to Kevin Smith, that could all change when Bill & Ted Face The Music is released -- because he says it made him cry. Like, a lot.
The Comic-Con @ Home Official Panel for Bill & Ted Face The Music gave the cast and crew, including stars Keanu Reeves and Alex Winter, a chance to virtually discuss the upcoming film and give fans a little taste of what to expect. It also gave longtime fan Kevin Smith, who moderated the panel, a chance to weigh in on what the movie meant to him. It turns out, it went a lot deeper than some may have expected:
After the year we've had so far, the prospect of having a movie that exists just to make us happy actually sounds pretty great. For Kevin Smith, it seems like part of what made Bill & Ted Face The Music work so well is the fact that it manages to tap into the nostalgia factor that has so many fans excited about the movie in the first place:
Kevin Smith's enthusiasm for Bill & Ted Face The Music just makes its impending release all the more exciting. Unfortunately, we'll have to wait a little bit longer than we'd hoped to see it. While it was originally due out on August 12, it's since been pushed back to September 1, when it will be available to view both in theaters and on demand.
Are you excited to see, and possibly cry over, Bill & Ted Face The Music? Let us know in the comments!
Your Daily Blend of Entertainment News