Twilight Producer Talks About The Franchise He Regrets Losing, And It's A Big One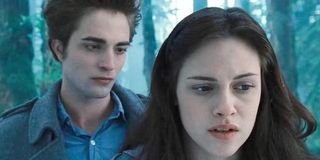 There have been plenty of successful film franchises over the last few years -- from the MCU to Star Wars and plenty in between. Not all franchises have been created equal, though, and one of the executives behind the uber-popular Twilight franchise knew that years ago when he missed out on inking the deal for a huge series.
Erik Feig was president of Summit Entertainment when the company helped make Twilight one of the biggest series of the early 21st century. Even though that franchise was a huge success, he told The Hollywood Reporter he wound up having some huge regrets, because he missed out on another massive teen drama:
In 2012, Lionsgate acquired Summit Entertainment, which meant that even though his company wasn't able to close the deal on The Hunger Games, Erik Feig was still able to work on the series in the long run. His instincts, that The Hunger Games was a worthwhile endeavor, were spot on, as the film franchise was an incredible success for Lionsgate.
Beginning in 2012, with the release of the first film, the franchise broke numerous box office records. The four films in the series -- The Hunger Games, Catching Fire, Mockingjay Part 1 and Mockingjay Part 2, collectively grossed more than $2.9 billion worldwide.
Of course, the Twilight franchise was successful in its own right, too. The five films in that series, beginning with 2008's Twilight and ending with 2012's Breaking Dawn - Part 2, grossed more than $1.3 billion combined at the worldwide box office.
Both series have recently come back in the news, as their respective authors, Suzanne Collins and Stephenie Meyer, both released new books this year -- and both have revived interest in the movie franchises. Suzanne Collins' Hunger Games prequel, The Ballad of Songbirds and Snakes, has been greenlit -- and caught the attention of franchise star Josh Hutcherson.
Stephenie Meyer's long-awaited Midnight Sun, which retells the famous story from vampire Edward Cullen's perspective, also hit bookshelves earlier this year. While there's no official movie planned yet, there's been speculation as to whether and how the series could continue on screen.
Your Daily Blend of Entertainment News
Thank you for signing up to CinemaBlend. You will receive a verification email shortly.
There was a problem. Please refresh the page and try again.