Why Christopher Nolan Should Break Tradition And Make Tenet 2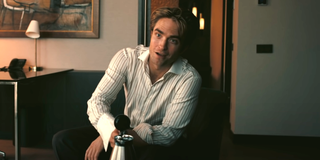 SPOILERS are ahead for Christopher Nolan's Tenet.
There's no filmmaker quite like Christopher Nolan. Throughout his career, the writer/director has redefined the action genre in a lot of ways because he spins away from the expected and doesn't seem to be afraid of risky moves. In a lot of ways, Nolan's latest movie, Tenet, is a culmination of many of his trademarks, between its complex discussion of the concept of time, big-budget action set pieces and Michael Caine showing up, of course. But for the first time, I think Tenet calls for a sequel from Nolan.
Obviously he made two sequels within the Dark Knight trilogy, but it doesn't technically count in my book since Batman is not an original concept of his; DC's Caped Crusader had an ongoing franchise long before Christopher Nolan got a hold of it. And to be clear, I'm not someone who usually wants a sequel just for the sake of things. My favorite original works from the writer/director of Inception and Interstellar stand perfectly on their own. But there's a few reasons why Tenet somehow doesn't feel complete by itself. Let's get into it:
To See More On Tenet's Future Timeline
A gift and curse of Tenet is how divisive it has been among audiences. Everyone's experience seeing it won't garner the same reaction. I saw the movie at a drive-in theater, which may not necessarily be the intended experience Nolan intended for, but hey, I still saw it on a massive screen with my undivided attention on it. Even so, Tenet really didn't click for me until the second half, when the film's action really started connecting with the concept. Tenet spent a lot of time setting up its final act through exposition in the first half, so when it got there it felt like it had just started ticking the right boxes.
I found myself feeling like a lot of the elements that made the concept interesting were aspects of the plot that were left to one's imagination. Sure, Tenet is from the point of view of John David Washington's Protagonist, but this in turn left a blind spot in the movie. Tenet is almost like if Back To The Future was just about Marty McFly telling his parents or kids what happened when he used the time machine to prevent something horrible without the audience completely going along for the ride. I'd like to see the Protagonist in the future and more of the mission with Robert Pattinson's Neil in a sequel. Shots of expensive boats are pretty and all, but how cool would it be to see Nolan's vision of the future that are only being referenced as stakes.
Nolan Could Play With The Cool Inverted Time Tricks Further
My two favorite scenes in Tenet were the following: the scene with the two rooms split off with red and blue lighting, and when it took us down the timeline when John David Washington fought himself in the gas mask. It intrigued me so much on a visual and technical level that I would like to see Christopher Nolan use this unique action style in more sequences and situations. It feels like there's an entire universe of fight choreography and state-of-the-art effects ready to be explored that Tenet can set off within the franchise.
Plus, the entirety of Tenet is about explaining and introducing you to this new concept that your brain doesn't completely wrap around. Once the audience is tuned into the world of Tenet, I think there's an opportunity to take the inverted action a step further. Yes, Nolan likes his audience to work, and those scenes are evidence of it, but I would like to work more within these specific rules established for Tenet.
Tenet 2 Could Give Its Characters An Extra Dose Of Emotional Depth
My main issue with Tenet as a whole is the poor development of the characters, which is strange because I never felt this with a Christopher Nolan movie prior. I found myself trying to make larger connections between the characters than the actual film gave me, such as a popular one regarding Robert Pattinson's Neil possibly being the son of Elizabeth Debicki's Kat. And was there supposed to be a romance going on between the Protagonist and Kat, because it didn't really come across for me. The cast is charming enough to make it mostly work, but I was bummed Tenet didn't give me that pit-in-my-stomach emotional feeling his other movies have.
I get it, there were a lot of spinning tops, both plot and action-wise. I'd still genuinely like to see John David Washington and Robert Pattinson team up again for another WWIII-stopping mission now that the plot has been established. Plus, JDW is on board for it. Here's what he told Esquire:
It's true. Christopher Nolan could be adamant about jumping to an entirely new concept as per usual for his next film. But the star of Tenet certainly agrees here: he's on board with building the world of the movie past the summer flick, and that's a nice start.
Tenet's Box Office Performance Could Go For A Round Two
My last point here on the speeding Tenet 2 train is I'd like to see a Tenet movie in the context of a world we are not living in now, which had deemed Christopher Nolan's latest as some form of savior of the theater-going experience. This narrative has certainly made it more unique among the other mostly straight-to-streaming options this year, but has been doomed to become a disappointment because it made $284 million worldwide one month into its release on a budget of $200 million. What Tenet has been up against hasn't been fair to what it was intended to be.
A Tenet sequel down the line would give fans a do-over in a sense without the theatrical politics of it all. What do you think? Are you interested in seeing Christopher Nolan break tradition for a Tenet sequel or are you content with what the filmmaker delivered with a standalone film? Vote in our poll below and stay tuned here on CinemaBlend for more movie and TV news.
This poll is no longer available.
Your Daily Blend of Entertainment News
YA genre tribute. Horror May Queen. Word webslinger. All her writing should be read in Sarah Connor's Terminator 2 voice over.
Your Daily Blend of Entertainment News
Thank you for signing up to CinemaBlend. You will receive a verification email shortly.
There was a problem. Please refresh the page and try again.